Review your experience with UHAUL anywhere in the USA here.
Other RPS users have rated UHAUL

1.5

out of

5

based on

20

reviews.
Overall rating: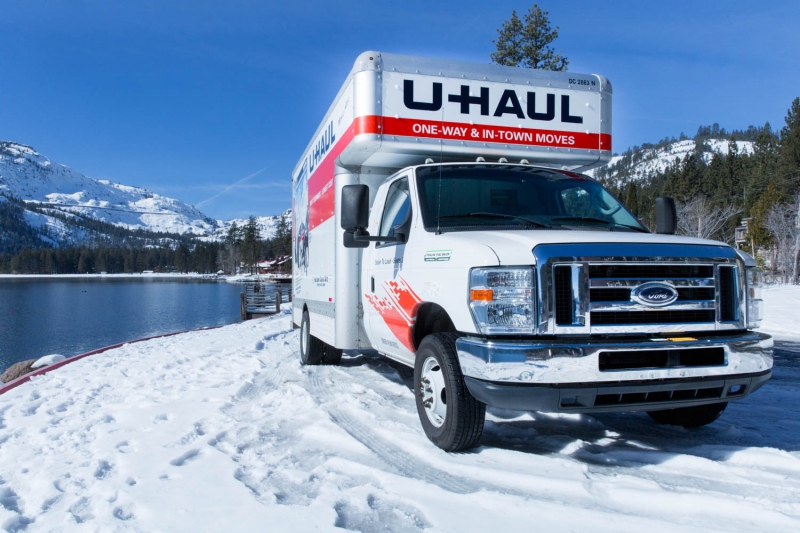 Have you moved with Uhaul rental services lately? Review your experience on this page. If you're looking for Uhaul reviews read what our users say below or see the following list of other reviews and discussions we've found from around the internet.
LINKS TO OTHER UHAUL REVIEWS / DISCUSSIONS
Decent
★★★☆☆
"
Moved from Arlington to Dallas. Thought it was a decent experience but the store was slow and I thought I paid far too much.
"
much better
★★★★☆
"
Renting a Uhaul was much better than borrowing a friends truck an driving across town all day.
"
Poor customer service
★☆☆☆☆
"
#Uhaulsucks #buyerbeware Poor customer service Before I tell you my long story on the poor customer service I received with U haul, I'm going to start with who I am! I consider my self a very strong single mother, that worked her way up thru the ranks at a major retail store, I've alway tried not to let thing stop me from growing and being a stronger mother/woman.. and had a dream to move to the one place that would show my strength and feed the adventure I've wanted for a long time, Alaska! Weeks before I went to U haul, I received a job offer to move to Fairbanks Ak, and I lined up a moving company (Viking) to do the move for me, well the day I scheduled the movers to be at my house, they called and told me cost would go up $900, and I could pay it, or cancel the contract.. Well with not much options, and not wanting any other hidden fees, and very tight on funds, I went and talked to Don at M&m storage in Safford Az, and I canceled the movers, 1st mistake.. Don and his wife was very nice, and had the truck waiting the next day, they even opened up on a day they was "closed" (08/12/16) so I could get the truck and the car transport. With everything loaded thanks to friend, I was ready for the long road ahead.. On Saturday 08/13/16 just after 7 am, I started driving, I didn't drive long, and knew I couldn't drive the truck and the car transport, I was wrapped with fear, I tried to call Don at M&m storage, and there was no answer, but as per our conversations I knew he would be out of town, so I called the Uhaul customer service number at 7:28 am, I explained with fear and emotion I could not drive this all the way to Alaska, the lady that I talked to said I couldn't get my money back, I told her I didn't even leave the city I picked up the Uhaul in, she said she would have a area manager call me back. At 7:34 I received a call from 502-575-5360, and I can't remember his name, but he was the area Mgr, and told him I could not do this drive, due to fear, anxiety, and a host of other emotions. The "mgr" said he would give another day, just to take it slow, and see a doctor for my issues.. (Really? So you want someone that needs to "see a doctor" driving your truck? Not to mention how insulting that is) as I reinforced, I could not do the drive, he did state I could take it to Tom's Uhaul also in the Safford area, and I could get a refund, but I would need to pay for the time I have used, and I asked if they have storage, he stated no, but I could take it to the city of Wilcox they have storage at their u haul facility.. Due to it being in the opposite direction I needed to go, I then asked him if I could get it up to the St George Ut area, due to having family in the area, if I could still return it with a partial refund, and just be charged for the drive to St George, he told me I could! So I pulled up my big girls pants, and started on my way.. Many things happen to my total end of my driving the truck, the passenger door where my 12 yr old was sitting wouldn't shut all the way, the tire warning light keep coming on, even though the tires were OK, up hills the truck wouldn't go over 30/40 mph, and couldn't go over 55 unless the motor sounding like it was going to blow, I had to have the emergency lights/blinker on the whole time. The true end to my driving was coming down a mountain with high grade decline with twists and turns.. And I had to call my family to drive 4 hrs and get me, I know a lot of people can deal with these issues, but fear is fear, and I could not overcome it, and it really breaks my heart that I couldn't, and having my son witness his strong independent mother broken kills me.. On Monday 8/15/16 I tried to call U haul customer service, and I was on hold for over 20 min, so I reached out to one of the local St George Ut dealers, I called 435-216-9888 at 7:15 he told me That I could return it to his store, but for the refund, I would need to contact the customer service, or the location I picked it up at. I called Don at M&m storage at 7:19, and told him everything, he asked isn't there pills I can take? ( Again Really? Now you want someone taking meds driving your trucks) I called customer service back they gave me a phone number to a area mgr 928-247-7991, I left a message and texted and still have not received a call back.. I even tried to call the 520-575-5360 and it just went to Uhaul customer service. At 7:35 I called customer service and asked for a manager, waited on hold for over 20 minutes, as I was sniffling and upset the customer service asked if there was something she could help with, I told her the entire issue. as I told her I know it's my issues that stopped me from driving, but as per the mgr I talked to on the 13th, just charge me for the drive from Safford Az to St George Ut, and I would understand fees for ending it early.. She told me to hold and she would see what she could do.. When she came back on she stated she had it authorized to return the Uhaul with no fees, and I asked about the refund? She stated she put in a incident # 1188726 And to call back in 3 days, I asked are they going to put it thru? She stated if they don't keep going up.. So as per instructions I made sure the truck was full of gas and returned it to Tj's rentals in St George, and it needed to be returned that day.. So I did, with in the hour it was at Tj's.. I told James Rimer at Tj's all the issues, and he told me "they should have given you a newer truck" I told him Don at M&m said it was a new truck, James said not for that drive!!??? After I got to Alaska, I called the customer service and talked to Nathan, I gave him the incident # and wanted to know what was happening with the refund, he said the next day the claim was canceled, and denied, because I returned the truck?? (As instructed to do). And it wasn't the location I picked it up from, I tried to tell him I talked to the mgr on the 13th, and I was basically called a liar!! I asked for a mgr, he told me the mgr over that area denied it so there is no one to talk to, I asked for a regional manager he said there is no one, I asked for corporate number, nope wouldn't give me that! I let him know he needs to work on his customer service skills! I called and asked for a copy of all the conversations and the only one they didn't send me was the one from the manager on the 13th??? Wonder why?? So let me break it down 12 day rental Safford Az to North Pole Ak truck and car transport with dolly and safe move insurance 4109.89 4 day rental Safford to St George truck and car transport dolly and safe move 750.00 So I lose over $3500? And all the stress, called a liar, and being told that I need medical help and medication for my fear!!and poor customer service to boot! Big cost!!
"
Uhaul does *not* honor guarantee
★☆☆☆☆
"
Uhaul will *not* honor the $50 refund guarantee at https://www.uhaul.com/Reservations/ReservationAdvisements.aspx Uhaul changed the pick-up location of our van which was not the agreed location.
"
Worked
★★☆☆☆
"
Moved in Ohio. My Uhaul worked, but I wasn't excited about the fees or the service. Leaving this review in hopes someone else avoids the pain I did.
"
Truck yes
★★★☆☆
"
I renter a Uhaul and it was kind of an annoying process. Once I was able to get everything packed in and moved it was useful, but getting the truck was bad.
"
Awful
★☆☆☆☆
"
Worst moving experience ever! I called the original location, U-Haul of University City, for pick up information since I was never contacted as the receipt email says. The rude representative said that we do not have your equipment, too bad. I called UHaul regional, and they helped me get the equipment at U-HAUL MOVING & STORAGE OF ALLEGHENY WEST or so they said. At U-HAUL MOVING & STORAGE OF ALLEGHENY WEST, I was told that we do not have a car transport. The rep called around and found me a transport at U-HAUL MOVING & STORAGE OF CHELTENHAM. He said that they do not have a truck, so I rented the truck at U-HAUL MOVING & STORAGE OF ALLEGHENY WEST and went to U-HAUL MOVING & STORAGE OF CHELTENHAM to get a transport. Come on guys, get it together. I wasted hours running around to do what your scheduling system should be able to do. I could and have written better scheduling systems than this. This was the worst moving experience that I have ever had and I have rented from UHaul many times in the past. This may be my last time however unless things change.
"
Tolls
★☆☆☆☆
"
UHAUL are crooks! The Dallas area has toll roads that charge you 50 cents to a dollar seventy five or so every couple of miles. Uhaul charges $1 per toll to collect the tolls. So, a 50 cent toll costs you $1.50 200%!!!! My tolls added up to $33 and these crooks added $17 for a service charge. Obviously not happy!
"
UHaul attempting to ruin my business.
★☆☆☆☆
"
Ex UHaul dealer here. Being abused by uhaul.
"
Worked for Me
★★★☆☆
"
Rented a small Uhaul truck to move. Worked for me, but the staff wasn't exactly friendly.
"
uhaul insurance no good
★☆☆☆☆
"
I tried helping a "friend" leave an "abusive" relationship by renting a truck so she could move and escape. We went and picked the truck up and I dropped it off at her place. She was supposed to call me when the truck was loaded and I was going to drive the truck to her new place to unload and bring back to the truck lot. I gave her the keys in case someone needed the truck move the truck in case of emergency(whoever moves it needs to have a license) and she was to call me if this happened. To make a long story short she stole the truck and went to Calgary. I called the police and they said it is not theft because I gave her the keys. Which this just does not make any sense to me at all. I got the extra insurance just to make sure I am super covered and now uhaul has given me a $1600 bill.. I feel so taken advantage of and violated. I did get comprehensive insurance. Is there anything i can do????
"
Never ever again
★☆☆☆☆
"
Avoid UHaul. Horrible customer service. Rented a trailer weeks in advance. Preferred contact method was email. Drive 8 to the location to pick up the rest of my family things. Went to get the trailer. Oh, no, not here. I'm expected to travel well over an hour to the next state to pick up the trailer. REALLY. No email on this. Didn't get the voice mail they left? Never ever again will I use UHaul. Avoid them. They kept transferring my calls until I simply insisted on a refund. Hope they give me my money back. Which is a mistake on my part to pay up front. Never give them money up front
"
Worst experience EVER!
★☆☆☆☆
"
Well where do we start. On saturday we picked up the truck and we specifically asked if we could drop the truck off at any location. My daughter and son in law had me on the phone and the girl said she had to check but came back and said we could. Never mentioning the proce difference at all. We dropped off at the Wyandotte michigan location at about 645 pm. At that point they said. They were having a problem checking the truck in. But not to worry they would handle it. The next morning i recieved a call that stated the truck was not returned. I explained that i dropped the truck off at what location and the time. By tuesday morning i was told i would have to drop the truck off myself to the Taylor michigan location. Upon arrival i was told we were over the mileage by 72 miles. At drop off of the truck on saturday night we had used 17.9 miles. After given the run around my husband and i went back to the drop off location and spoke to the manager there. At first he sid no one touched that truck. Then he showed us the video for the weekend and the truck that we rented did leave the area for the entire day. Mind you at the taylor location they said they had a time stamp picture of the mileage. Which was not true because the picture was taken on monday and the manager told us himself. No picture was taken on saturday to the wyandotte location like were supposed to. Also he said it was not there fault because if we wouldnt have dropped it off to them this would not have happen. I still have heard from general manager. I have called customer service and they have been no help. WORST EXPERIENCE EVER. I WILL TELL EVERYONE NOT TO USE UHAUL!
"
Are you seriouse
★☆☆☆☆
"
Same days same truck huge gouge the price NC to NV $2188 NV to NC $4600 Your out of your mind!!!!
"
Bad Experience
★☆☆☆☆
"
Rental with boxes from Orlando location on Orange Ave. Sign in store said unused boxes could be returned for full credit. Confirmed with attendant on duty. $41 later out the door. Did not need boxes - when attempted to return was declined as receipt was misplaced. Was told their records could not go back 10 days to locate the cash transaction. Attempts by e-mail to get matter resolved were unsuccessful.
"
Broken truck
★☆☆☆☆
"
The truck they gave me was broken. The calipers are broken. They said it was a 2 year truck. "" THAT WAS A LIE.""!!! IT LOOKS MORE LIKE A 20 YEAR TRUCK THAT'S BEEN SUBMERGED UNDER WATER FOR THAT LONG.
"
Uhaul will rob you .
★☆☆☆☆
"
I wish id looked at the reviews before I paid $2250.00 to rent a truck and trailer.Id never tell anyone to use them. Kept my $100.00 deposit saying I didn't have enough gas in it when I returned it. I just put gas in it before I took it back,lol. I 've talked to others that has had the same thing done to them. Just get a run around will sent you a private message,blah blah.
"
Mr
★☆☆☆☆
"
Run around service Dept. Manager Timothy Lowery II doesn't care about helping customers. 800 numbers don't help. Leave you on hold forever. Don't use 9225 hwy a1a palm beach Gardens location.
"
all problems, no service
★☆☆☆☆
"
I rented a 10' box truck to move a sectional couch to my new home; 40 miles, furniture store literally up the road from the rental place,easy peasy. Except within 20 minutes of renting the truck, it died in the parking lot. I literally was able to walk back to the store before anyone picked up the phone, the website wasn't working for chat/ehelp. Was told that there was "nothing I can do" by the store clerk who told me I just needed to call roadside assistance, which I was still on hold with. The best that could be done was extend the rental time, to accommodate their own busted truck. Never again.
"
hidden fees/ catch 22 fees
★☆☆☆☆
"
I rented a uhaul the day before Thanksgiving and went over my contract with the individual that owned the uhaul.I went over the return fees; if returned late and as explained to me I would not be charged that fee as long as it was returned by the end of the time window that I had rented it not the closing of the business. It was pouring down rain during mid move and the uhaul had a leak, we were halfway through moving! we didn't have time to return and get a different truck! Returned the truck at 7:30pm way before the 10 hour rental that I requested- got charged a $20 late return fee. Wiped out the back of the truck as best I could with dry towels, rain was pooling in the back of the truck. another charge -$25 cleaning fee. Miscellaneous fees after that for more than the agreed on fees totaling $52!!!!! 1) location services would not allow me to return through the "app" took time stamped photos and video of me dropping the keys off at 7:30pm still charged! 2) I can not control the weather, especially since the rental company did not disclose that this uhaul had a leak!!! so not only was there water all over my belongings, but they charged me for the rain in the bed of the truck! the truck that they rented to me with a leak! Ether way it was a poor experience with uhaul. Would not use them again and not recommend them. This app drop off is ridiculous and does not work half the time, you will be charged fees if you don't do it the way they want it done. Took all this up with customer service. "We will give you a call within 3 business days, if not call us back." How hard is it to dispute these fees!!!?? I have photos and time stamped video of these issues!
"