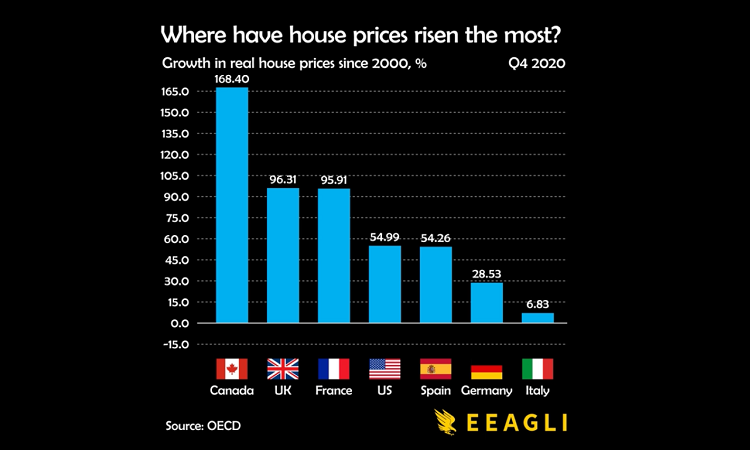 01
Apr
[OC] Where have house prices risen the most since 2000? from dataisbeautiful
A datavisualization from Reddit user Jcceagle shows how home prices in several countries in North America and Europe have changed since the year 2000. The data comes from the Organisation for Economic Co-operation and Development and has been adjusted for inflation.
Canada came in at the #1 biggest change rising 168.4% bewteen 2000 and 2020.
Here are all of the countries home prices included in the graphic
Canada – 168.4%
United Kingdom – 96.31%
France – 95.91%
United State – 54.99%
Spain – 54.26%
Germany – 28.53%
Italy – 6.83%
Home prices rise for a variety of reasons including foreign investors buying property, homes being purchase for vacation or short-term rentals, and various other factors. It is clear from the this graphic htat some countries are experiencing major problems controlling the factors that contribute to exorbidant rises in home prices.
This is a 'bar chart race' data visualization which means you can watch the figures change over the 20 year time span and see precisely when each country's home values experienced major rises.
Comments
comments