Viewing posts categorised under: Maps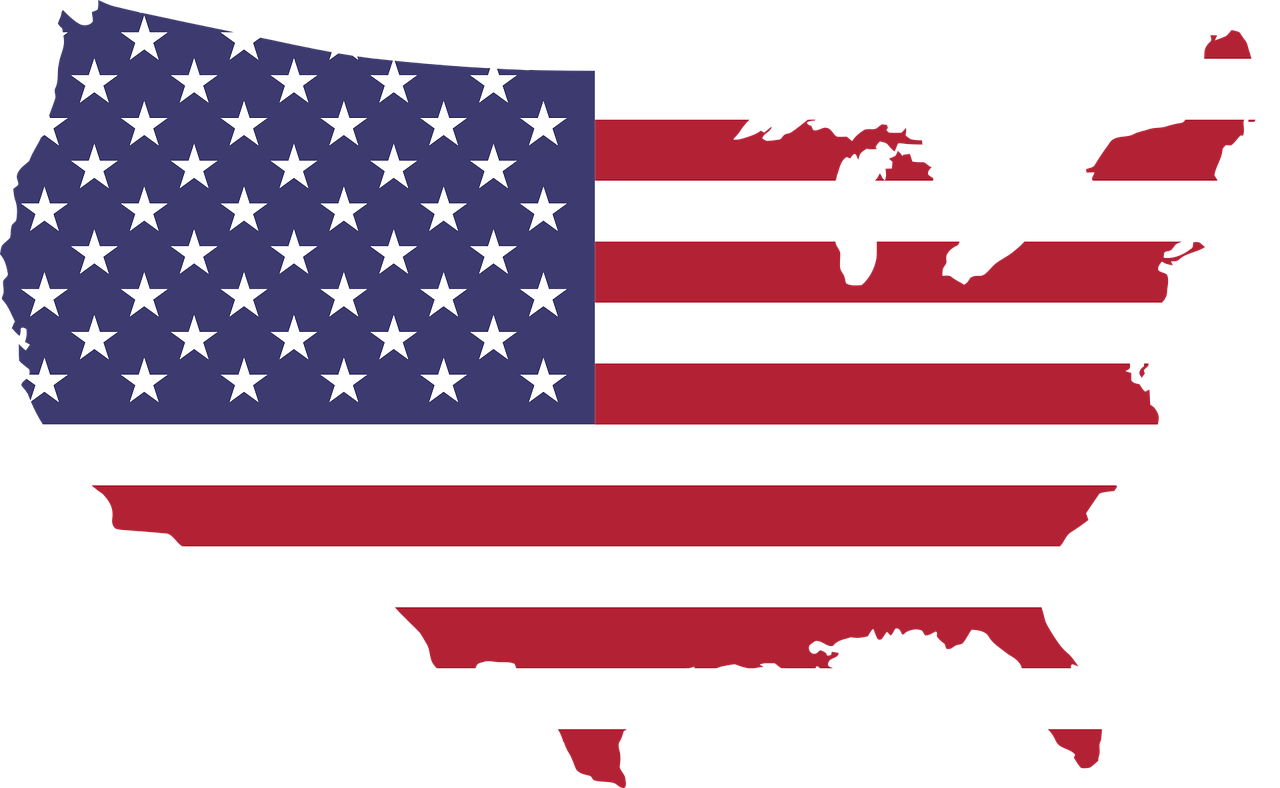 03
Jun
American have questions! And each state has a "most popular question". Some of the questions are quite hilarious. Others are intriguing or downright scary. In this blog post, we're going to examine what some of these questions are. The questions come from Google Trends and were reported by Estately.
The Funny Questions
Let's just jump right in. In this section, we'll cover some of the more funny questions, starting with this: "Is funner a word?". Now, I know what you're thinking. It's not necessarily a "funny" question; however, it definitely related to the subject. This question comes from the residents of Minnesota.
"Is Ted Cruz the Zodiac Killer?" This is arguably a pretty funny question and topic (if you have a dark sense of humor). The Zodiac Killer is a serial killer who hasn't been caught. Internet sleuths noticed some similarities between what's known as the Zodiac Killer and Ted Cruz (former presidential candidate and current Texas Senator). Last year, Ted Cruz thought it would be funny to join in on the fun. He posted a tweet and wrote "Happy Halloween" with a photo of the Zodiac Killer's symbol writing. This question comes from Idaho. See the tweet below.
Happy Halloween pic.twitter.com/jIgTaIMzep

— Ted Cruz (@tedcruz) October 31, 2018
"What is Wyoming?". Alright, this question is being included here for one big reason: The question is coming from residents of Wyoming! Answer: the state you live in.
The Strange Questions
In this section, we're going to go over some of the more off-ball questions people have. And remember: These questions are the most popular question in that state. Keep that in mind.
"Do penguins have knees?". Sure, it's a valid question! But why would the residents of Iowa be asking it? There are no penguins in Iowa! At least there aren't in the wild. Perhaps you can find some in a zoo. If you're wondering, the answer is yes, penguins do have knees.
"How to be emo?". This great question comes from the residents of New Mexico. And this question is a good sign that business owners should be investing in Hot Topic and Spencer's locations around the state. More information regarding this question doesn't list the age of people asking the question; however, I think it's safe to assume that this question is mostly being asked by younger teens.
The Scary Questions
In this section, we'll talk about the more popular, scary questions. These aren't questions like "are ghosts real"; instead, they are questions where, if you knew who was asking them, you might want to avoid them.
And here's the first question: "Am I a psycho?". This question comes from residents of Missouri. We hope that the answer to this is "no".
"How to make meth?". This question comes from the residents of Kansas. Gosh, it's quite surprising that this is the most popular question in any state. If we were to guess, this question would be most popular in New Mexico, not Kansas. And it isn't because meth is most popular in the state. Instead, it's because that's where the fictitious setting of the popular show Breaking Bad takes place.
"How to get away with murder?". Yes, if you know someone who's asking this question, you might want to steer clear of them. This question is the most popular question in Delaware.
"How to make a baby?". We included this question in the scary section because if this question is the most popular one in any state, it is scary. This question comes from the residents of Kentucky. We're hoping that this internet search educated them on this very important question.
The Smart Questions
The questions in this section are more "normal" and would seem to be questions the average person would ask. Let's see what some of these are.
"What is quinoa?". Good question! Quinoa is an extremely delicious and healthy. This question comes from the residents of Utah.
"How to smoke salmon?". This is another great question and very fitting since it comes from the residents of Alaska. Salmon is abundant in the state and the people here are asking the right questions. At least, the most popular question in the state seems to be that.
"How to open a jar?". This is another functional question and one that might be asked by more of the elderly residents of the state. Here's a tip: if a jar is difficult to open, bang the sides of the lid with a kitchen utensil. It will help loosen it and make it easier to open. This question comes from the residents of North Carolina.
"Who won the Civil War?". It's important for residents of any state to ask questions like these. Wars such as the Civil War shouldn't be forgotten. History repeats itself; however, if people remember the past, perhaps the bad parts (civil war) won't have to be repeated. This question comes from the residents of Arkansas.
The last question we'll cover is one that has many answers, depending on who you ask: "What is the meaning of life?". This is a question that has been asked by residents in all cities, states, and countries for as long as humans have been alive. This great question comes from the residents of Hawaii.
We have the full map of questions for your reading pleasure. Check out the screenshot below to read the rest!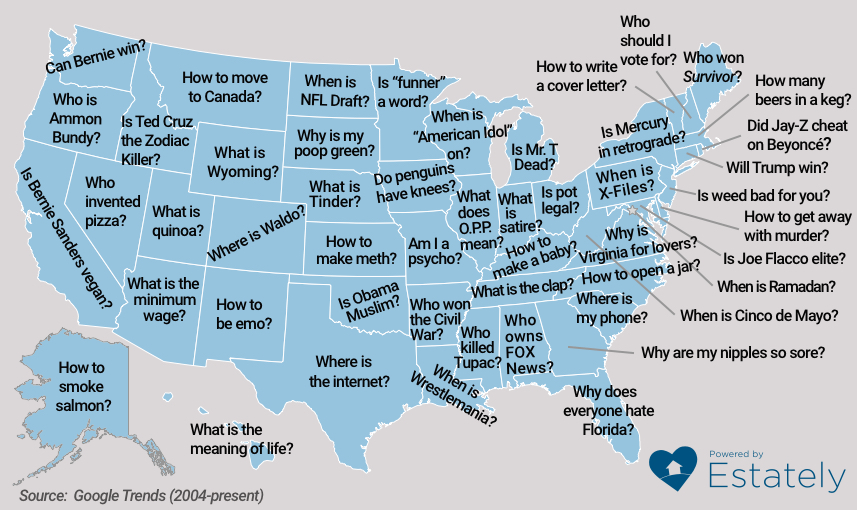 Featured photo by Gordon John on Pixabay
Map of questions is a screenshot from Estately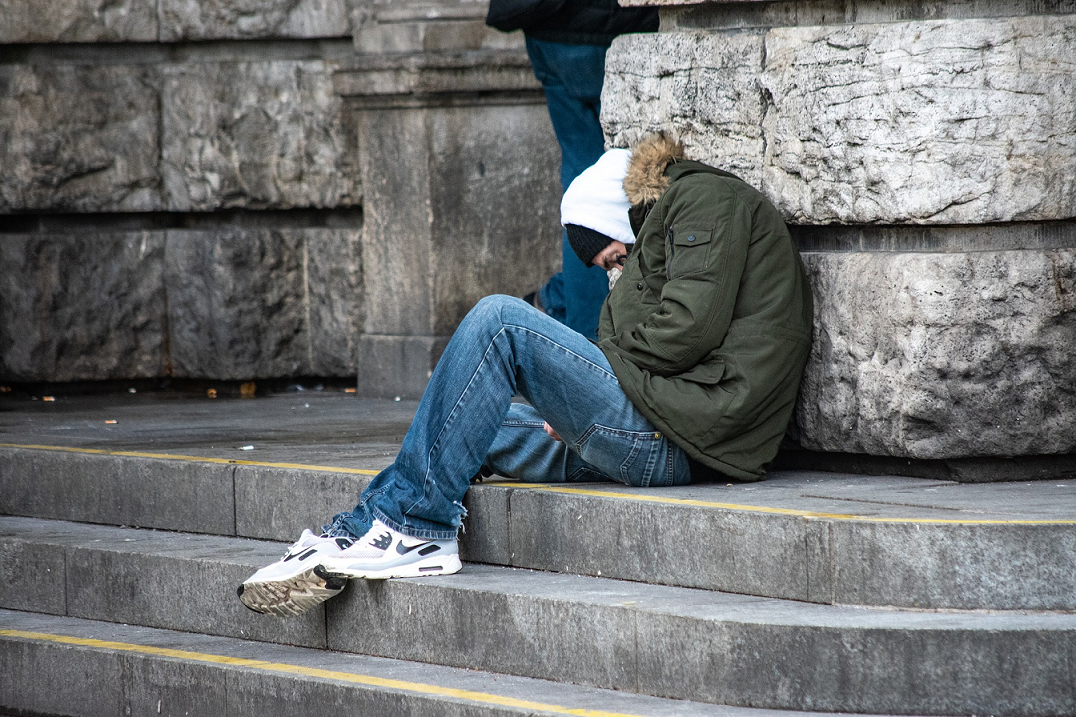 08
Apr
Does it matter where you grow up? More specifically, are the same economic opportunities available to all Americans, no matter where they were raised? There's new evidence that's able to answer these questions. The Opportunity Atlas essentially puts the roots of poverty on the map.
As an introduction, they state, "The Opportunity Atlas answers this question using anonymous data following 20 million Americans from childhood to their mid-30s. Now you can trace the roots of today's affluence and poverty back to the neighborhoods where people grew up. See where and for whom opportunity has been missing, and develop local solutions to help more children rise out of poverty."
They then prompt you to explore cities around the U.S. In this article, we're going to take a closer look at 5 major cities: Seattle, Dallas, Houston, Austin, and Chicago. Let's get started!
Seattle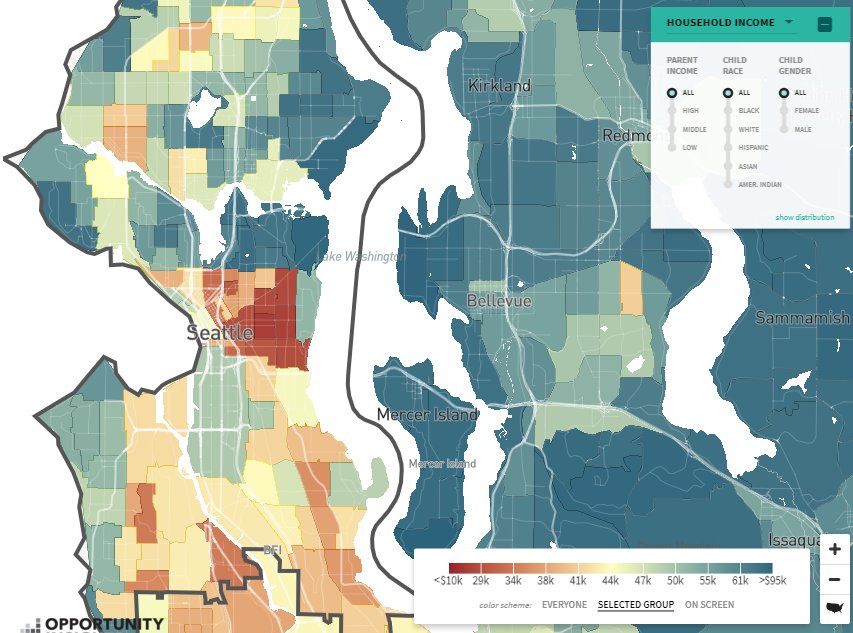 Take a look at the map above. The main colors here are red, white, blue and shades in between. The colors indicate household income over the course of one year. The redder the color, the less money the family makes. The bluer the color, the more the family makes. And, white is essentially the median income in the area. This goes for all maps you'll look at in this article.
A quick glance at the map shows that the worse parts, income-wise, is right in the heart of Seattle. This doesn't make that there are no high-paying jobs there. Instead, as mentioned before, it's the median income for all families living within a certain area.
Dallas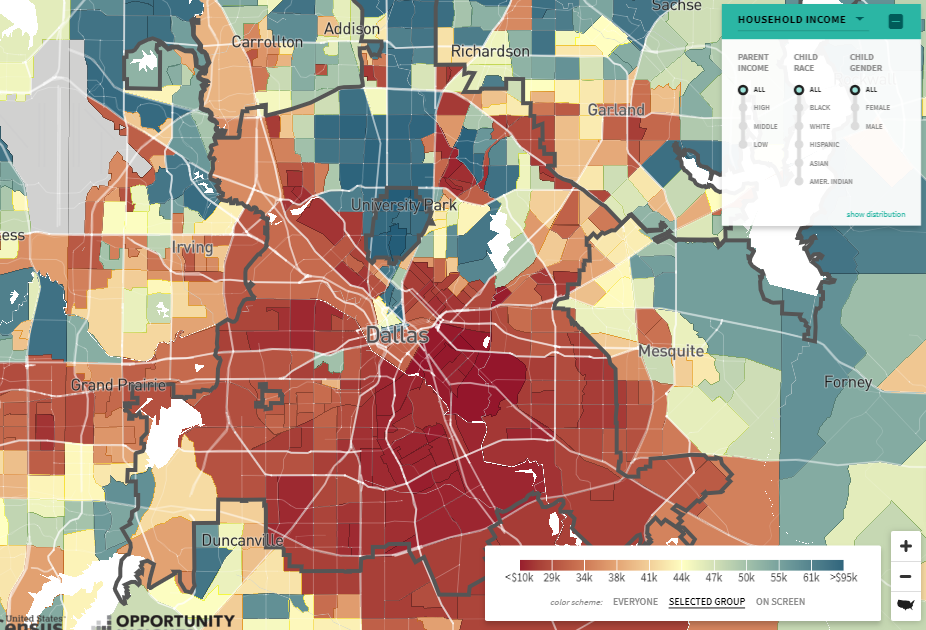 There's quite a bit more red in Dallas than there is in Seattle! The good thing, however, is that the cost of living is generally lower in Dallas than it is in Seattle. Venture out to University Park and Forney, among other cities, and you'll realize areas of higher family median income.
Houston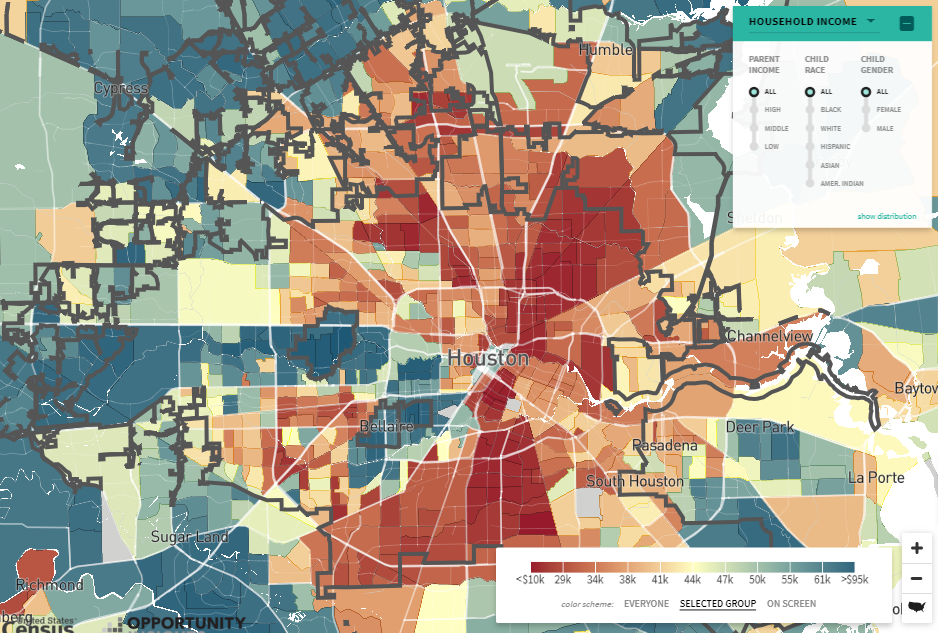 The colors of Houston look very much like those of Dallas. I'd venture to say, however, that it appears Houston has more blue areas. The inner city to the north and south are quite red. West of the city looks very blue, especially around Sugarland and Bellaire. To the west, cities like Deer Park have a higher household income.
Austin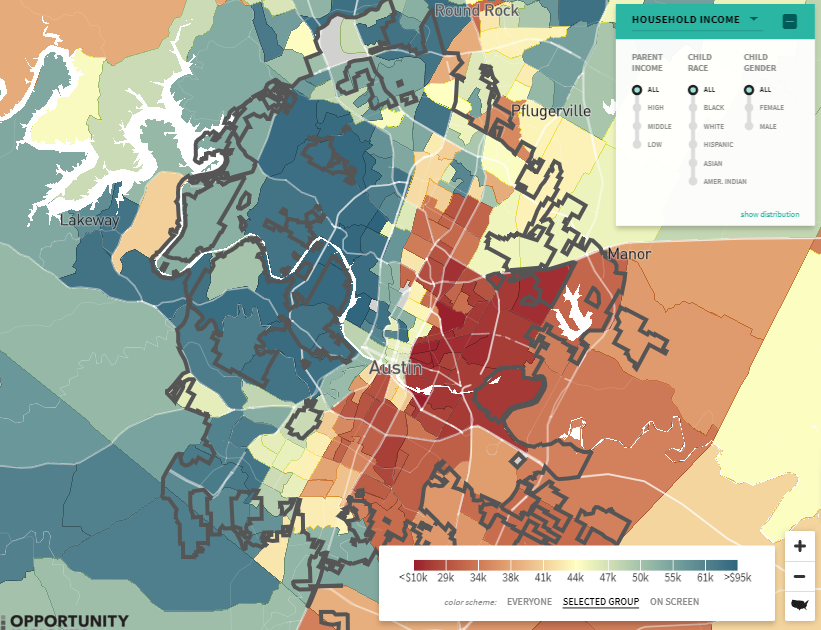 Austin, like you'll see next with Chicago, looks like night and day when it comes to areas around the city. To the west, it's mostly blue. To the east, it's mostly red. Think about the kids growing up to the west and to the east. Do they stay in those areas when they grow up, and make the same or a similar amount of money as their parents did?
Chicago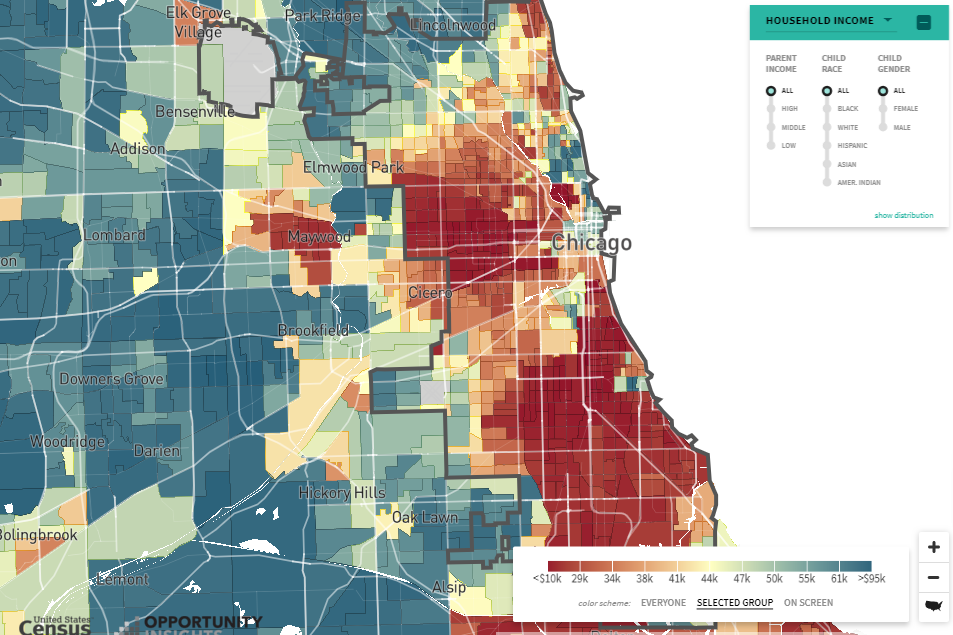 Chicago, to the immediate west and south, is very red. Maywood is also red. Speaking of Maywood, the area has a very high crime rate. You might be wondering why the east side of Chicago is all white. It's not because the area is full of average or median income households. Instead, that's where Lake Michigan is!
Featured photo by Useche70 on Pixabay
Map photos are screenshots by RPS Relocation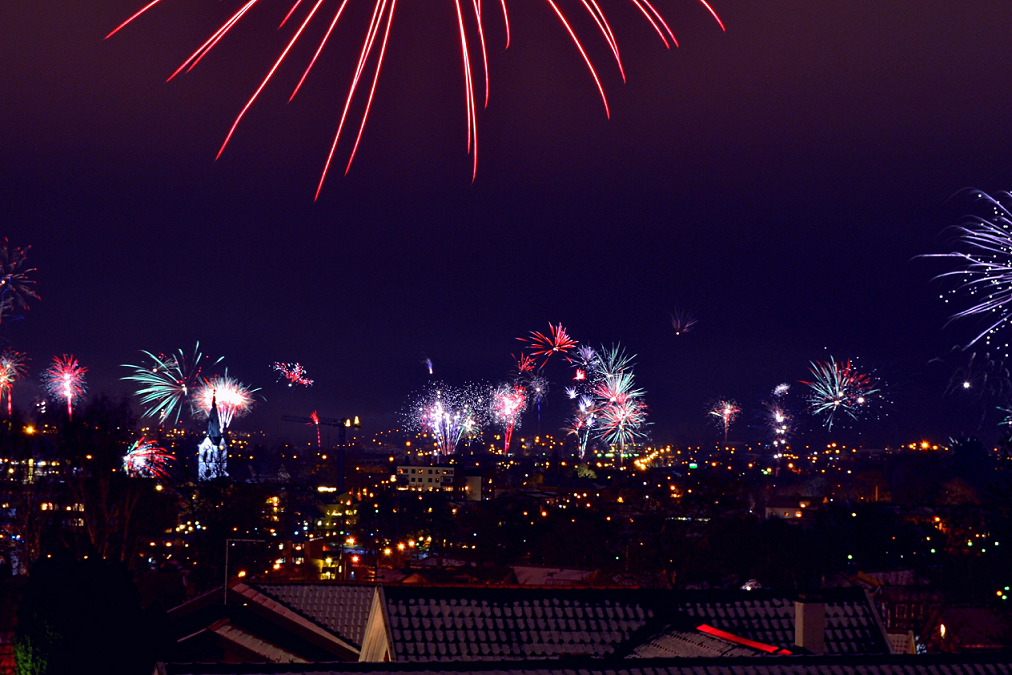 31
Dec
Get ready for 2019! In celebration of the new year, we decided to write about the best cities for New Year's Eve celebrations. WalletHub compiled multiple data points in numeous cities to determine which ones made the cut.
Methodology of Choosing Cities
Adam McCann of WalletHub writes they used "three key dimensions: 1) Entertainment & Food, 2) Costs and 3) Safety & Accessibility. We evaluated those dimensions using 28 relevant metrics. Each metric was graded on a 100-point scale, with a score of 100 representing the most favorable conditions for New Year's Eve partiers."
Among the 28 metrics, some are:
New Year's Eve Events per Capita
Duration of 2018 Fireworks Show
Availability of Affordable Fine Dining
Average Alcoholic Beverage Price
Traffic Congestion
Neighborhood Security
The 100 Best Cities
Using the 28 metrics, WalletHub was able to rank the top 100 cities. Let's talk about the top five in order. They are: New York, Los Angeles, Atlanta, San Diego, and Las Vegas.
New York has the world-famous Times Square celebrations; however, the celebrations of the other top cities are lesser known. Near Los Angeles, the EVE party at Universal Studios Hollywood is popular. In Atlanta, the popular Peach Drop emulates the ball drop in Times Square. Big Night San Diego is a popular New Year's Eve party event. And in Las Vegas, 40,000 people watch multiple simultaneous fireworks shows from the downtown area.
Numerous cities in Texas, and Seattle, also ranked highly on the list. In Texas, some of the best cities are: San Antonio (#16), Dallas (#17), Houston (#22), Austin (#27), El Paso (#35), and Fort Worth (#46). Seattle clocks in fairly high at #15.
See the full list of the best U.S. cities for New Year's Eve celebrations below. Have you attended a New Year's Eve celebration in one of the cities below? We'd love to hear about your experience.
New York, NY
Los Angeles, CA
Atlanta, GA
San Diego, CA
Las Vegas, NV
Denver, CO
Orlando, FL
Chicago, IL
Washington, DC
San Francisco, CA
Miami, FL
New Orleans, LA
Philadelphia, PA
Birmingham, AL
Seattle, WA
San Antonio, TX
Dallas, TX
Louisville, KY
Nashville, TN
Virginia Beach, VA
Tampa, FL
Houston, TX
Portland, OR
Indianapolis, IN
Pittsburgh, PA
Buffalo, NY
Austin, TX
Cincinnati, OH
Tucson, AZ
Minneapolis, MN
Scottsdale, AZ
Sacramento, CA
Baltimore, MD
Raleigh, NC
El Paso, TX
Anaheim, CA
Boston, MA
Honolulu, HI
Milwaukee, WI
Charlotte, NC
St. Louis, MO
Omaha, NE
Madison, WI
Irvine, CA
Long Beach, CA
Fort Worth, TX
Phoenix, AZ
Greensboro, NC
Detroit, MI
Oklahoma City, OK
Henderson, NV
Reno, NV
Columbus, OH
Colorado Springs, CO
St. Paul, MN
Boise, ID
Durham, NC
Chandler, AZ
Lexington-Fayette, KY
Wichita, KS
Santa Ana, CA
Jacksonville, FL
Gilbert, AZ
Baton Rouge, LA
Fresno, CA
Tulsa, OK
Memphis, TN
Cleveland, OH
Riverside, CA
Kansas City, MO
Lubbock, TX
Hialeah, FL
Corpus Christi, TX
Mesa, AZ
St. Petersburg, FL
Oakland, CA
Plano, TX
Laredo, TX
Arlington, TX
Albuquerque, NM
Lincoln, NE
Fort Wayne, IN
San Jose, CA
Chesapeake, VA
Norfolk, VA
Bakersfield, CA
Toledo, OH
Jersey City, NJ
Winston-Salem, NC
Aurora, CO
Glendale, AZ
Chula Vista, CA
Irving, TX
Stockton, CA
Newark, NJ
San Bernardino, CA
North Las Vegas, NV
Anchorage, AK
Fremont, CA
Garland, TX
Featured photo by Jonathan Petersson on Pexels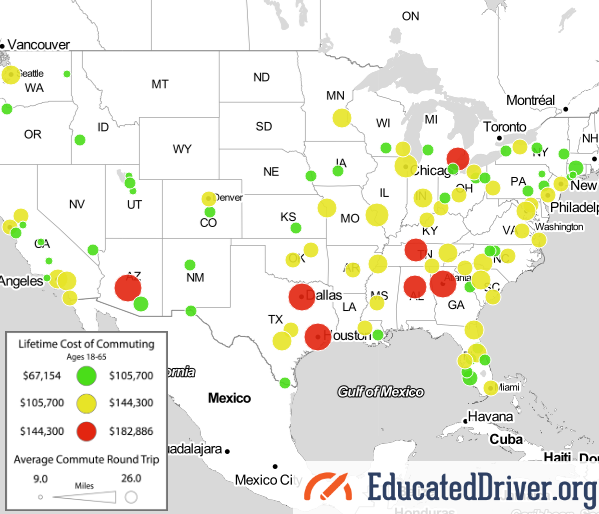 17
Dec
What's your daily commute like? If you live in or near a major city, traffic is probably a fact of life. Back in August, we shared how much time people of major cities waste over the course of their lives by commuting. The data was put together by EducatedDriver.org. Now, they're back with more information about your commute; however, this time, they share how much money you spend on gas and vehicle maintenance.
Recall that the average American spends about 408 days commuting. That's over an entire year of their life driving! In addition to spending time, people also spend money as they drive. Alex Lauderdale writes, "We did the math for nearly 100 major US cities, and found the average American will spend $108,727 on gas and vehicle maintenance costs associated with commuting while driving 173,203 miles to and from work in their lifetime. That's enough miles to drive around the world 7 times!"
Lifetime Cost of Commuting Map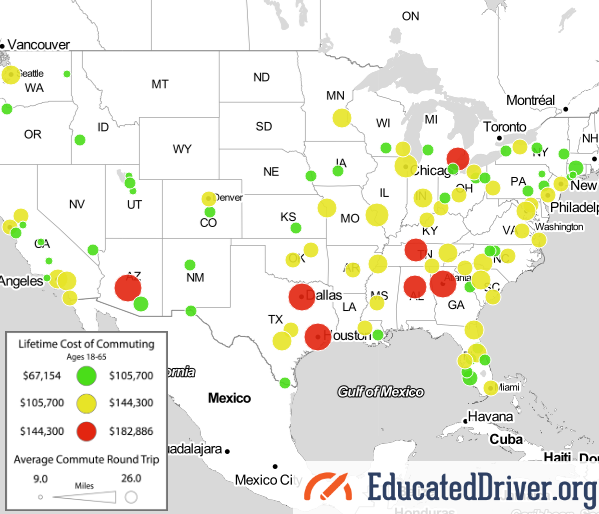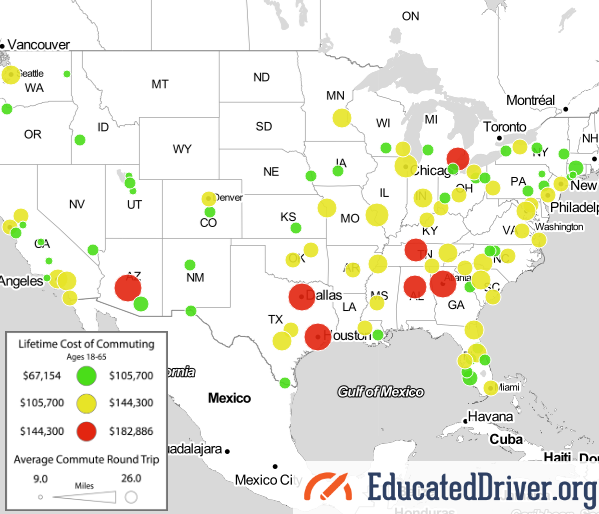 A quick glance at the map above shows this: red, yellow, and green circles. The circles represent the lifetime cost of commuting in a certain city. The red circles indicate the most expensive cities, the yellow circles indicate more of the average-costing cities, and the green circles indicate cities that are least expensive for commuting.
The lifetime cost of commuting is most in Atlanta. The average round-trip there is 26 miles and the average cost of commuting there is a whopping $182,886. Let's take a look at some other areas.
Texas has six cities on the map: Dallas, Houston, San Antonio, Austin, El Paso, and McAllen. Texas is the only state that has two large red circles which cover Dallas and Houston. Check out a photo of Texas below.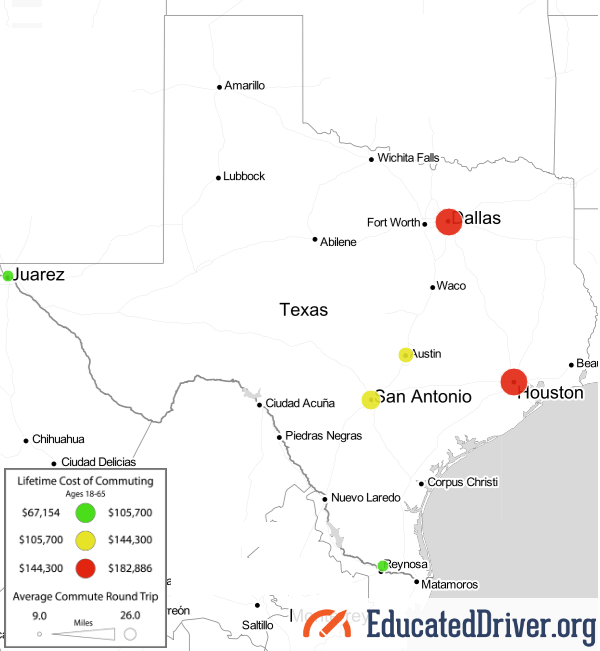 California is the state with the most cities on the map. The ten circles cover the following cities: Sacramento, Stockton, San Francisco, San Jose, Fresno, Bakersfield, Oxnard, Los Angeles, Riverside, and San Diego. We often hear about how bad the traffic can be in Los Angles; however, the city has a yellow circle. As a matter of fact, California has no red circles at all. See the photo of the state below.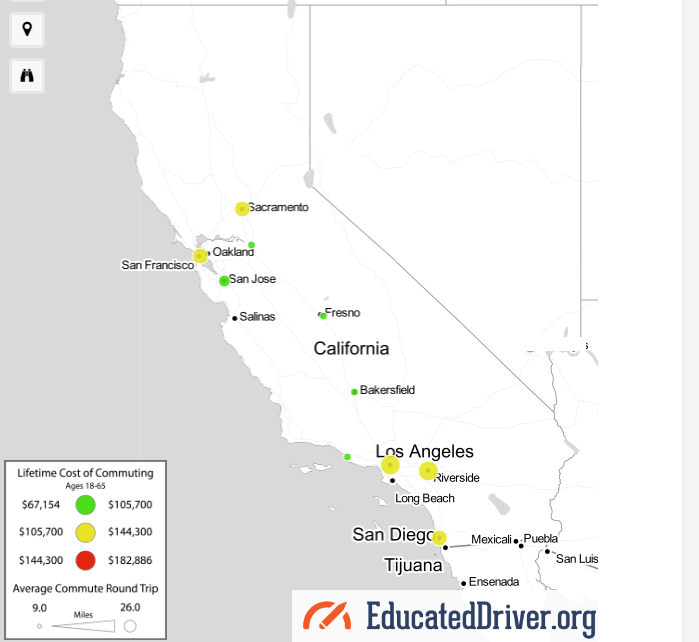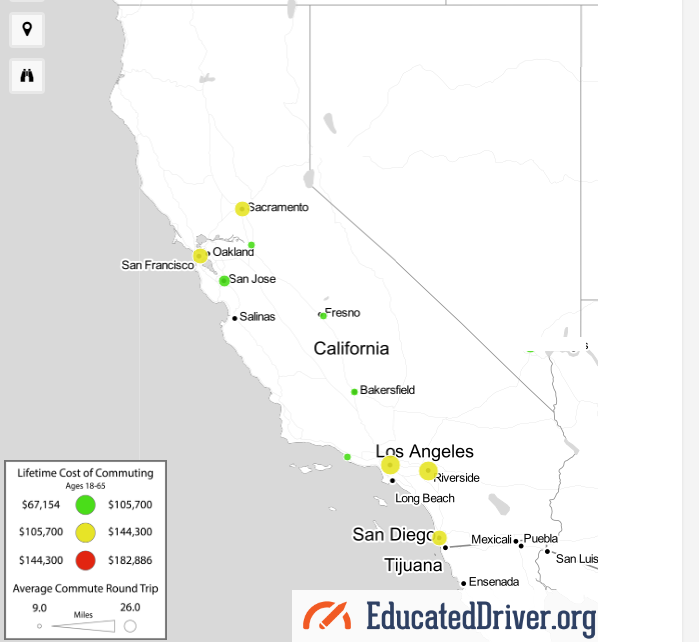 Top 30 Expensive Cities for Commuting
Where are the most expensive cities for commuting? You have to click each circle to determine exactly how expensive the city is for commuting. To make better sense the map, we turned a large part of the data into a list.
Below, you'll find the top 30 most expensive cities for commuting. As stated earlier, Atlanta is the most expensive, followed closely by Dallas, Houston, and Phoenix. Check it out as the list goes from most expensive to least:
Atlanta, GA – $182,886
Dallas, TX – $174,314
Houston, TX – $174,314
Phoenix, AZ – $162,883
Nashville, TN – $157,168
Detroit, MI – $148,595
Birmingham, AL – $144,309
Chicago, IL – $142,880
St. Louis, MO – $142,880
Charlotte, NC – $138,594
Minneapolis, MN – $135,736
Indianapolis, IL – $131,450
Orlando, FL – $130,021
Knoxville, TX – $130,021
Washington, DC – $130,021
Jacksonville, FL – $130,021
Riverside, CA – $130,021
Seattle, WA – $128,592
Columbia, SC – $128,592
Kansas City, MO – $127,163
Memphis, TN – $127,163
San Antonio, TX – $125,734
Los Angeles, CA – $125,734
Jackson, MS – $124,306
Richmond, VA – $124,306
Cincinnati, OH – $124,306
Austin, TX – $122,877
Baltimore, MD – $122,877
Columbus, OH – $122,877
Miami, FL – $122,877
The Methodology of the Map
How did EducatedDriver.org come up with the data used to compile the map? Alex Lauderdale writes, "For the purposes of this study, we assumed the average person starts full-time work at 18 (some people start earlier, others a bit later). We also know the average retirement age is 63 in the United States. That works out to a total of 45 years working a full-time job."
This tells us that the data isn't precise; however, it's essentially as estimate based upon common knowledge such as the average retirement age and total years the average person works.
Alex continues, "From there, we operated based on the assumption most people work about 250 days per year, accounting for 2 weeks yearly vacation and time off. That adds up to a whopping 11,250 days of working/commuting over a career."
Again, we're seeing best estimates based upon data averages. Not everyone has exactly 2 weeks of vacation each year. Some people have more vacation than that and not everyone uses all of their vacation days.
Finally, Alex pulled data about the average round trip distances as well as how much it costs per mile to drive a vehicle. He writes, "we used data from the US Census Bureau on average daily round trip commute distances as well as data from AAA on the total cost per mile of operating a vehicle (60.8 cents per mile for the average sedan when gas, insurance, and maintenance costs are considered)."
How does your city commute compare with the rest of the country? Do you live near a red, yellow, or green circle? We're interested in your experience and want to know if it lines up with the data! Use the comments area below to share your story.
Map photos are screenshots by RPS Relocation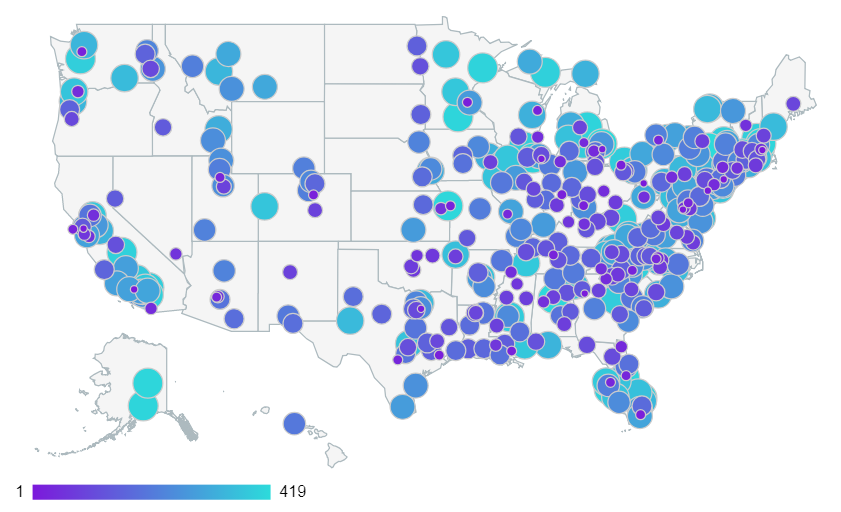 10
Dec
The World Series, Super Bowl, and Stanley Cup are among the pinnacles of sports. These championship events give way to heightened emotion, excitement, and, ultimately, victory or defeat plunging cities into mourning, jubilation, and sometimes anarchy-esque chaos. The larger cities across the country normally have a healthy amount of sports teams and fans that eagerly pursue winning one of these crowns. Others, not so much. Which U.S. cities are the best for sports? In an attempt to answer this, Wallet Hub put together 2018's best cities for sports.
Adam McCann of WalletHub explains the methodology in picking the best cities. In a nutshell, he writes, "each sports category was assigned a weight corresponding with the total percentage of adults in the U.S. who claim to follow that particular sport, according to The Global Sports Media Consumption Report".
The sports we are going to highlight are football, basketball, baseball, hockey, and soccer.
Mapping the Best Cities for Sports
Wallet Hub ran the data to create a visualization of what their findings look like on a map. As you can see, circles — some larger than others — dot the landscape. The larger circles indicate best sports cities that overall rank lower on the list. The smaller circles, like Boston, Chicago, and Los Angeles, indicate cities that are the best of the best when it comes to sports cities.
At a quick glance, it looks like the best cities listed are more or less in tune with the general population size. For example, circles are found up and down the east coast stretching all the way to the Midwest. After that, there are cities few and far between until arriving on the west coast. On the east coast, California has the most of these best cities for sports.
The Best Cities for Football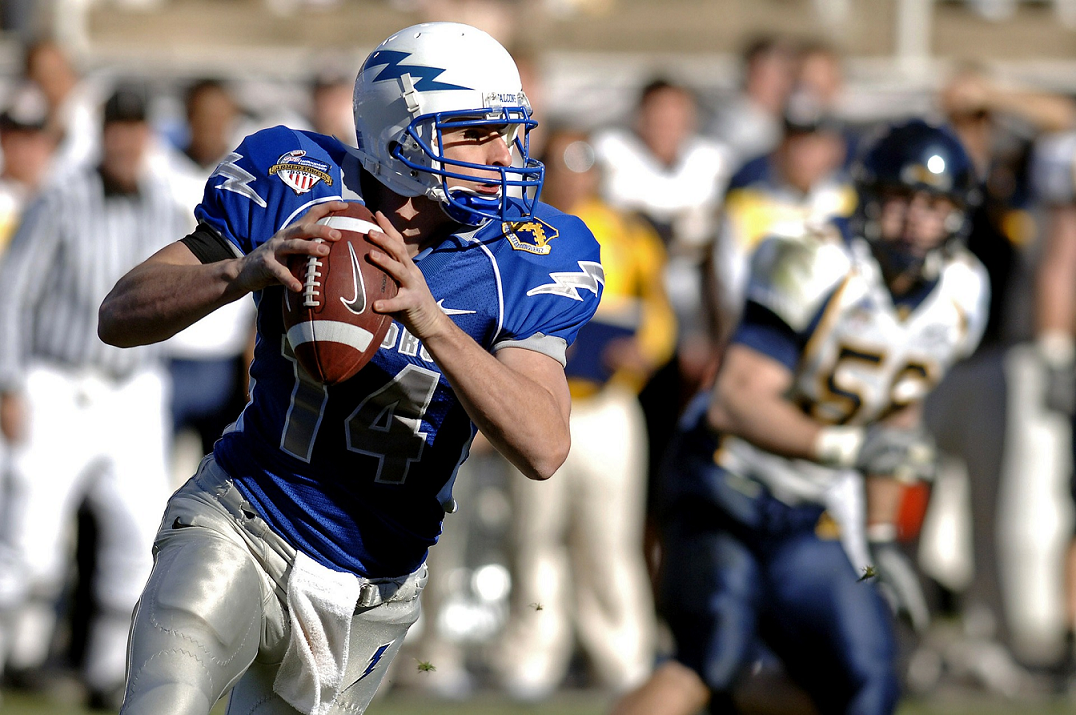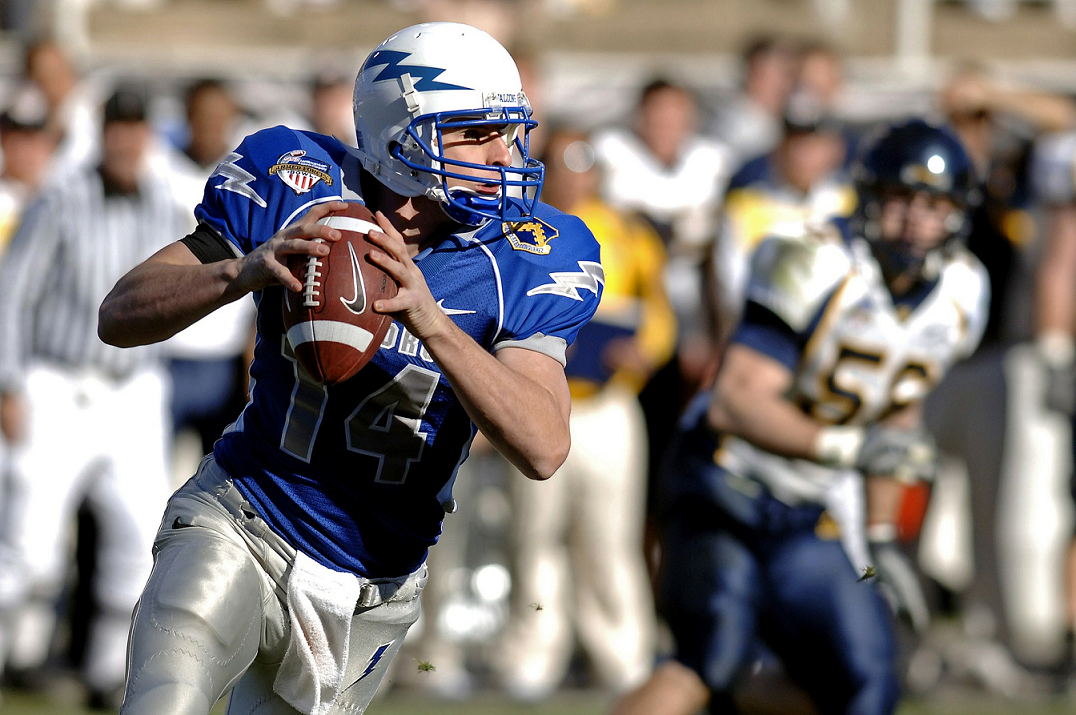 The Philadelphia Eagles won 2018's Super Bowl and the city ranks 8th on the list of best cities for football. The Green Bay Packers, a legendary team that is owned by the fans in a city of just over 100,000 people, have the top spot. The #2 slot goes to the Steel City where the Pittsburgh Steelers and their fan are always revved up for game day. Dallas takes the #3 spot even though the professional NFL team that has their name is actually about 20.5 miles away in Arlington, TX. The Cowboys and their fans call themselves "America's Team" which may have been more true in the 90's than it is today where "Most of Texas' team" is likely more fitting. Still the city of Dallas' mood often fits with how well the Cowboys played the week before and much of the area pays close attention to every decision the team makes. The New England Patriots out of Boston, MA sit just outside of the top 3 spots at #4. The team has competed in the Super Bowl eight times in the last twenty years, out of those appearances they have won five NFL championships.
Here are the top 30 best cities for football:
Green Bay, WI
Pittsburgh, PA
Dallas, TX
Boston, MA
New York, NY
Los Angeles, CA
Glendale, AZ
Philadelphia, PA
Oakland, CA
Cincinnati, OH
Atlanta, GA
Seattle, WA
New Orleans, LA
Washington, DC
Indianapolis, IN
Miami, FL
Kansas City, MO
Minneapolis, MN
Charlotte, NC
Nashville, TN
Buffalo, NY
Cleveland, OH
Baltimore, MD
San Francisco, CA
Detroit, MI
Tampa, FL
Chicago, IL
Denver, CO
Houston, TX
Jacksonville, FL
The Best Cities for Basketball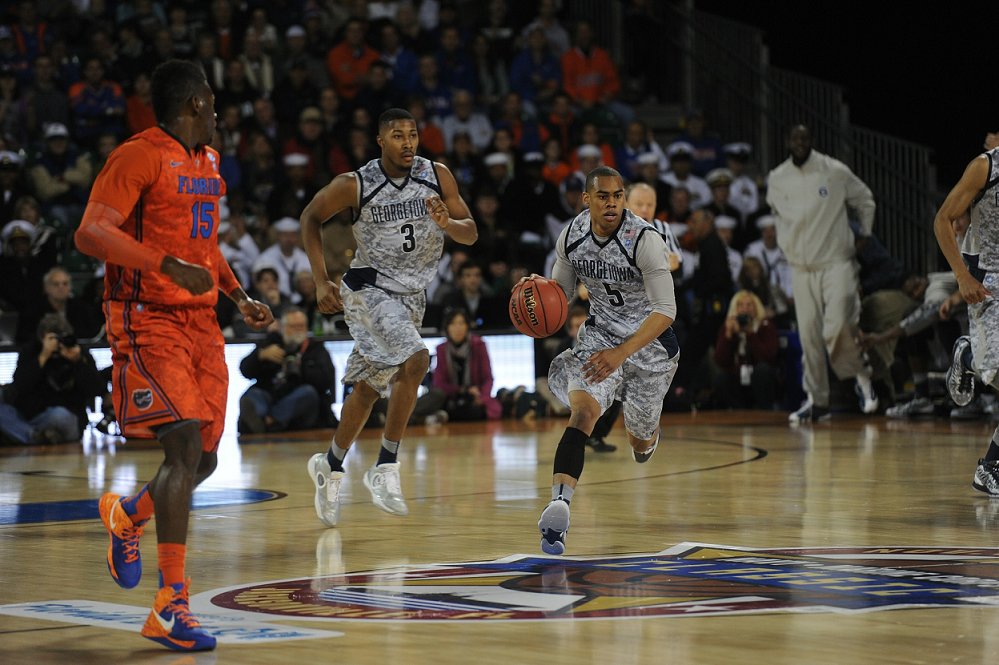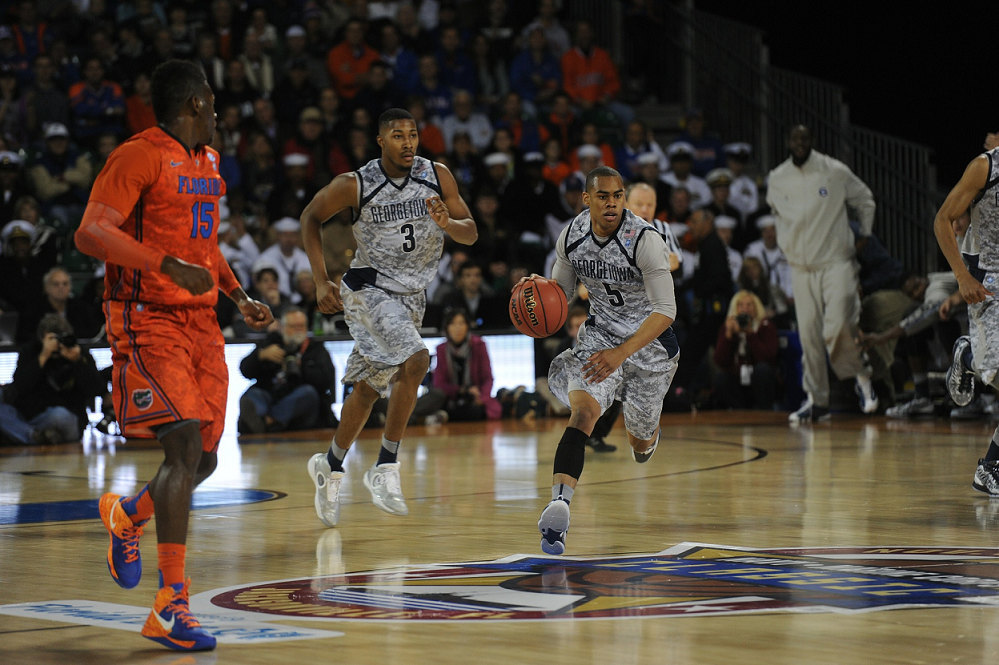 The #1 Los Angeles Lakers were to the 2000s what the Chicago Bulls were to the 1990s. Coach Phil Jackson and players Shaquille O'Neal and Kobe Bryant propelled the Lakers to three straight championship wins. The Lakers won five championships from 2000-2010. #2 Boston Celtics saw legendary basketball champion Larry Bird play for the team; however, the Celtics were good even before he joined. The Celtics won the NBA Finals an amazing 8 times in a row from 1959-1966. The #3 Golden State Warriors (Oakland, CA) are the hottest team in basketball right now. They won 2018's NBA Finals. The Warriors also won in 2015 and 2017. Steve Curry is to the Warriors what Michael Jordan was to the Chicago Bulls.
Here are the top 30 best cities for basketball:
Los Angeles, CA
Boston, MA
Oakland, CA
San Antonio, TX
Salt Lake City, UT
Miami, FL
Oklahoma City, OK
Chicago, IL
Cleveland, OH
Philadelphia, PA
New York, NY
Washington, DC
Dallas, TX
Houston, TX
Atlanta, GA
Indianapolis, IN
Orlando, FL
Portland, OR
New Orleans, LA
Sacramento, CA
Milwaukee, WI
Detroit, MI
Chapel Hill, NC
Lawrence, KS
Memphis, TN
Minneapolis, MN
Durham, NC
Charlotte, NC
Denver, CO
Lexington, KY
The Best Cities for Baseball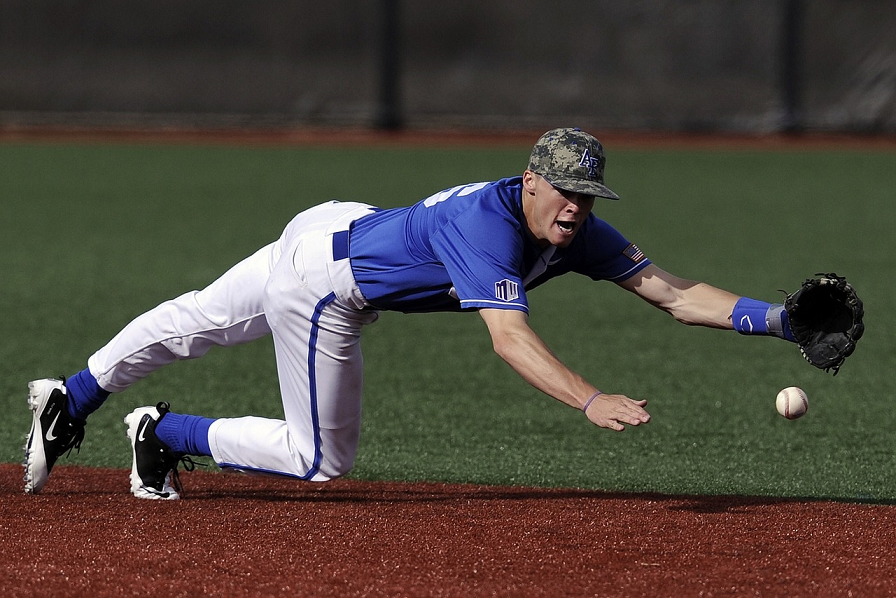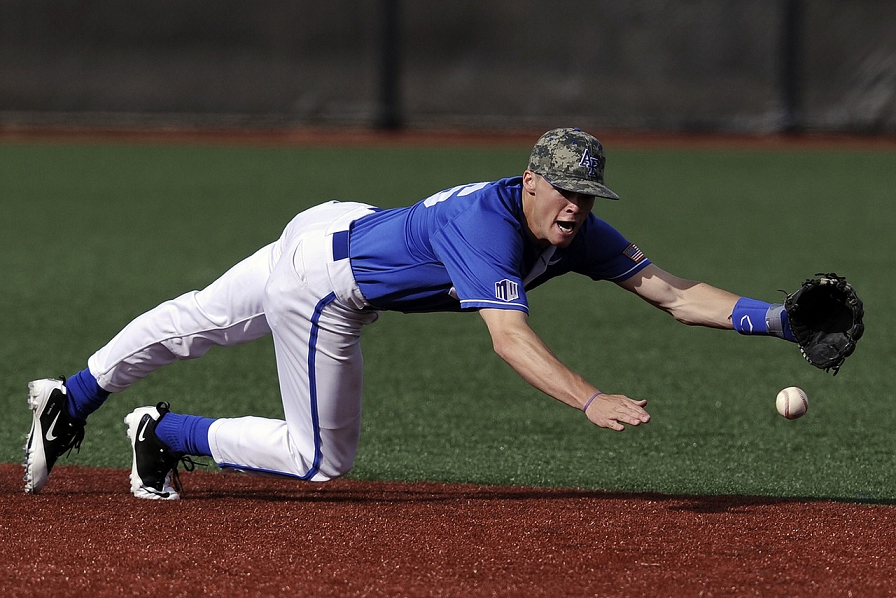 The Boston Red Sox won 2018's World Series and ranks at number 8 in the best cities for baseball. The Red Sox have competed in the championship game twice in the past 10 years. They won both times. Their rivals are the New York Yankees. #1 New York is home to the Yankees and Mets. #2 Los Angeles is home to the Angels and they've only had one World Series win (2002). The team became more popular after the 1994 movie "Angeles in the Outfield". The #3 St. Louis Cardinals have won numerous championship games; however, the lost in 2003 to the current champs (Boston Red Sox).
Here are the top 30 best cities for baseball:
New York, NY
Los Angeles, CA
St. Louis, MO
Atlanta, GA
Chicago, IL
San Francisco, CA
Cincinnati, OH
Boston, MA
Pittsburgh, PA
Arlington, TX
Oakland, CA
Minneapolis, MN
Detroit, MI
St. Petersburg, FL
Baltimore, MD
Milwaukee, WI
Cleveland, OH
Philadelphia, PA
San Diego, CA
Kansas City, MO
Phoenix, AZ
Houston, TX
Denver, CO
Seattle, WA
Washington, DC
Miami, FL
Buies Creek, NC
Spokane, WA
Annapolis, MD
Durham, NC
The Best Cities for Hockey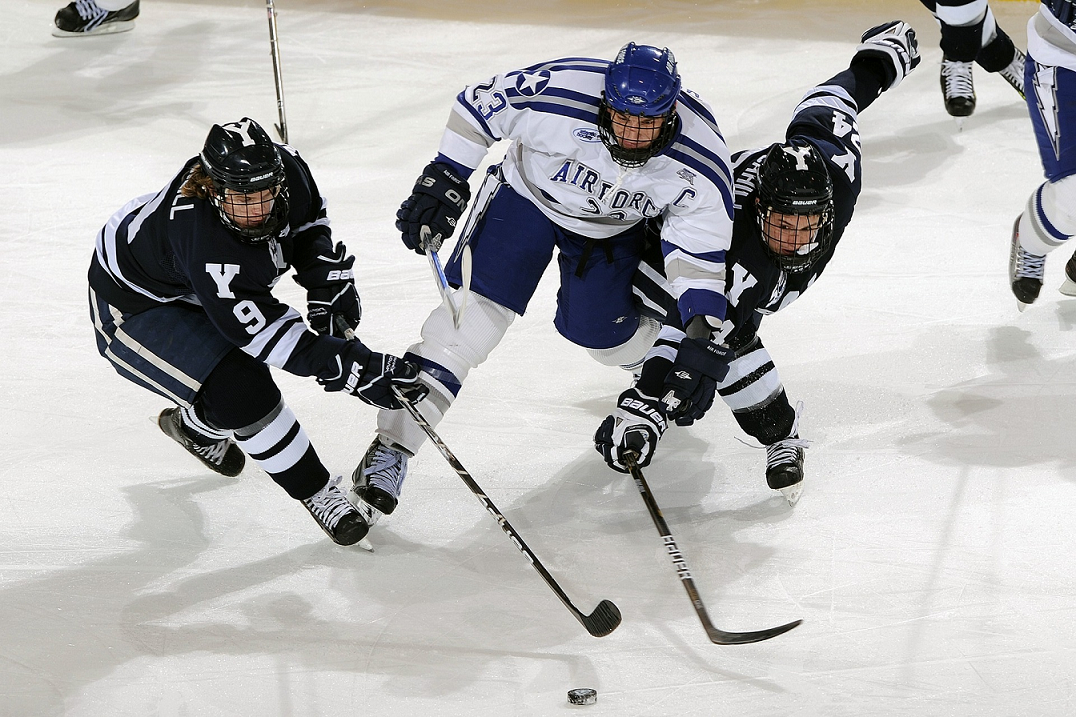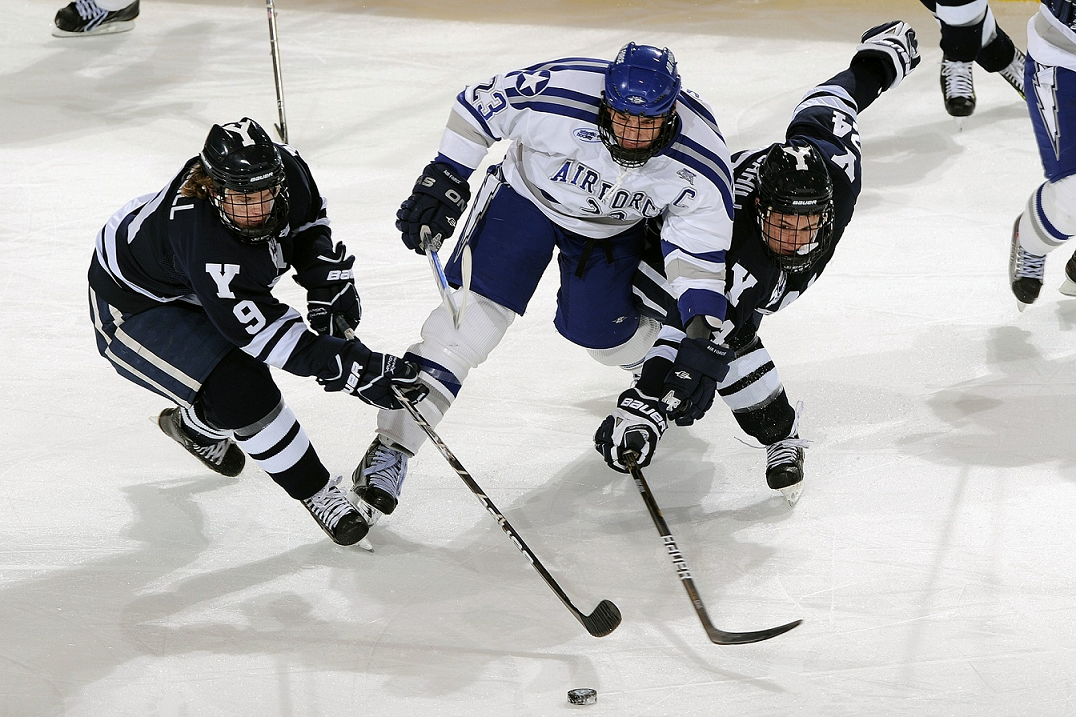 The Washington Capitals won 2018's Stanley Cup and the city ranks at number 10 in the best cities for hockey. The Chicago Blackhawks are notable because they won the championship game three times in the last ten years. The #1 Boston Bruins have played in the Stanley Cup 19 times and won 6 of them. The #2 Detroit Red Wings, however, won even more championship games. The Red Wings have played in the Stanley Cup 24 times and won 11 of them. Finally, the #3 Pittsburgh Penguins have played in the finals only 6 times; however, the Penguins won 5 out of 6 of those games. That gives the Penguins a better win percentage over the Bruins and Red Wings.
Here are the top 30 best cities for hockey:
Boston, MA
Detroit, MI
Pittsburgh, PA
New York, NY
Chicago, IL
Newark, NJ
St. Louis, MO
Buffalo, NY
Anaheim, CA
Washington, DC
Philadelphia, PA
San Jose, CA
St. Paul, MN
Denver, CO
Sunrise, FL
Tampa, FL
Los Angeles, CA
Las Vegas, NV
Dallas, TX
Glendale, AZ
Nashville, TN
Raleigh, NC
Columbus, OH
Ann Arbor, MI
Durham, NH
Grand Forks, ND
Lewiston, NY
Hamilton, NY
Hanover, NH
Orono, ME
The Best Cities for Soccer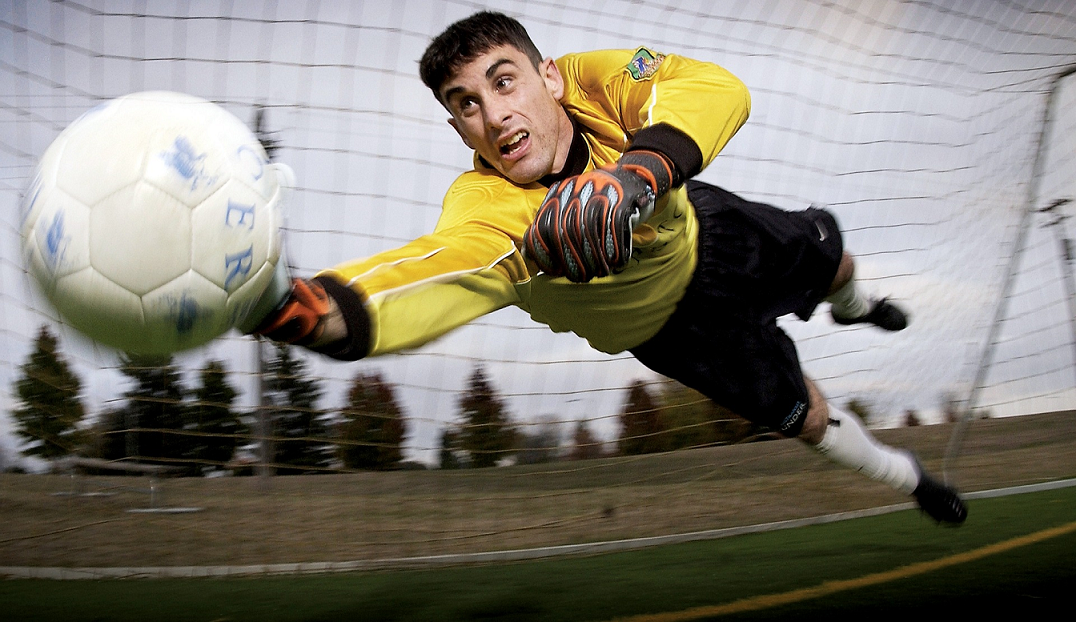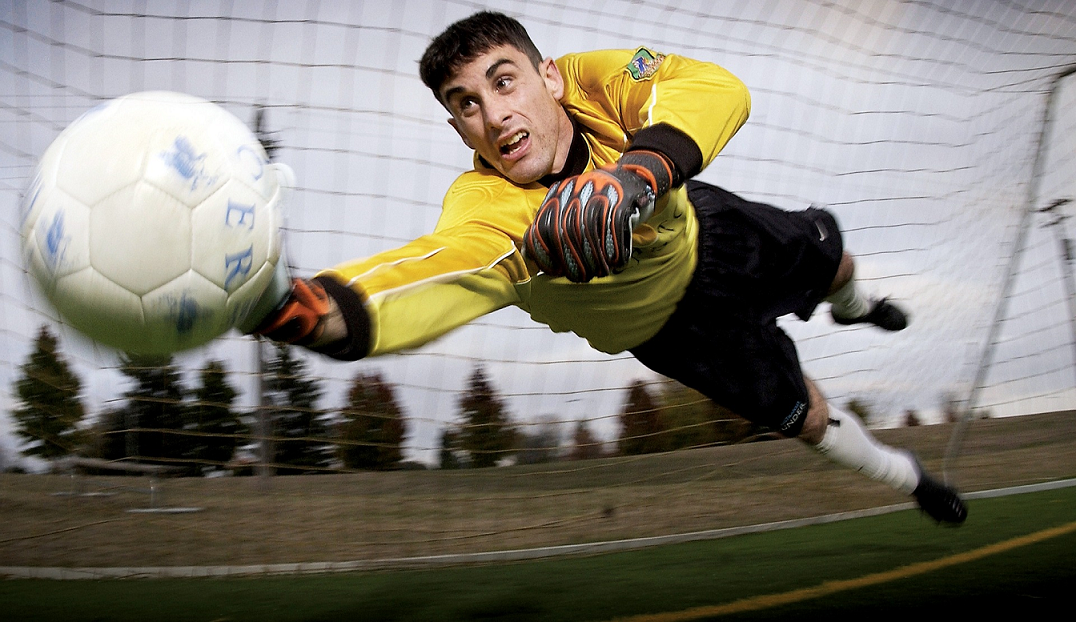 Toronto FC is 2018's MLS Cup winner. While a North America Soccer team, Toronto is not applicable to the best cities map because it only covers the United States. The top spot for soccer is held by Los Angeles whose team, LA Galaxy, has won the MLS Cup three times in the last ten years. #1 LA Galaxy is popular in part due to having international soccer star David Beckham as a former player. He helps the Galaxy win two straight MLS Cups (2011 and 2012). The #2 Orlando City Lions only became a team 5 years ago, in 2013. The demographic and local support for soccer lead to the creation of the team. Finally, the #3 Seattle Sounders is also a relatively new team. The Sounders were formed 11 years ago, in 2007, for the same reasons as the creation of the Orlando Lions. Soccer is becoming more popular in the U.S.!
Here are the top 30 best cities for soccer:
Los Angeles, CA
Orlando, FL
Seattle, WA
Portland, OR
New York, NY
Salt Lake City, UT
Washington, DC
Kansas City, MO
Atlanta, GA
Chicago, IL
Houston, TX
Columbus, OH
Cary, NC
Minneapolis, MN
Boston, MA
Dallas, TX
San Jose, CA
Denver, CO
Philadelphia, PA
Piscataway, NJ
Cincinnati, OH
Louisville, KY
Sacramento, CA
Charleston, SC
Miami, FL
Richmond, VA
St. Louis, MO
Bethlehem, PA
San Antonio, TX
Tulsa, OK
Dallas, Seattle, Las Vegas, Kansas City, and Chicago
If you'be been following our blog, you know that these cities are great places to live for various reasons. Where do they stand as the best cities for sports? Check them out below.
Dallas—Football: 3; Basketball: 13; Baseball: 177; Hockey: 19; Soccer: 16
Seattle—Football: 12; Basketball: 83; Baseball: 24; Hockey: 450; Soccer: 3
Las Vegas—Football: 197; Basketball: 198; Baseball: 89; Hockey: 18; Soccer: 43
Kansas City—Football: 450; Basketball: 450; Baseball: 450; Hockey: 450; Soccer: 45
Chicago—Football: 27; Basketball: 8; Baseball: 5; Hockey: 5; Soccer: 10
Featured photo is a screenshot of Wallet Hub sports map by RPS Relocation
All sports photos by CC0 Creative Commons on Pixabay
Map of  best sports cities is embedded from WalletHub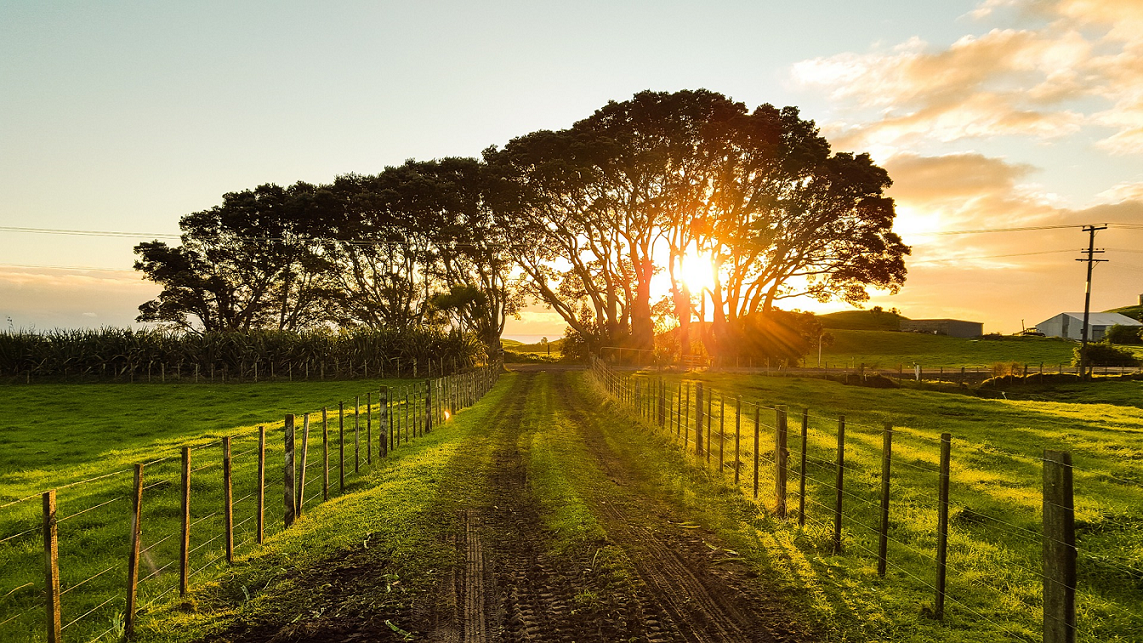 03
Dec
The United States has one of largest land masses of any country in the world. Our country has vast mountains, plains, deserts. Puerto Rico—a territory of the United States—is home to the only tropical rain forest in North America. What is all of this land used for? Bloomberg pulled data from a number of sources to determine to answer this question.
Sure, a percentage of land is allotted for residential or business use. With the amount of traffic in some areas, it can seem as if our country is overpopulated; however, as Bloomberg learned from the data, that's not the case.
Six Land Types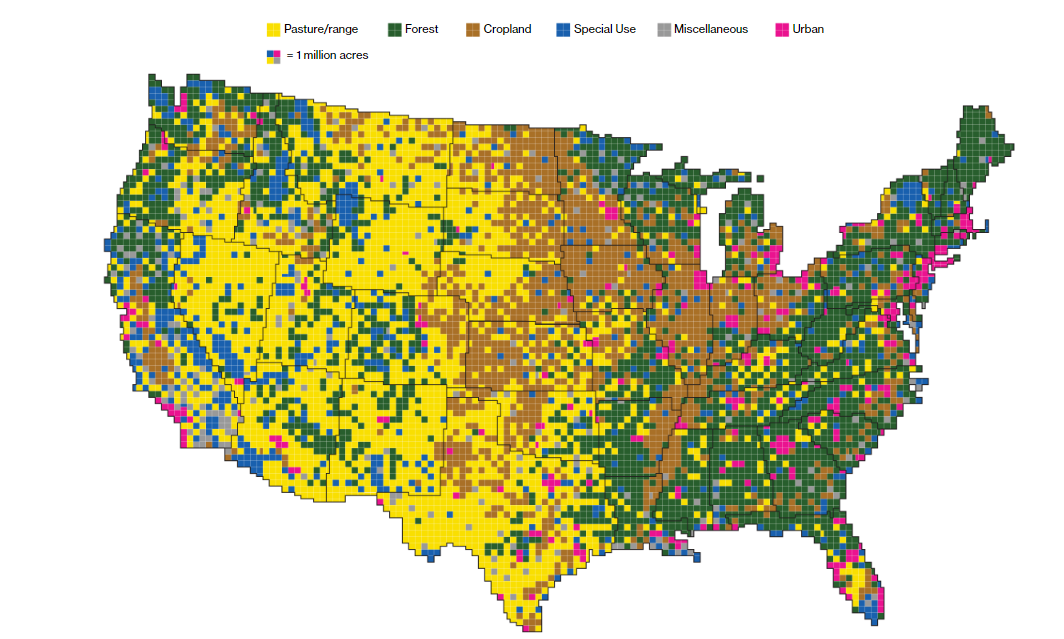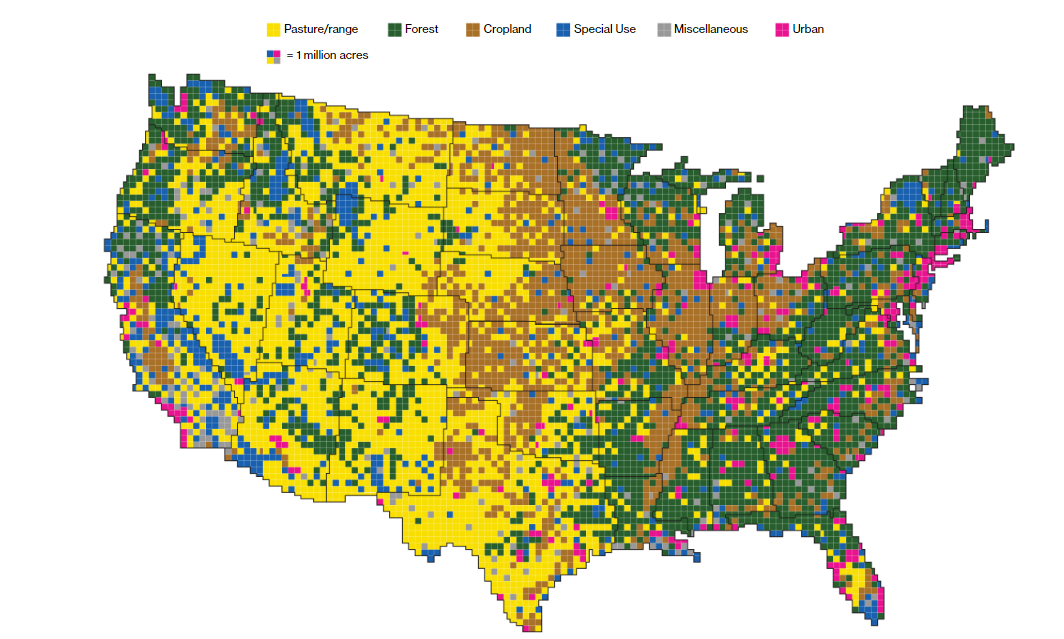 Bloomberg authors Dave Merrill and Lauren Leatherby write, "Using surveys, satellite images and categorizations from various government agencies, the U.S. Department of Agriculture divides the U.S. into six major types of land. The data can't be pinpointed to a city block—each square on the map represents 250,000 acres of land. But piecing the data together state-by-state can give a general sense of how U.S. land is used".
These six land types are:
Pasture/range
Forest
Cropland
Special Use
Miscellaneous
Urban
The map clearly shows urban areas are a minority compared to the rest, just by looking at the colored squares. Miscellaneous and special use areas have fewer squares than forest, cropland, or pasture and range zones. Bloomberg was able to collect the acreage for each land type.
Acreages of the Land Types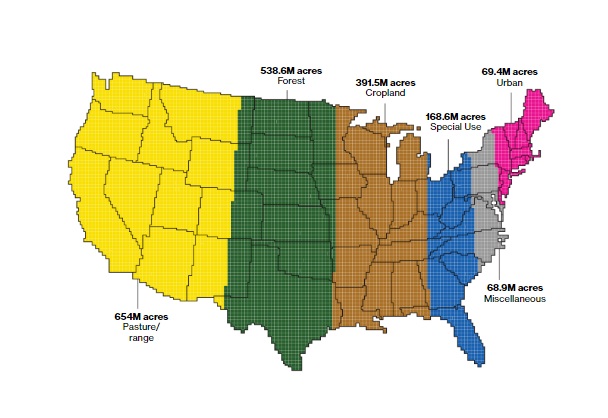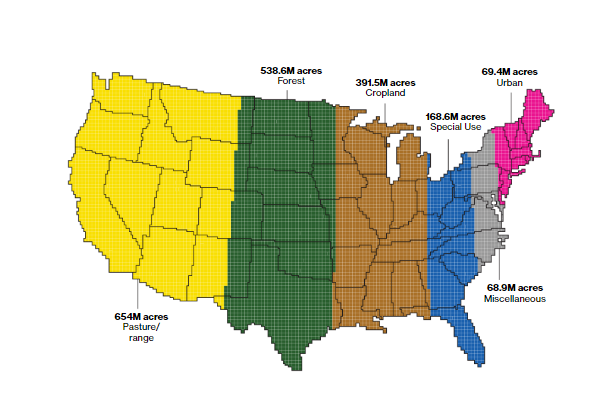 Imagine if you were able to view each land type together on the map. That's what you get in the photo above. Here, it's proven that urban areas are indeed the smallest and pasture and ranges are the largest. How many acreages does each land type contain? Here's the breakdown:
Urban: 69.4M acres
Miscellaneous: 68.9M acres
Special Use: 168.6M acres
Cropland: 391.5M acres
Forest: 538.6M acres
Pasture/range: 654M acres
"Four in five Americans live, work and play" in urban areas, write Merrill and Leatherby. Given this fact, most Americans would be able to fit in a relatively small area of the country, in theory. Urban areas are growing quickly, however. Merrill and Leatherby continue, "The U.S. is becoming more urban—at an average rate of about 1 million additional acres a year. That's the equivalent of adding new urban area the size of Los Angeles, Houston and Phoenix combined. U.S. urban areas have more than quadrupled since 1945".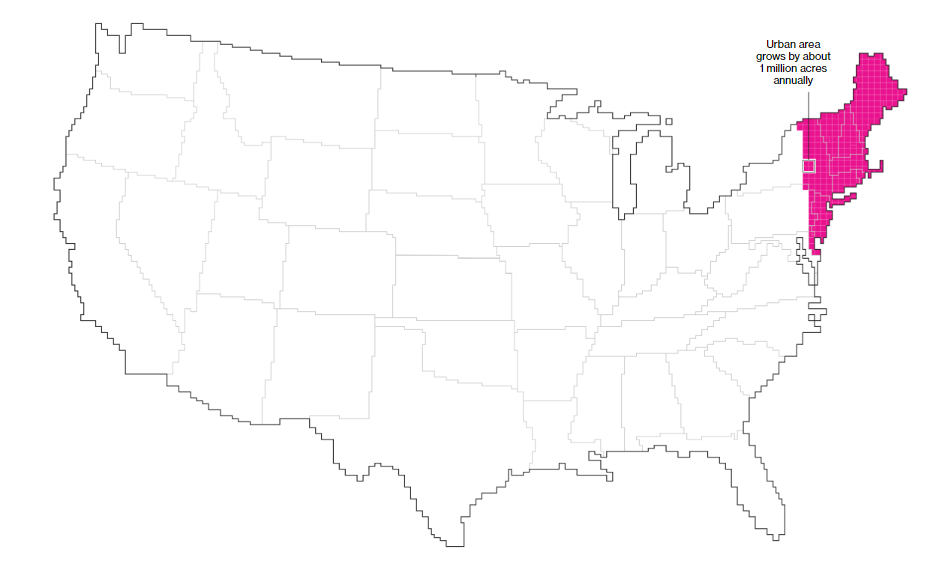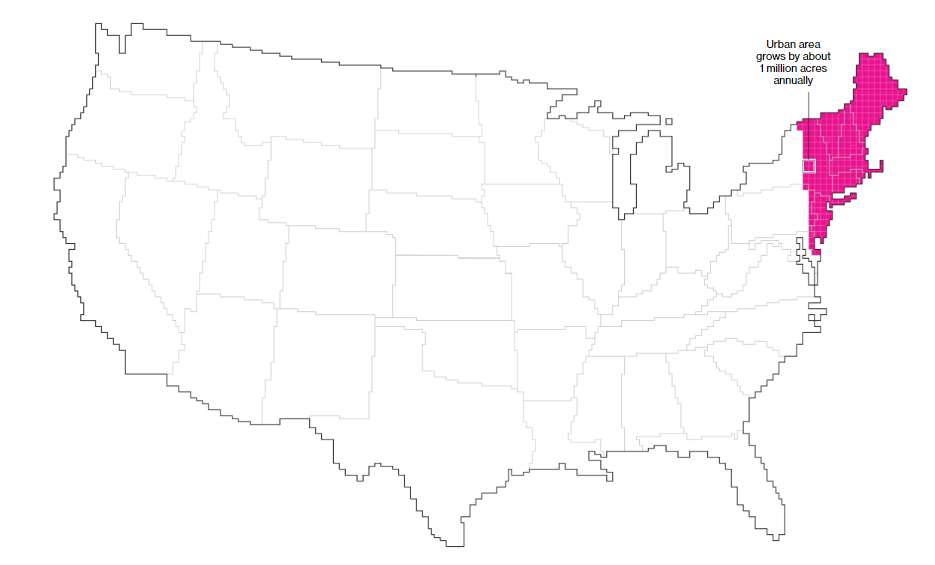 Food Production and Land
Around one-fifth of the land in our country is agricultural land and most of it is located in the Midwest. However, only a small percentage of agricultural land is currently used to feed Americans. Some of the land is used for ethanol production or livestock feed. Other land is used to cultivate crops with the goal of exporting them to other countries. Here's a breakdown of what our cropland is used for:
Livestock feed: 127.4M acres
Food we eat: 77.3M acres
Other grain & feed exports: 62.8M acres
Idle/fallow: 52M acres
Ethanol, biodiesel: 38.1M acres
Wheat exports: 21.5M acres
Cotton/non-food: 13.6M acres
Here's a photo of this data visualized: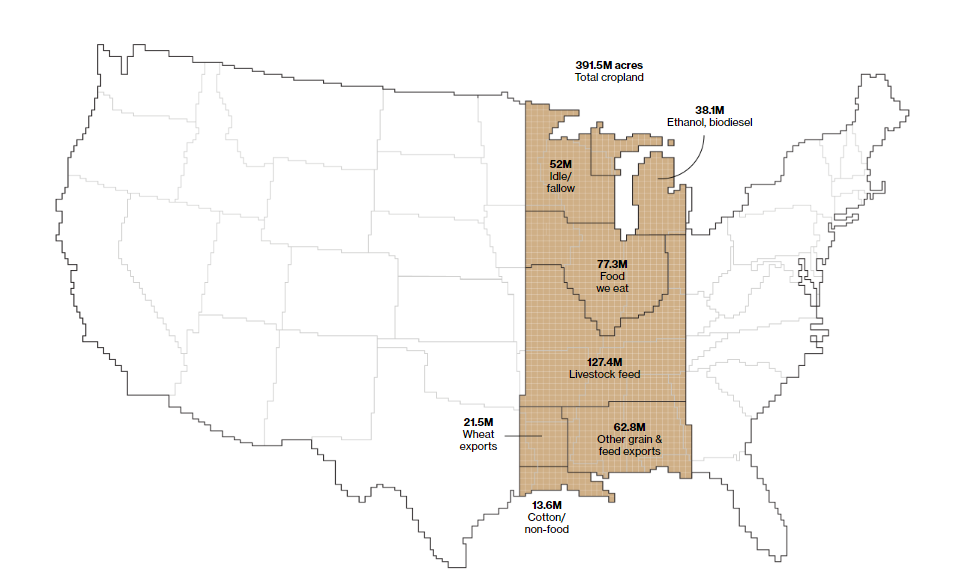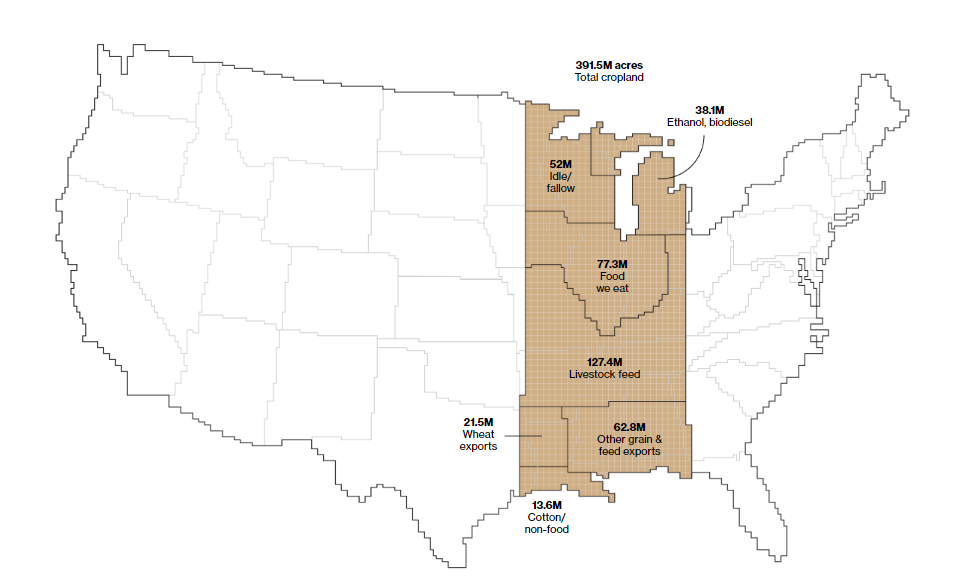 Let's zoom in on the food we eat. In the photo below, you can see wheat, non-citrus fruits, vegetables, rice, sugarcane, and a few other types of foods. Wheat, soybeans, peanuts, and oilseeds appear to be about half of what we eat. Barley, maple syrup, potatoes, and citrus are among the least of what we consume.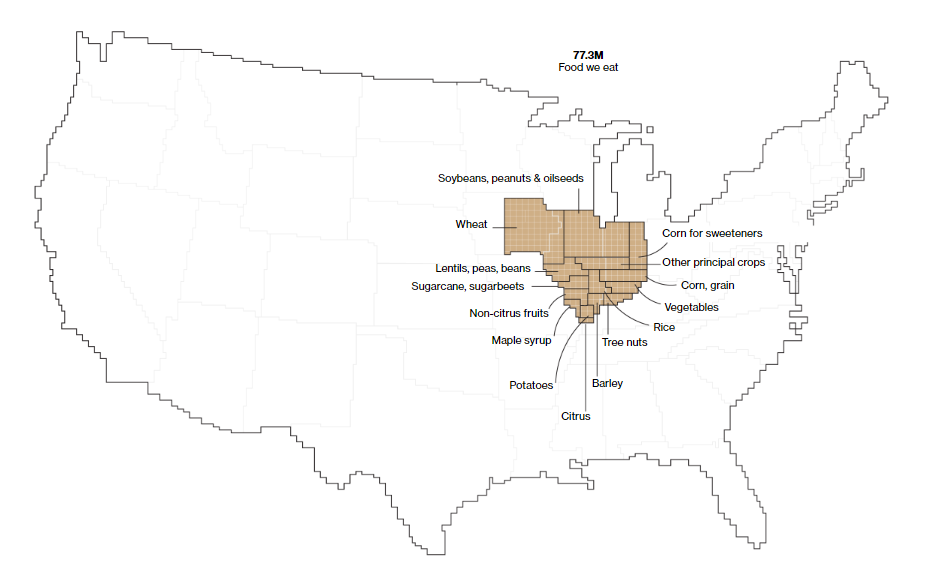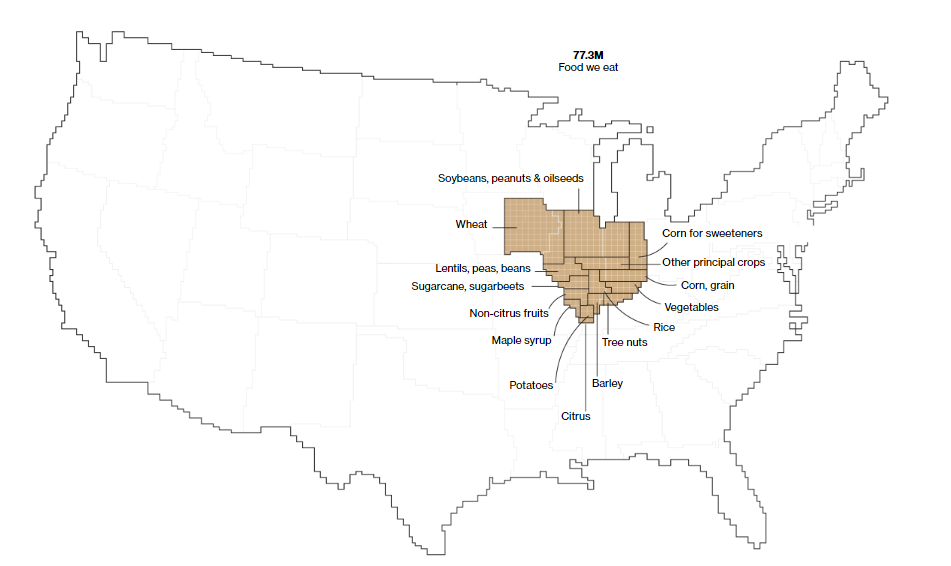 Featured photo by CC0 Creative Commens on Pixabay
Bloomberg data map photos are screenshots by RPS Relocation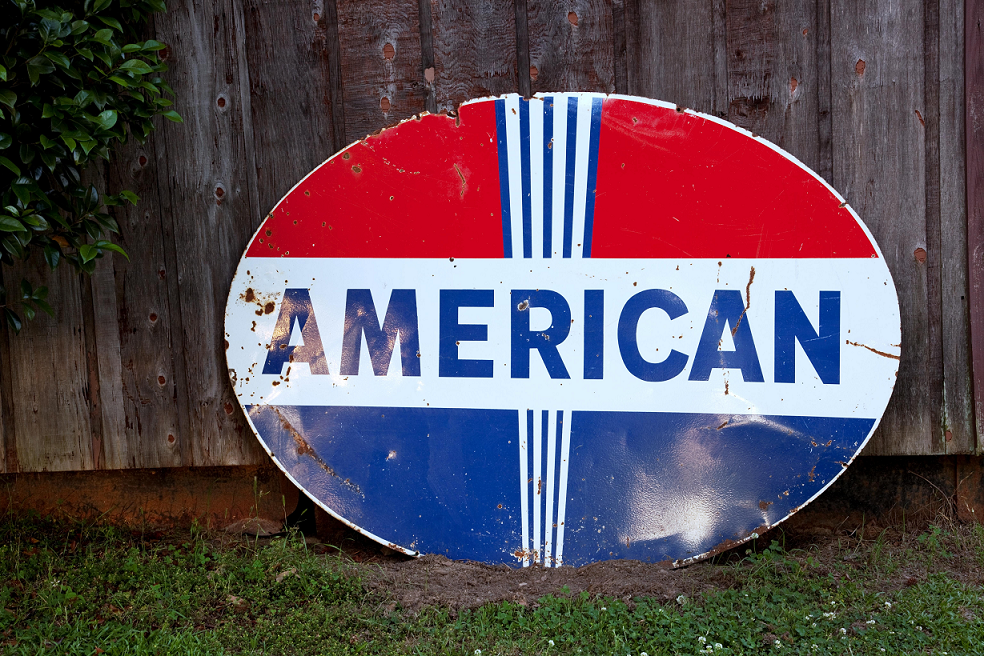 26
Nov
Energy helps makes the world turn. Maybe that why every state in our country produces it; however, not all energy is equal when it comes to being green and environmentally friendly. Reddit user Dr_Engineerd shared a map of the United States. Specifically, the map details the percentage of electricity produced by non-fossil fuel sources. The data comes from U.S. Energy Information Administration. Let's take a closer look at the map!
The Non-fossil Fuel Energy Map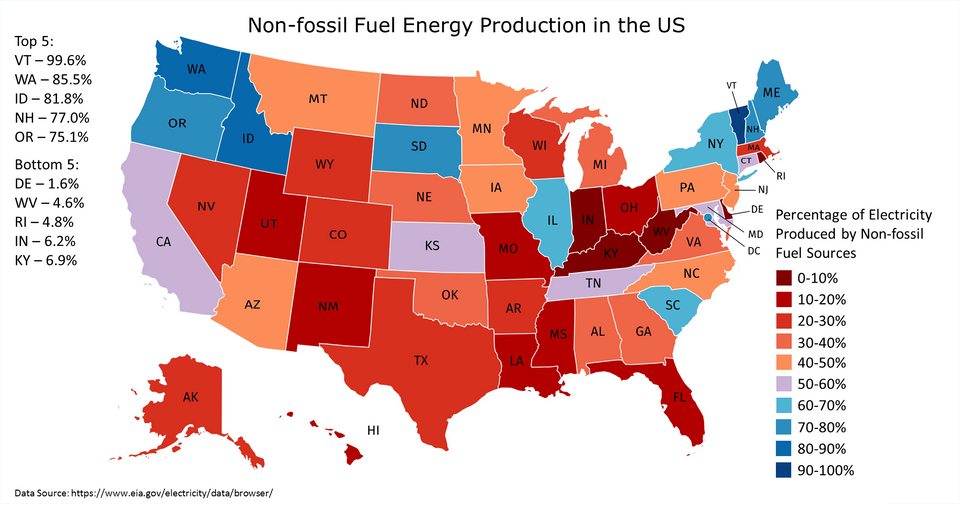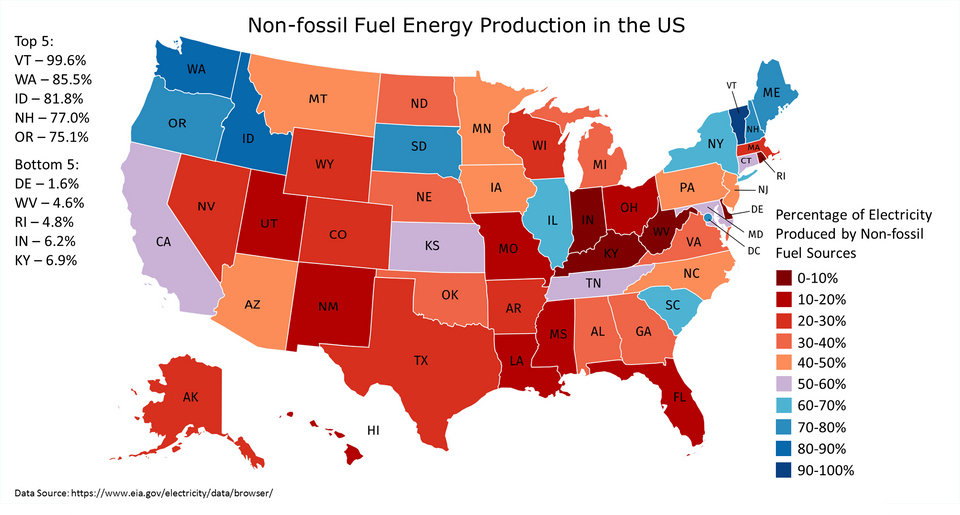 Each state on the map is depicted by a certain color. The redder states are those which have a low percentage of non-fossil fuel energy production. The bluer states, on the other hand, of those which have a higher percentage of non-fossil fuel energy production.
Most of the states in the Midwest, with the exception of Illinois and South Dakota, lean towards the red end of the color spectrum. This means the electricity of those states is produced by a higher amount of fossil fuel energy. The northern states on both coasts trend bluer. The electricity there is produced by more non-fossil fuel energy.
Highest and Lowest States by Percentage
A cursory glance at the map will give you an idea where each state stands. After all, the color of the state indicates the type of fuel sources it uses (fossil fuels versus non-fossil fuels). To get a better idea of fuel sources, it's best to get the actual percentage of electricity produced by non-fossil fuel sources. Below are the states which have the most, and least, percentages of electricity produced by non-fossil fuel sources.
Top 5 non-fossil fuel states:
Vermont (99.6%)
Washington (85.55%)
Idaho (81.8%)
New Hampshire (77%)
Oregon (75.1%)
Bottom 5 non-fossil fuel states:
Delaware (1.6%)
West Virginia (4.6%)
Rhode Island (4.8%)
Indiana (6.2%)
Kentucky (6.9%)
Comments and Thoughts
Reddit user Dr_Engineerd explains the types of non-fossil fuel energy sources. Solar, wind, biomass, geothermal, and hydroelectric are common types of green energy. Nuclear energy also falls into this category in part because it's emission-free.


Dr_Engineerd also shared what the map would look like without including nuclear. See it below.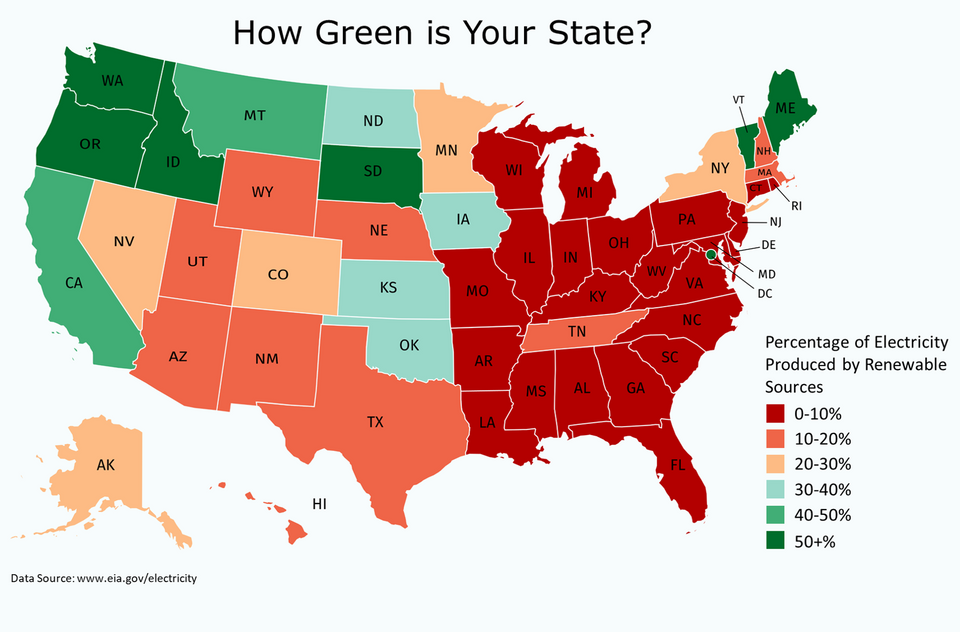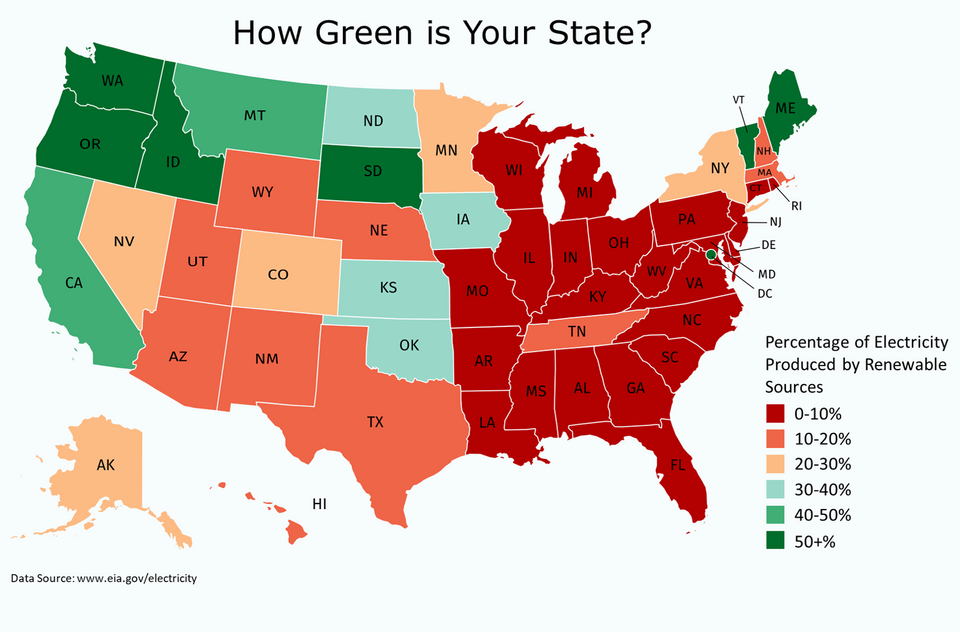 Another Reddit user, jswynn5, has an interesting take on the energy product of Texas. Jswynn5 writes, "Side note, I used to live in Texas, they are the largest wind energy producers in the US. Unfortunately it doesn't come close to how much fossil fuel energy they produce. Just interesting facts".


Featured photo by Pixabay on Pexels
Non-fossil fuel energy map and Reddit comments are screenshots by RPS Relocation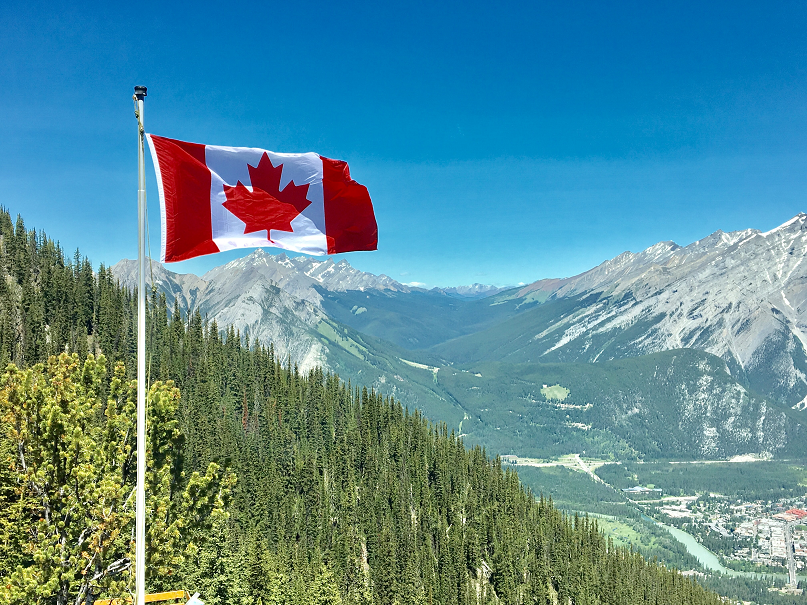 19
Nov
How green is Canada's energy? When it comes to energy, let's just say it depends on the province. Like the individual states in the United States, the provinces in Canada are diverse next to each other. Reddit user PaulsEggo posted an image visualizing how green each province is.
The Province Map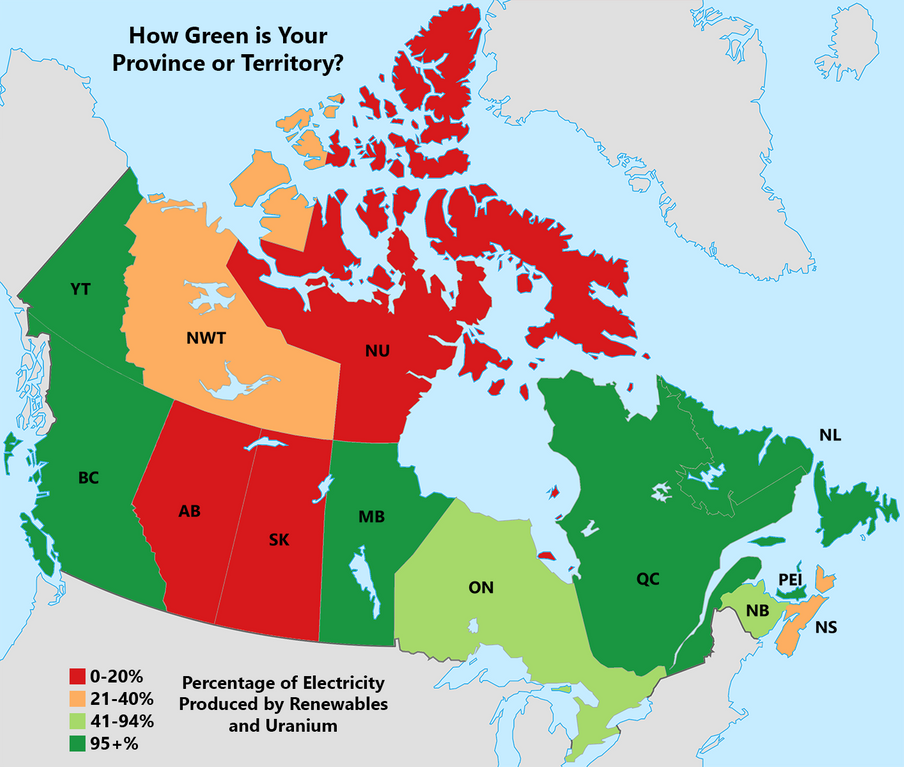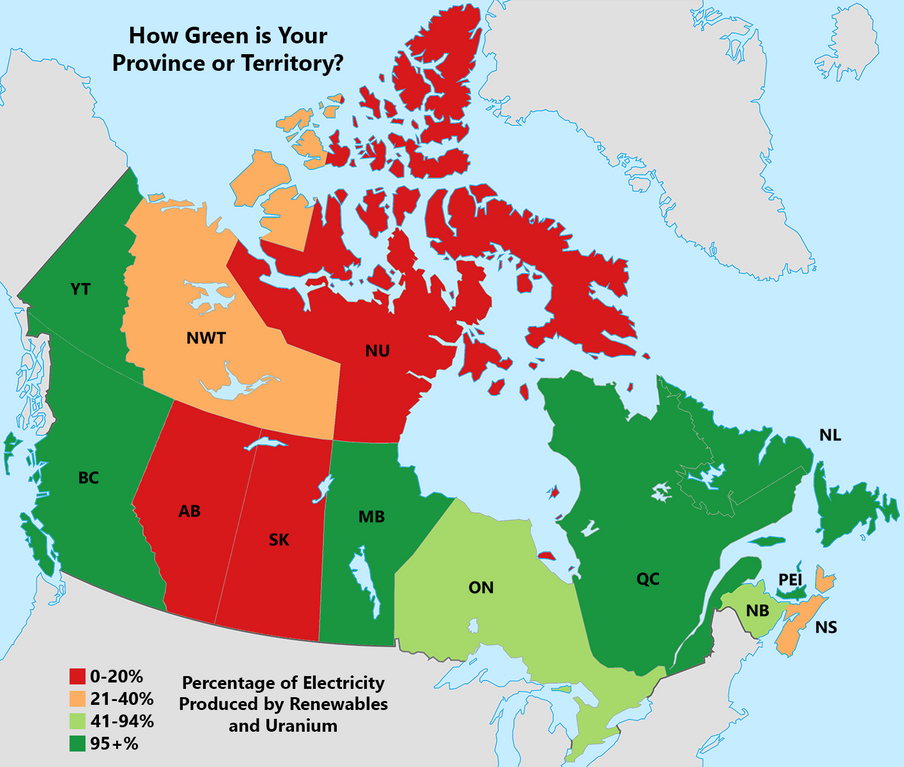 The provinces vary in color from red to light orange to light green to green. The red provinces are those which have a low percentage of electricity produced by renewables and uranium. The green, on the other side of the spectrum, are provinces which have a high percentage of electricity produced by renewables and uranium. Here are exact percentages for each color:
Red: 0-20%
Light Orange: 21-40%
Light Green: 41-94%
Green: 95+%
Territorial Statistics Chart
Reddit user PaulsEggo created the map visualization; in addition, he created the following provincial and territorial statistics chart.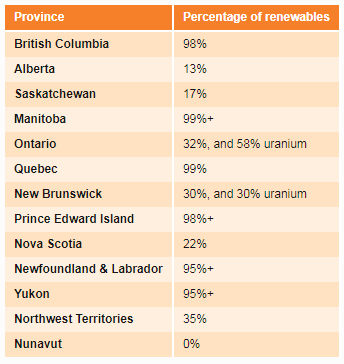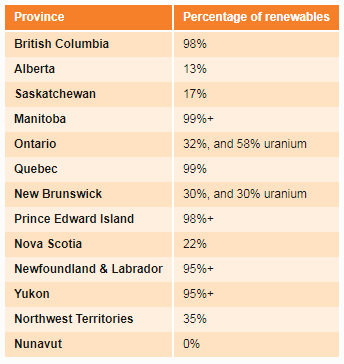 It's important to note that uranium and nuclear energy are considered clean energy. The chart is based on the data PaulsEggo collected from the National Energy Board (NEB). NEB writes, "Canada is rich in energy supply. From the hydroelectric reservoirs of British Columbia, Manitoba, Ontario, and Quebec to the hydrocarbon resources of western Canada and offshore East Coast. From the uranium deposits in northern Saskatchewan to the abundant wind and solar potential across the country. This wealth of resources ranks Canada as the fifth largest natural gas producer, sixth largest crude oil producer, second largest hydro producer and sixth for share of renewable electricity generation."
Alberta, Saskatchewan, and Geography
Alberta and Saskatchewan are among the provinces colored in red in the map. One Reddit user, Tamer_, commented "They're still burning 87% of the coal and 72% of the natural gas used for power in Canada".


Another Reddit user, kylethsmith, commented how geography plays a role in having clean energy. They write, "The map is purely a result of geography. The vast majority of the green energy reflected in this map is hydro power, which is abundant in places like BC and Quebec. Ontario has some great hydro electric assets, too, along with the population density to make building a large nuclear plant viable. Saskatchewan is flat. There aren't a lot of waterfalls on the prairies to use for hydroelectricity. It is also sparsely populated, making the investment of tens of billions of dollars in a nuclear plant uneconomical".


Featured photo by Daniel Joseph Petty on Pexels
Canada visualization map, statistics chart, and Reddit comments are screenshots by RPS Relocation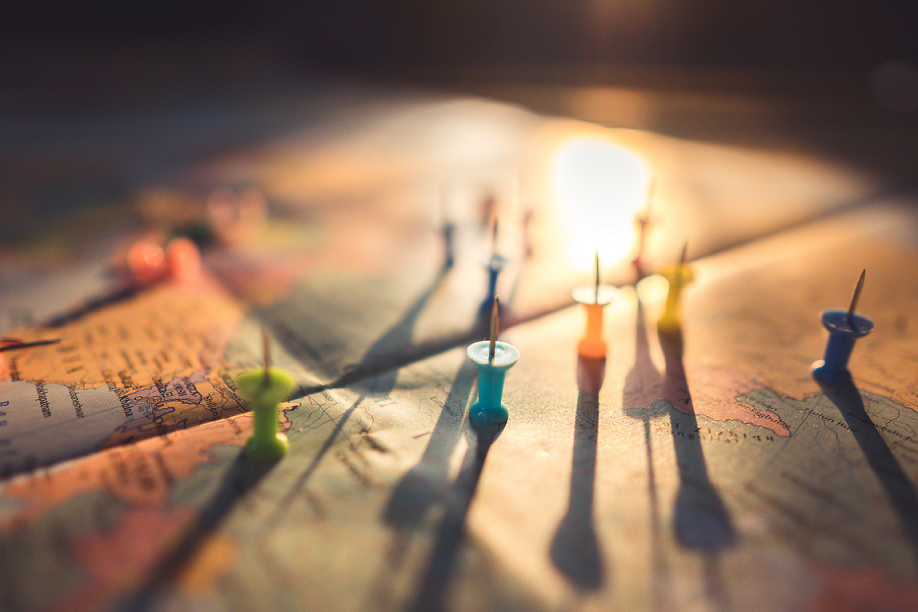 12
Nov
Knowledge is power! And in our Information Age, data is the new form of knowledge. This data is being used to make humanity better. Technological advances are moving at the speed of Moore's Law which sees computer power doubling every two years.
Data can be used to improve the lives of people at the federal, state, and local levels. One of the ways to determine where data will encourage positive action is to actually see the data. This can be accomplished by creating a data visualization on a map.
For Dallas, Texas, this such data visualization has become a reality. A substantial number of data sets have been collected with the goal of making the city better. This visualization is called TheMap. D Magazine gives us some background of how the map came to be.
Improving Dallas with a Map
Robert Mundinger, a longtime resident of Dallas, noticed problems in the areas he lived in. Matt Goodman of D Magazine wanted to learn more about TheMap from Mundinger.
Matt writes, TheMap is "an open-source, interactive web portal that allows users to access an array of data sets that can help people better understand all sorts of things about Dallas. The data sets can be used to generate maps. It's all exportable. "A kid's educational outcome is dependent on education and crime and health and access to food, access to internet, libraries," Mundinger says. "All these variables affect each other so much that there needs to be one place where people can look at them together and analyze them."
What Mundinger wants to achieve in simple: Highlight at-risk areas of the city. In addition, and while he was at it, Mundinger went ahead and included more data set that might be of use.
There are neighborhoods in Dallas which have a high concentration of poverty. This is included in the map visualization. There are intersections that have more fatal pedstrian crashes than others. This is also included in TheMap. There's even data about where there are working females over the age of 16. The information contained within TheMap is comprehensive!
Let's take a closer look at the data sets available for viewing.
Data Sets in TheMap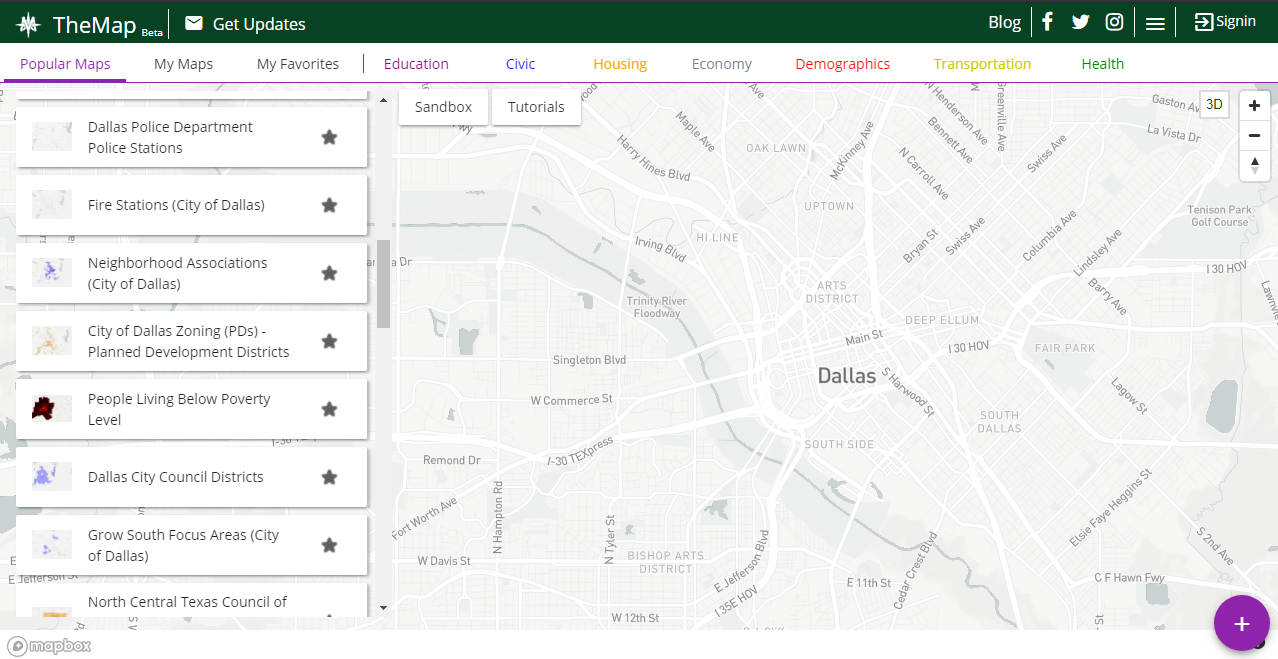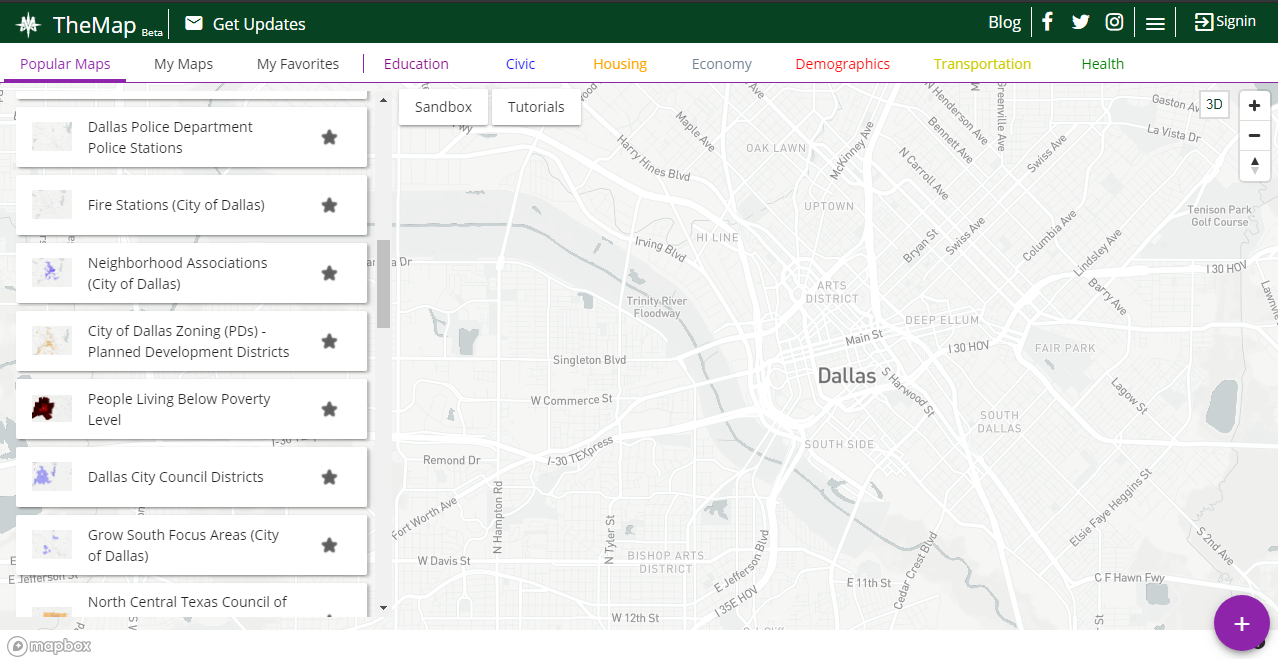 Police stations, fire stations, neighborhood associations, poverty areas—these are some of the data sets that are included in TheMap. Take a look at the column on the left to see them all. TheMap defaults to Popular Maps whe you visit the website.
You can otherwise click on Education, Civic, Housing, or other major types of data sets. Check out the row near the top to see more.
Once you click a data set, the information will be uploaded to the map. Let's say you click on police departments. Pinpoints of every police department in Dallas will show up on the map. You can click them individually to get the name, address, and more information about the particular police department.
Bus Stops in Dallas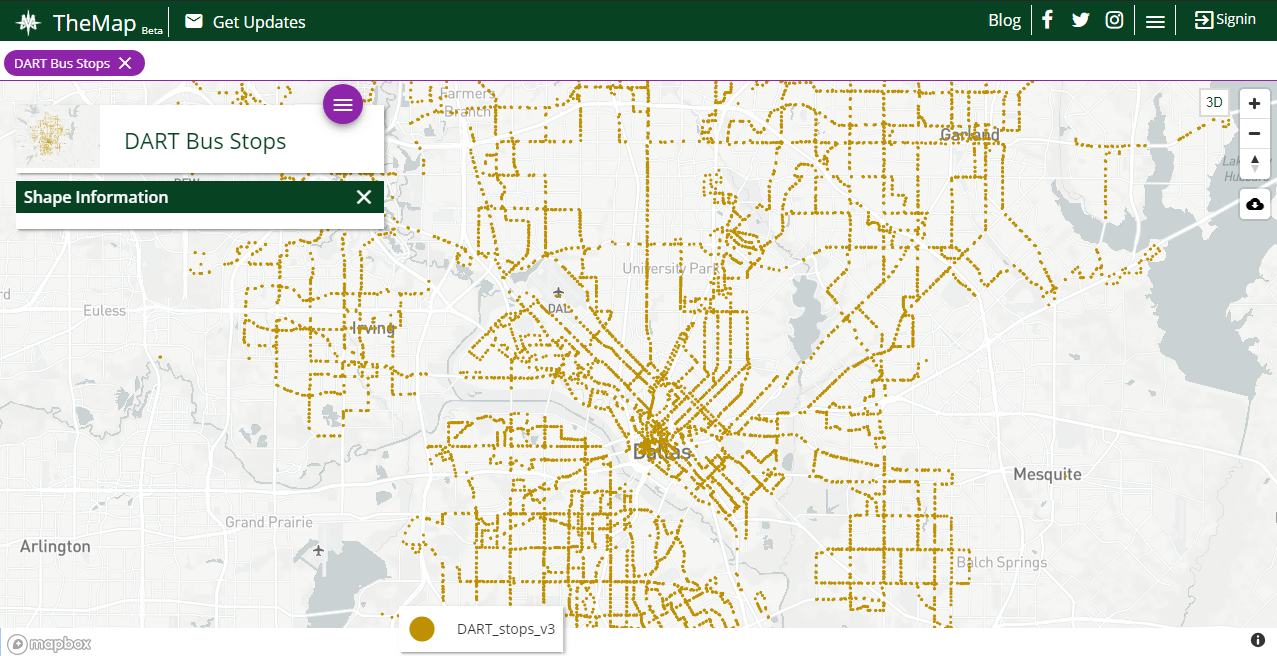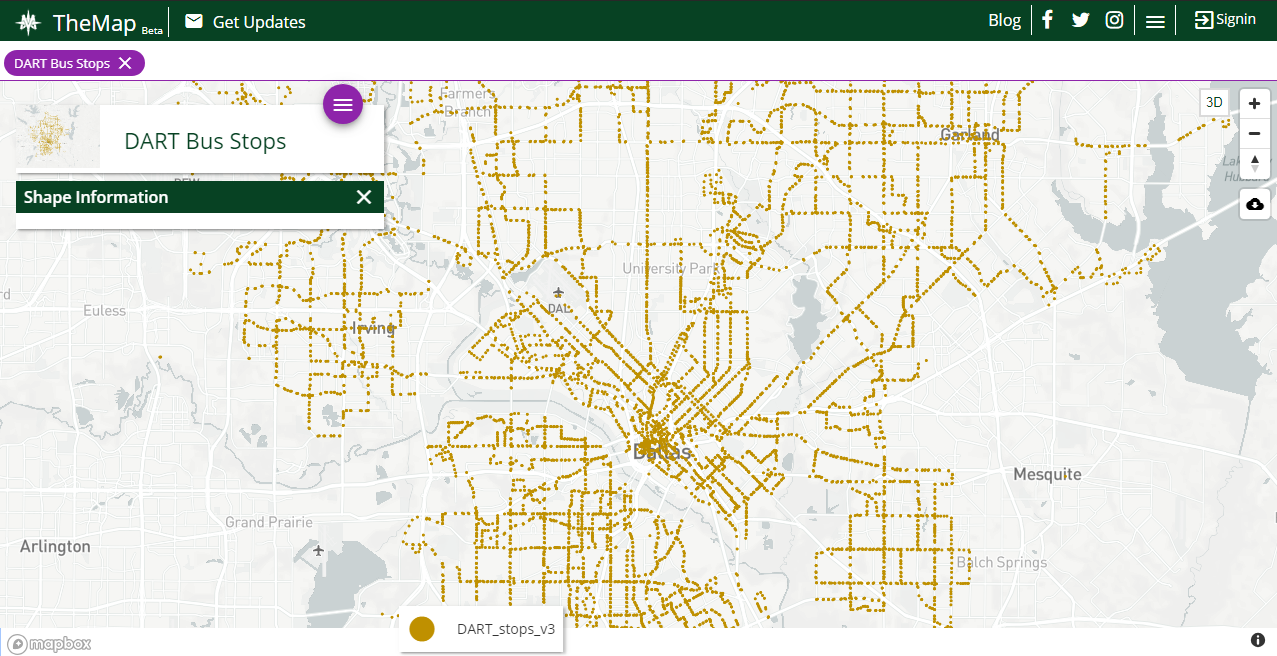 One of my favorite visualizations in TheMap is seeing where DART bus stops are. DART—which stands for Dallas Area Rapid Transit—seemingly has bus stops all over the city. A quick glance shows what can be estimated to over 100 bus stops.
This data set is surely important to Mundinger. After all, he's concerned with increasing the access of public services to all residents of Dallas, including those below the poverty line. With TheMap, Dallas city officials can combine areas of poverty with bus stop locations. If there's an area which is lacking of public transportation, DART could add a new bus stop there.
Combining Datasets in TheMap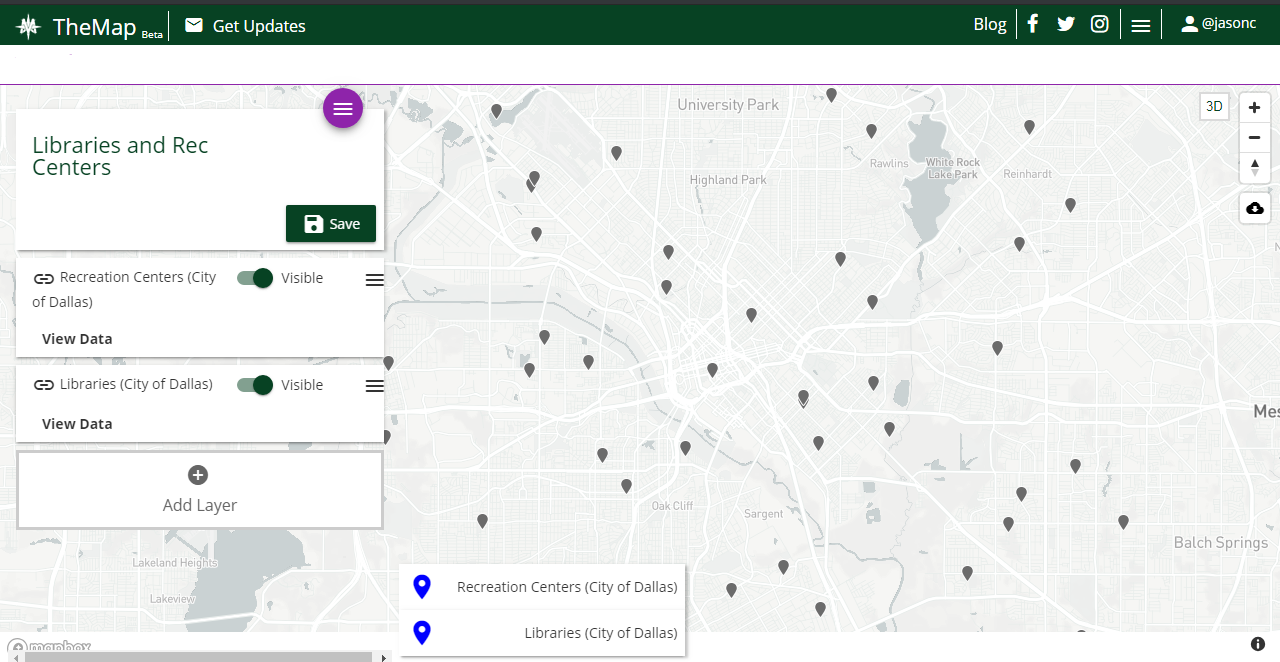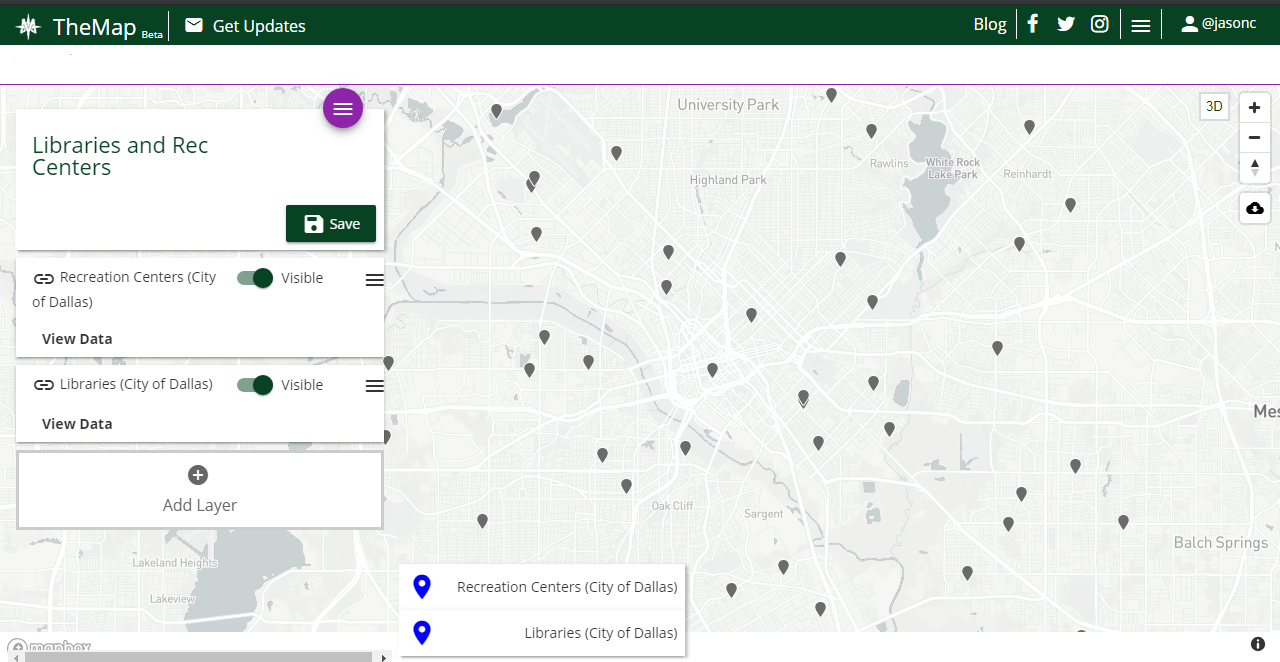 One of the most powerful and helpful features of TheMap is the ability to combine and layer multiple datasets. To do this, you'll need to create an account which only takes a minute.
Let's say I want to see the locations of libraries and recreation centers. People considering a move to Dallas may enjoy both of these placs and want to live near them. See the screenshot of TheMap to see how it looks when you combine data sets.
Notice that recreation centers and libraries are shown on the left side. In the screenshot, they're both toggled as being "Visible" in TheMap. You can toggle either of them on or off to show their exact locations. Or, you can click on each pin to gain further information.
Final Thoughts on TheMap
Robert Mundinger has done a great, free public service to the city of Dallas. City officials should be using TheMap before they make decisions that will affect the residents of the city. For example, a new police station can be built near an area of high crime.
Dallas isn't the only city that can benefit from using TheMap. Mundinger, or people inspired by him, can take this idea and apply it to virtually any city. It would all be in the name of improving the lives of residents over an extended period of time.
Featured photo by Aksonsat Uanthoeng on Pexels
TheMap photos are screenshots by RPS Relocation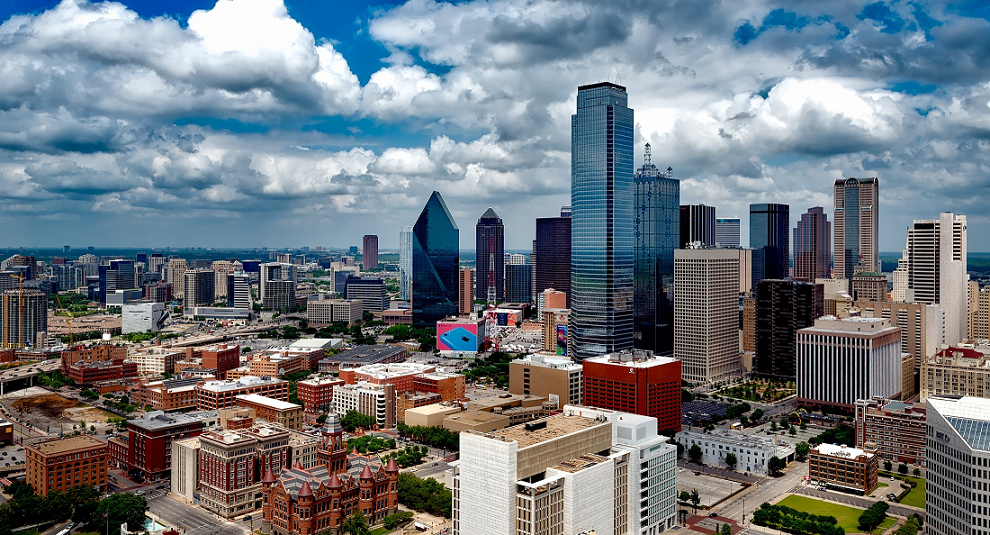 15
Oct
The size of Texas is massive and the entire southeastern part rests on the Gulf of Mexico. Cities like Corpus Christi, Galveston, and Houston have felt the wrath of hurricanes. Given the central location of Dallas, one might assume flooding isn't a major issue; however, it has been at times. To combat this, Dallas Reports detailed how the city is working on a number of flood prevention projects.
Projects in the Works
The projects are made possible from the passage of Dallas's 2017 bond package. Specifically, these projects are covered under Proposition D. Jesus Jimenez of Dallas News writes "the city of Dallas has 84 projects in the works to improve flood protection, storm drainage, and erosion control."
It's important to remember that flood protection is only one aspect of minimizing potential damage to structures. Storm drainage and erosion control are equally important. For example, as an area takes on a large amount of water, there needs to be a mechanism in place for that water to be routed somewhere. Erosion control mitigates the instances of land, coastal, and construction disappearance.
Jesus Jimenez continues, "Sarah Standifer, assistant director of stormwater operations for the city of Dallas, said that while the last bond package sought to address citywide improvements, Proposition D of this bond package focuses on more neighborhood-specific improvements." This tells me, without delving into the results of the last bond package, that citywide improvements were through to be sufficient. That's why Dallas is now moving on to neighborhood-specific improvements. But which neighborhoods will be chosen? Let's take a look at that next.
Dallas' Flood Prevention Map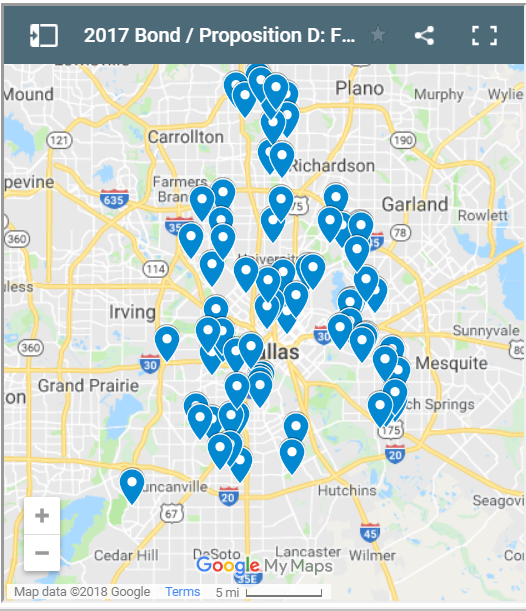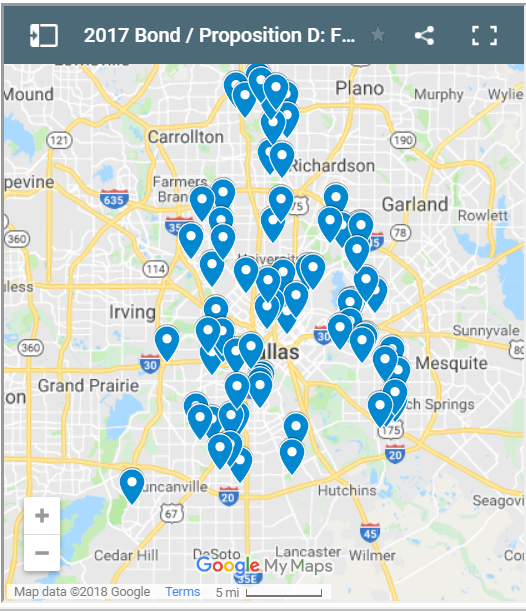 Google Maps has created a snapshot of areas where flood prevention projects are taking place. This map allows residents of Dallas access to track the progress of the ongoing projects.
Click on one of the blue pins to get a description of the work being done. For example, I clicked on Turnpike Distribution IV IH30-Commerce. The description says "Design and construction of connection of the improved channel in the Turnpike Distribution Center". For another example, I clicked Teakwood Elmridge Drainage Relief. The description says "Design and construction – Replace existing system at the Teakwood and Elmridge area with a 100-year system."
How Project Locations are Chosen
Do neighborhoods in and around Dallas get an equal amount of flood prevention aid? That's not how it's outlined in Proposition D. Jesus Jimenez writes "The process to identify projects funded through Proposition D included analyzing calls to 311, flood studies, community calls and emails, system inspection, and drainage master plans."
This is the most logical way to determine which neighborhoods should get flood prevention aid. After all, places that have no history of flooding or aren't vulnerable shouldn't get chosen over places that have a history of flooding. Departments of the city keep records of areas that have been impacted by flooding. They use these records to determine which neighborhoods will be getting the flood prevention aid.
The decision rested with more than only what areas have flooded in the past. Jesus Jimenez continues, "Projects then went through a two-step evaluation involving technical criteria with a focus on public safety, and balancing criteria with a focus on supporting economic development and enhancing quality the of life."
Economic development areas are just as important to keep safe as it is to keep neighborhoods safe. If business areas are wiped out, people may not be able to afford their homes; therefore, there has to be a balance between sending aid to neighborhoods and business areas.
Featured image by Pixabay on Pexels
Dallas city bonds projects map is a screenshot by RPS Relocation