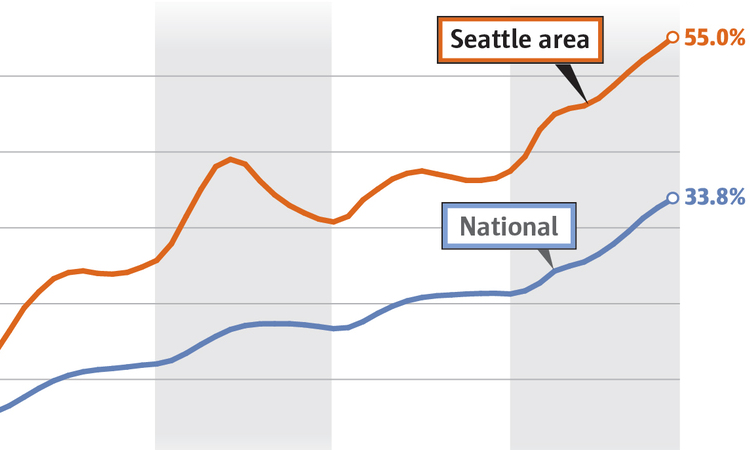 12
Mar
If you are looking to move to Seattle, WA you may want to start house hunting earlier than you had anticipated. The housing marketing in Seattle and the surrounding area is red hot right now with home prices growing by double-digit increases year over year for the first time since 2014.
In December of 2020 the price of a home in the Seattle area rose 13.6% over December of 2019. In December of 2019 home prices in the Seattle area were only up 4.1% year over year.
According to an article by the Seattle Times home prices in Pierce County are growing the fastest, with the price for a house in Parkland, WA rising 19.2% and the price for a house in Tacoma, WA rising 17.5%.
Overall since 2015 the price for homes in the Seattle area have risen by 55%.
While this is a great time to be a home seller in Seattle or surrounding communities, it is not so great for those seeking to move to Seattle or buy a home. An article by Komo News cites a broker who says their client offered 15% over asking price but ended up 12th in bidding order for a home in West Seattle.
The same article cites a Texas couple moving to Seattle who realized the boom was happening and abandoned their hopes of finding a home in Seattle itself, instead looking at the suburbs for a lower priced home knowing they will have to pay more than asking price for it.
Featured image a cropped version of a chart of Seattle home price percentage changes compared to the National average since 2015 by the Seattle Times. Read their linked article above to see the full chart.
Comments
comments