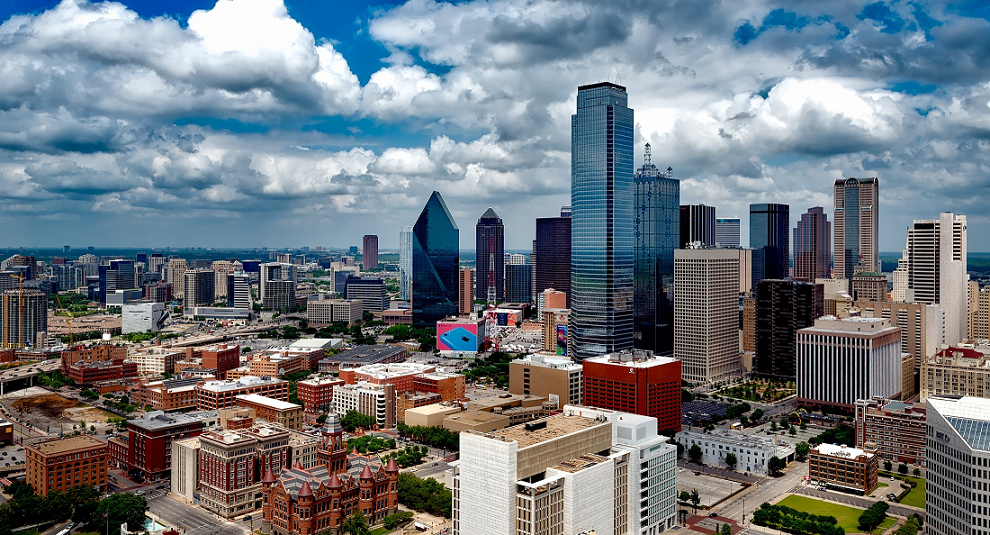 15
Oct
The size of Texas is massive and the entire southeastern part rests on the Gulf of Mexico. Cities like Corpus Christi, Galveston, and Houston have felt the wrath of hurricanes. Given the central location of Dallas, one might assume flooding isn't a major issue; however, it has been at times. To combat this, Dallas Reports detailed how the city is working on a number of flood prevention projects.
Projects in the Works
The projects are made possible from the passage of Dallas's 2017 bond package. Specifically, these projects are covered under Proposition D. Jesus Jimenez of Dallas News writes "the city of Dallas has 84 projects in the works to improve flood protection, storm drainage, and erosion control."
It's important to remember that flood protection is only one aspect of minimizing potential damage to structures. Storm drainage and erosion control are equally important. For example, as an area takes on a large amount of water, there needs to be a mechanism in place for that water to be routed somewhere. Erosion control mitigates the instances of land, coastal, and construction disappearance.
Jesus Jimenez continues, "Sarah Standifer, assistant director of stormwater operations for the city of Dallas, said that while the last bond package sought to address citywide improvements, Proposition D of this bond package focuses on more neighborhood-specific improvements." This tells me, without delving into the results of the last bond package, that citywide improvements were through to be sufficient. That's why Dallas is now moving on to neighborhood-specific improvements. But which neighborhoods will be chosen? Let's take a look at that next.
Dallas' Flood Prevention Map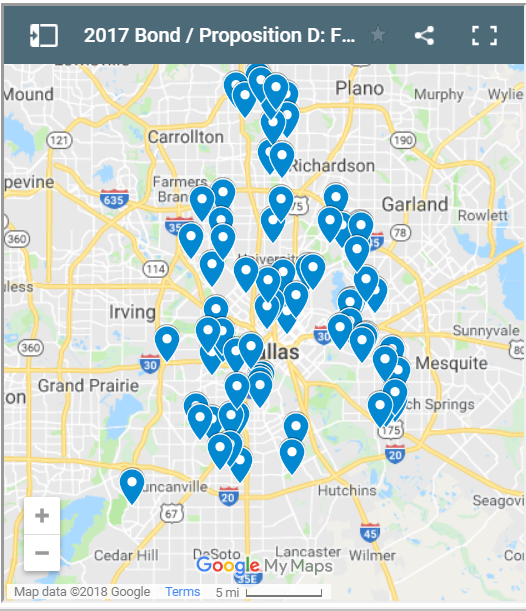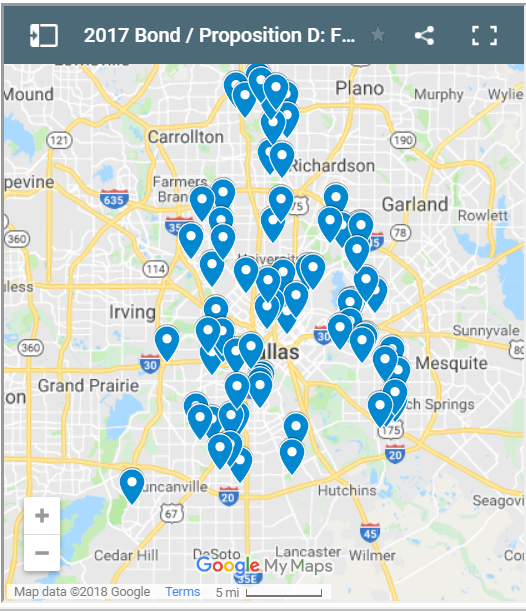 Google Maps has created a snapshot of areas where flood prevention projects are taking place. This map allows residents of Dallas access to track the progress of the ongoing projects.
Click on one of the blue pins to get a description of the work being done. For example, I clicked on Turnpike Distribution IV IH30-Commerce. The description says "Design and construction of connection of the improved channel in the Turnpike Distribution Center". For another example, I clicked Teakwood Elmridge Drainage Relief. The description says "Design and construction – Replace existing system at the Teakwood and Elmridge area with a 100-year system."
How Project Locations are Chosen
Do neighborhoods in and around Dallas get an equal amount of flood prevention aid? That's not how it's outlined in Proposition D. Jesus Jimenez writes "The process to identify projects funded through Proposition D included analyzing calls to 311, flood studies, community calls and emails, system inspection, and drainage master plans."
This is the most logical way to determine which neighborhoods should get flood prevention aid. After all, places that have no history of flooding or aren't vulnerable shouldn't get chosen over places that have a history of flooding. Departments of the city keep records of areas that have been impacted by flooding. They use these records to determine which neighborhoods will be getting the flood prevention aid.
The decision rested with more than only what areas have flooded in the past. Jesus Jimenez continues, "Projects then went through a two-step evaluation involving technical criteria with a focus on public safety, and balancing criteria with a focus on supporting economic development and enhancing quality the of life."
Economic development areas are just as important to keep safe as it is to keep neighborhoods safe. If business areas are wiped out, people may not be able to afford their homes; therefore, there has to be a balance between sending aid to neighborhoods and business areas.
Featured image by Pixabay on Pexels
Dallas city bonds projects map is a screenshot by RPS Relocation
Comments
comments