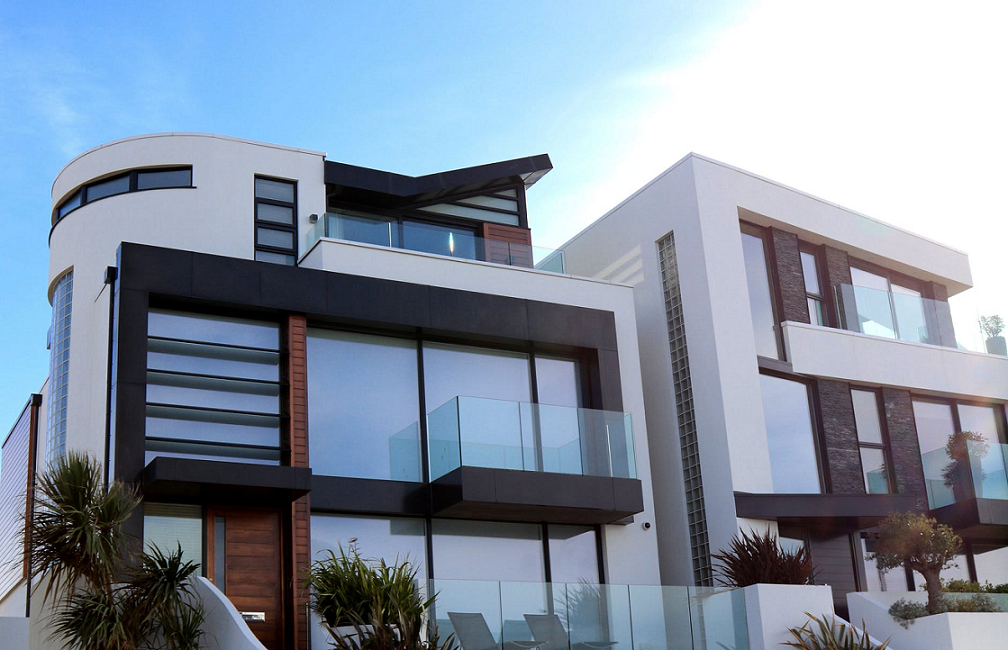 18
Mar
Good news for renters: Most new apartment buildings in 2017 are considered high-end. This trend continued in 2018 and will likely be a feature of new apartment complexes in 2019 as well. RENTCafé put together the numbers and even went city-by-city to show how luxury apartments are taking over. Let's see what they found!
The Trend is Luxurious
Nadia Balint of RENTCafé writes, "Encumbered by high construction costs and encouraged by a surge in demand for rentals, developers have bet big on luxury apartments. Back in 2012, high-end properties represented about half of all newly completed construction, but now these projects occupy the lion's share of the multifamily industry. Of the 1,600 large-scale apartment buildings completed in 2017 in the U.S., 1,270 (or 79%) classify as high-end properties".
To put this into better perspective, let's take a look at the percentage of properties with high-end apartments by year built. They are:
2012: 52%
2013: 64%
2014: 69%
2015: 76%
2016: 79%
2017: 79%
2018: 87%
And there you have it. The percentage of new, luxury apartments can't get much higher than that! Let's take a look at a visualization of this growth in luxury apartments. Check out the photo below.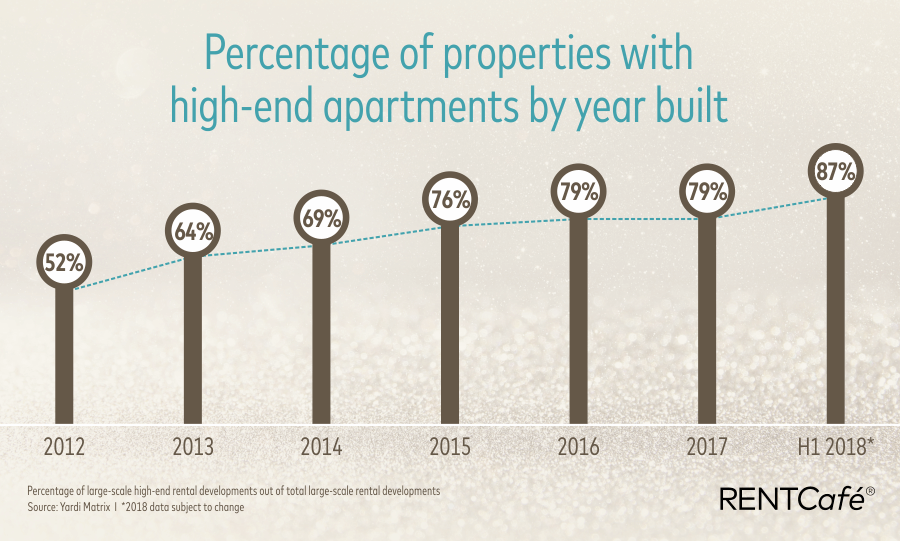 Dallas, Seattle, and Las Vegas
The percentage of new, high-end apartment buildings can't get much higher than 87%. But they can in Las Vegas! Nadia Balint continues, "The luxury market is also thriving in Las Vegas metro — where 100% of the apartments built in 2017 were high-end — boosted by Californians moving to Vegas in greater numbers and the area's great economic outlook."
The luxury apartment market is thriving in Dallas-Fort Worth and Houston as well. In Dallas-Fort Worth, a massive 98% of all new apartment buildings were high-end in 2017.  Houston was just behind Dallas-Fort Worth. In 2017, 97% of their new apartment building were high-end.
Seattle wasn't very close to Las Vegas, Dallas-Fort Worth, or Houston; however, the percentage of new, luxury apartment complexes isn't bad their either. Case in point: 67% of the construction of new apartments in Seattle were high-end in 2017. In 2018, that number stayed the same. Back in 2015, however, the percentage of high-end, new apartment buildings was 72%. This is a slight decrease but it's nothing to worry about if you're a luxury apartment developer.
Methodology of Collecting the Data
How did RENTCafé get these numbers? How did get put together visualization above? The data comes from Yardi Matrix which, by the way, is RENTCafé's "sister company".
To define what's luxurious or not, Yardi Matrix makes use of discretionary and high mid-range asset class categories. It's important to note that "The regions and metro areas included in this report are defined as per Yardi Matrix's market boundaries and may be different from the regional boundaries and metropolitan statistical areas as defined by the U.S. Census."
Moving to Dallas, Seattle, or Las Vegas
Are you interested in moving to one of these cities? Are you a renter or plan to rent once you get there? Good news! You'll be able to live in one of these new, luxurious apartment complexes if you want to. Allow RPS Relocation to help you started on decided to move.
Get a free moving quote for Dallas, Seattle,  or Las Vegas today!
Featured photo by Expect Best on Pexels
Luxury apartment photos from RENTCafé are screenshots by RPS Relocation
Comments
comments