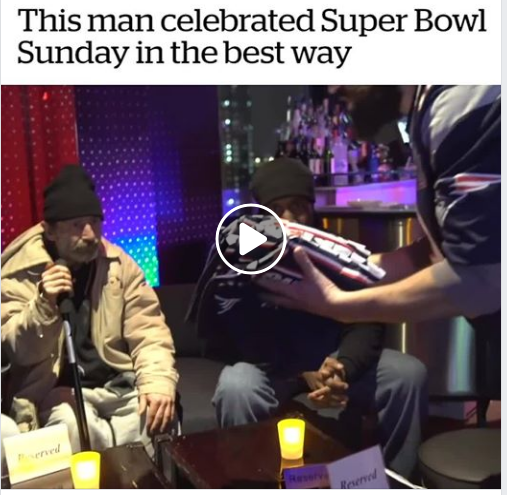 11
Feb
What did you think of the Super Bowl this year? The Patriots won again, it was a relatively low-scoring game, and the halftime show was so-so (depending upon how much you really like Maroon 5). But for some people—some homeless people, in particular—this Super Bowl was like Christmas.
A YouTube star (Meir Kay) took some people off the street, at least for one evening, and threw them a Super Bowl party. The 3 1/2 minute video was posted to Facebook and details the evening. Check it out below.
Commenting on the Video
The video was an instant hit on Facebook, and rightfully so. One commenter, Teri Scivley, was so inspired by the video that she decided to do something similar in her area. She writes, "this video inspired me last year to have a Super Bowl Party for the homeless in my hometown. We had 160 to show up then and expect 150 tomorrow! Good deeds inspire good deeds."


The homeless were taken off the streets and were granted access to a rooftop Super Bowl party. Part of this event was free food, which they were grateful for. Another commenter, Mike Bezak, noticed something about the homeless men before they started eating: They prayed in thanksgiving. Mike writes, "One thing that caught my eye was all the homeless men prayed before they ate. We have so much in our lives to be thankful for, we could learn a lesson from these men. Amen to them."


On the night of the Super Bowl, in New York City, the temperature was in the teens. Not only did Meir Kay feed the homeless, but he also warmed them up as well. He did this by giving each homeless person a Patriots football jersey. Not every commenter on Facebook is a Patriots fan. Case in point: Michael Winchock shared a joke about the choice of attire. He wrote, "Haven't these men suffered enough?? It's just cruel to make them wear Patriots jerseys." I'm not sure which team Michael roots for, but better luck next year!


Helping Others
Videos like this remind us that there are more important things than the Super Bowl. Don't get me wrong: The Super Bowl is always a great time to spend a few hours. And the homeless men know this better than anyone after their chance evening.
The point is to do something good for people when they are down, whether they're homeless or not. I'll close with one more quote from a Facebook commenter. Tony McCready writes, "The only time you should be looking down on someone is when you're helping them up."


Featured photo is a screenshot by RPS Relocation
Facebook comment photos are screenshots by RPS Relocation
Comments
comments