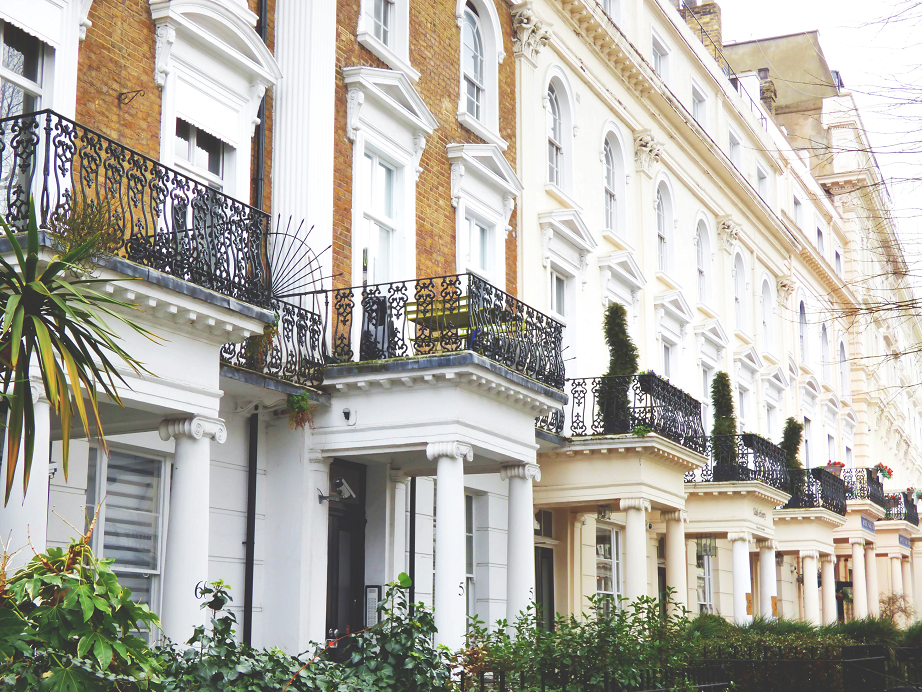 05
Nov
Is it better to rent or buy a home? It's a simple question; however, there are many factors involved. Your situation is different from a great number of people. Income and age play a role in answering that question. Interest rates and location also play a role. Near term and long term goals have to be taken into consideration. Will you be in the area for a year or two? Or will you plant your feet for a decade or more? Numerous organizations—Freddie Mac, Forbes, and others—have studied this age-old question.
Let's take a deeper look at the findings of Freddie Mac and Forbes.
Current Surveys and Research
Freddie Mac—otherwise known as the Federal Home Loan Mortgage Corporation—commissioned Harris Poll to conduct a survey of people in the housing market. The survey was conducted online from August 13-15, 2018. This is the second such survey that was conducted this year (the first being from January 30-February 1, 2018). This recent survey took the pulse of 4,040 people over the age of 18. It also included 1,059 renters. Let's read some of the results.
"According to the survey, 78 percent of renters believe renting is more affordable than owning – up a stunning 11 points from just six months ago in February 2018. This is the case even as the majority of renters (66 percent) reported difficulty affording their rent at some point over the past two years. The survey found nearly 9 in 10 renters employed in the essential workforce, such as health care and education, had significant difficulty affording the rent over the past two years."
The fact that most renters believe mortgages are most expensive shouldn't be surprising. What is surprising, however, is the fact that this belief jumped by 11 points in the past six months! Rising interest rates may be to blame. After all, the 30 Year Mortgage Rate jumped from 3.95% in January to 4.86% in November 2018. If mortgage rates continue to rise homes will become less affordable; however, renters will feel the squeeze too.
Best Cities for Renting or Owning
There are certain areas around the United States where it's better to rent. On the other hand, there are places where it's better to own. Forbes took a magnifying glass to this issue and found out where these cities are.
Amy Dobson included a visualization of rent gaps in the 33 largest metropolitan statistical areas. See it below.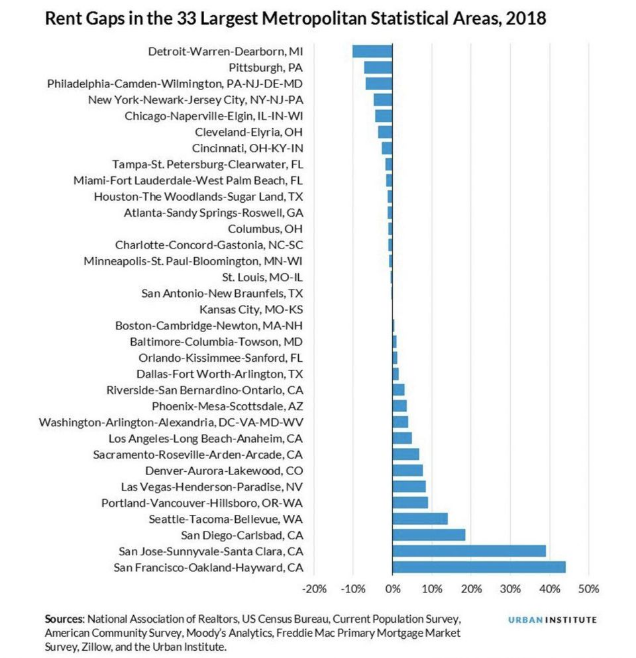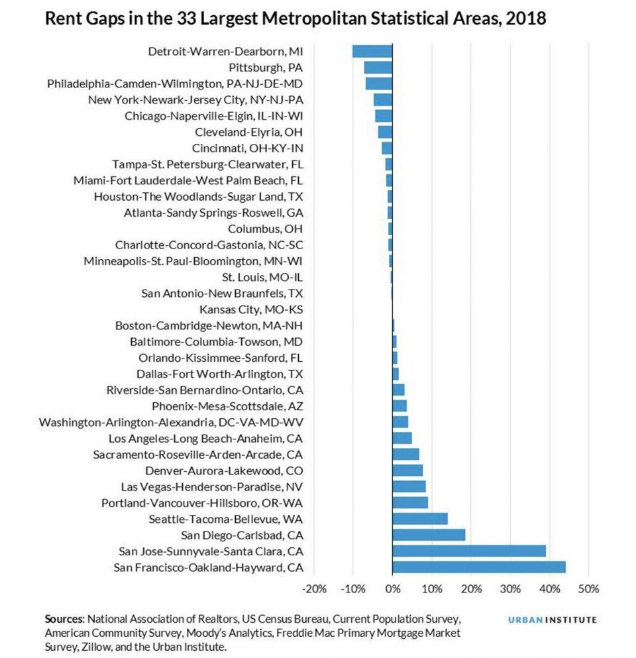 Amy writes, "So what does this chart mean? The numbers listed here are percentage points—so for the San Francisco example, the difference between the percentage of salary a renter would spend versus a buyer is about 45 percentage points difference. The chart shows percentages of income. Looking at San Francisco, a buyer would have to spend 79.68% of the median income on monthly housing payments whereas a renter would spend only 35.66% of median income. Of course, most people aren't spending nearly 80% of their income on housing (let's hope not), but the statistic is a useful way to compare rents versus mortgage payments just to see how big a jump it takes to become a homeowner in some of the largest cities in America."
This means the cities at the top of the visualization are the ones where it's cheaper to rent a home. The cities at the bottom of the visualization are the ones where it's cheaper to have a mortgage.
Income Required for a Mortgage in Cities
Prices of the housing market are vastly different depending on which area of the country to you live. For example, buying homes is more expensive in San Diego than buying a home in Pittsburgh. Forbes listed in the 33 most expensive major cities for having a mortgage. Here they are in order:
San Francisco, CA
San Jose, CA
San Diego, CA
Los Angeles, CA
Miami-Fort Lauderdale, FL
Seattle, WA
Riverside, CA
Denver, CO
Portland, OR
Sacramento, CA
Las Vegas, NV
Boston, MA
New York, NY
Orlando, FL
Phoenix, AZ
Washington, DC
Dallas-Fort Worth, TX
Tampa, FL
Houston, TX
San Antonio, TX
Chicago, IL
Charlotte, NC
Baltimore, MD
Atlanta, GA
Minneapolis, MN
Columbus, OH
Kansas City, KS
St. Louis, MO
Cincinnati, OH
Philadelphia, PA
Cleveland, OH
Pittsburgh, PA
Detroit, MI
The cities listed above are in order based on mortgage cost rank. To better understand their placement, see the full visualization below. Amy also writes the chart below "shows the share of median income each city would require to buy a home. Researchers assumed a thirty-year mortgage, 3.5% down payment, 4.57% interest rate and property tax and insurance rate at 1.75% of the home's value."
In addition to the cost of mortgages, the chart also lists cities where it's most expensive to rent. Los Angeles is the most expensive city to rent a home in. From the list, St. Louis is the least expensive city for renters. See more below.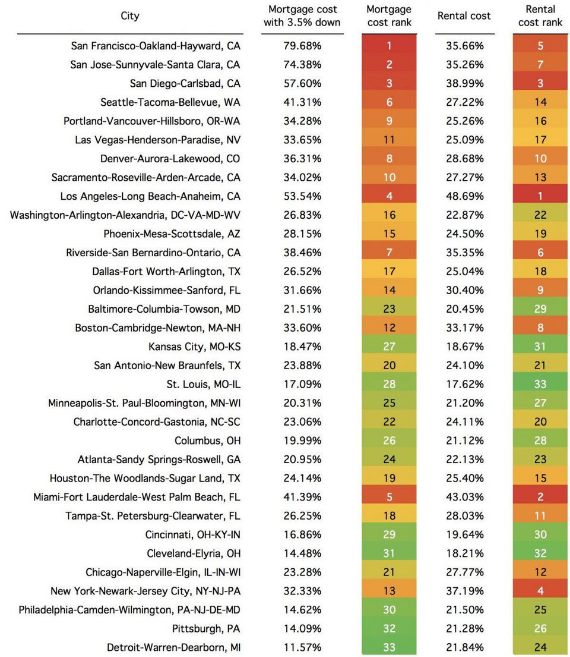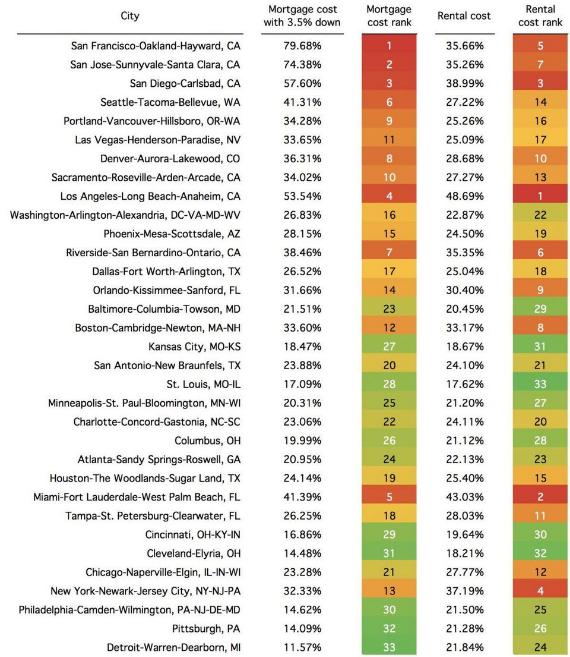 Feature photo by David Jakab on Pexels
Forbes rent gaps photo and cost of mortgages photo are screenshots by RPS Relocation
Comments
comments