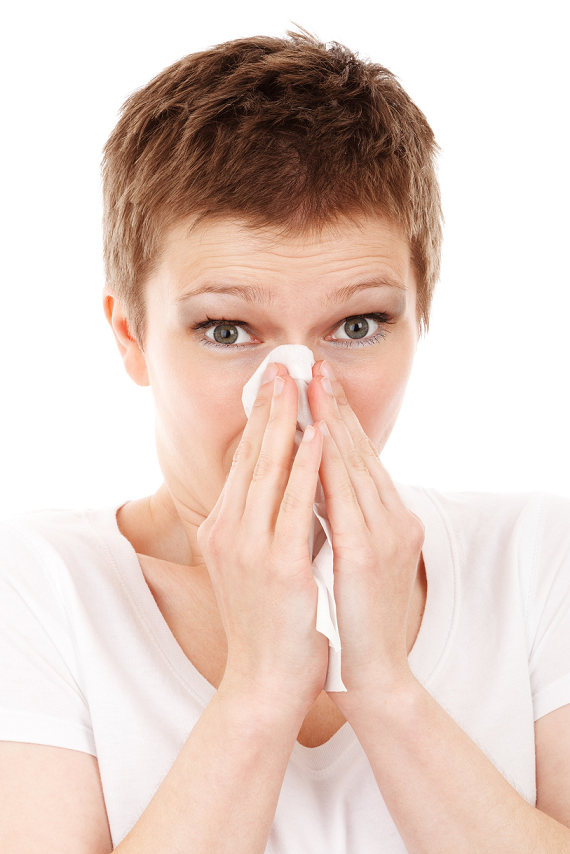 08
Oct
Allergies—a health condition whereby the immune system is negatively impacted by foreign particles or substances—are a public nuisance. These substances can be found in cities across the nation; however, some places have a significantly higher amount than others.
The Asthma and Allergy Foundation of America (AAFA) conducted a comprehensive study to identify where allergies are the worst during the Fall season. The actually listed 100 cities, which you'll see at the end of this article.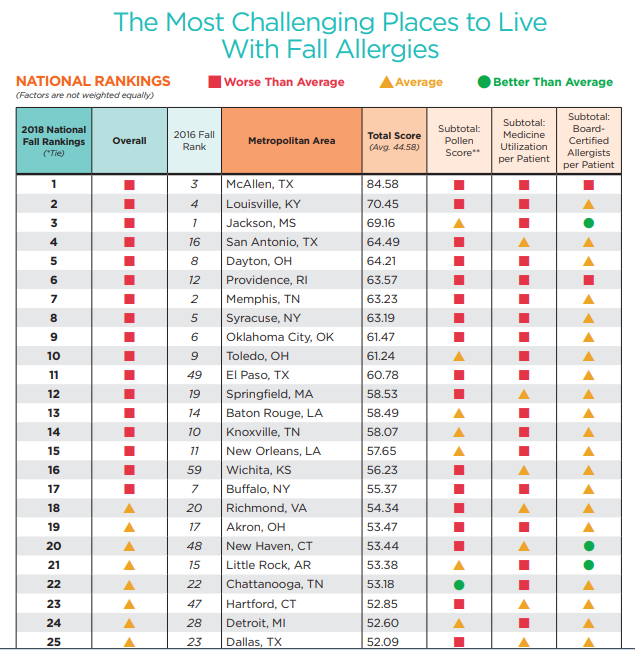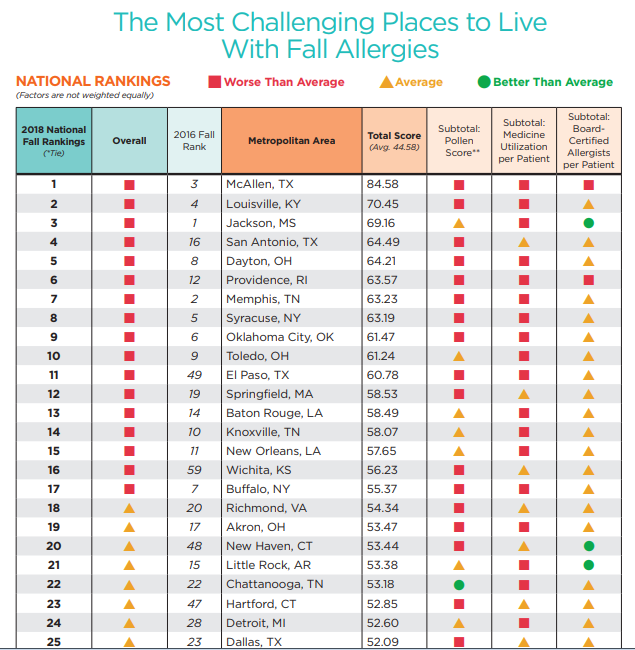 AAFA's Criteria for Inclusion
How did the AAFA determine which cities made the cut, and which didn't? They describe it in detail: "The ranking is based on analysis of data from the 100 most-populated Metropolitan Statistical Areas (MSAs) in the contiguous 48 states. The three (3) individual factors analyzed for the 2018 rankings are: seasonal (Fall) pollen score, medication use (allergy) and number of allergy specialists. For each factor, AAFA used the most recently available calendar year data. Weights are applied to each factor; factors are not weighted equally. Total scores are calculated as a composite of all three factors."
Tips for Allergy Prevention
The AAFA provides actionable tips which will help you avoid or reduce your allergies. The recommend wearing sunglasses outdoors, removing shoes in the home, and keeping windows closed. If you have carpeting, regular vacuuming will reduce allergens in your home. Bed sheets should also be cleaned on a regular basis.
The AAFA also recommends "CERTIFIED asthma & allergy friendly" products such as cleaning supplies. You can also find allergy-friendly bed mattresses and HVAC filters. The more allergy friendly products you own, the better chance you have at mitigating the presence of allergies in your home.
The Top 100 Cities with Fall Allergies
The cities below are ranked from worst to best as the "most challenging places to live with fall allergies".
McAllen, TX
Louisville, KY
Jackson, MS
San Antonio, TX
Dayton, OH
Providence, RI
Memphis, TN
Syracuse, NY
Oklahoma City, OK
Toledo, OH
El Paso, TX
Springfield, MA
Baton Rouge, LA
Knoxville, TN
New Orleans, LA
Wichita, KS
Buffalo, NY
Richmond, VA
Akron, OH
New Haven, CT
Little Rock, AR
Chattanooga, TN
Hartford, CT
Detroit, MI
Birmingham, AL
Philadelphia, PA
Columbia, SC
Columbus, OH
Tulsa, OK
Greenville, SC
Albany, NY
Grand Rapids, MI
21 Cleveland, OH
Pittsburgh, PA
Charleston, SC
New York, NY
Scranton, PA
Miami, FL
St. Louis, MO
Bridgeport, CT
Austin, TX
Allentown, PA
Las Vegas, NV
Omaha, NE
Greensboro, NC
Winston-Salem, NC
Augusta, GA
Virginia Beach, VA
Cape Coral, FL
Houston, TX
Jacksonville, FL
Fresno, CA
Tucson, AZ
Madison, WI
Cincinnati, OH
Nashville, TN
Chicago, IL
Rochester, NY
Riverside, CA
Charlotte, NC
Indianapolis, IN
Orlando, FL
Des Moines, IA
Los Angeles, CA
Modesto, CA
Lakeland, FL
Minneapolis, MN
Harrisburg, PA
Kansas City, MO
Albuquerque, NM
Tampa, FL
Durham, NC
Worcester, MA
Oxnard, CA
Atlanta, GA
Milwaukee, WI
Baltimore, MD
Bakersfield, CA
Phoenix, AZ
Boston, MA
Palm Bay, FL
Washington, DC
San Diego, CA
Spokane, WA
Stockton, CA
Daytona Beach, FL
Sarasota, FL
Raleigh, NC
Sacramento, CA
Salt Lake City, UT
San Francisco, CA
Ogden, UT
Colorado Springs, CO
Seattle, WA
San Jose, CA
Boise, ID
Portland, OR
Provo, UT
Denver, CO
Featured image by Public Domain Pictures on Pexels
AAFA city allergies chart photo is a screenshot by RPS Relocation
Comments
comments