07
Jan
The real estate market varies in each city around the USA. Some cities offer great deals such as cheap housing, large backyards, or ample square footage per apartment. Cities within a certain region of the USA generally share a similar average square footage per apartment. Today, we're going to focus on the city with the smallest average square footage per apartment: Seattle. MYNorthwest covered the study that came to this conclusion.
Let's read what they have to say.
RentCafe's Apartment Size Study
RentCafe conducted a nationwide study to determine the average apartment sizes (by square footage) for various regions. Joseph Albanese of MYNorthwest writes, "According to a study by RentCafe, Seattle boasts the tiniest apartments in the United States — an average apartment size of 711 square feet. That's smaller than Manhattan, Los Angeles, and other major cities."
People who live in or near major cities know that better deals can be found outside the city. Chicago, DC, New York City, Miami, and other cities are infamous for having housing that's small or not affordable. Seattle tops the list for smallest average apartment. Why?
In a nutshell, the answer is supply and demand. Median income is related to the average cost of renting an apartment. The supply of apartments must meet the demand based upon what renters can afford. In Seattle, that means smaller apartments.
Joseph continues, "RentCafe considered new apartments built in Seattle between 2008 and 2018. To put Seattle's 711 square foot average into some perspective, Manhattan and Chicago both have average sizes of 733 square feet."
There are a couple important facts here. One is that the study only considers relatively new apartments (those built between 2008 and 2018). Another fact is that apartments in Manhattan and Chicago have larger square footage than those in Seattle. It's surprising to think the average apartment is smaller in Seattle than it is in Manhattan.
Seattle Apartments are Getting Larger
With apartments in Seattle, there's good news and bad news. The good news is that average apartment size in Seattle is increasing; however, it isn't increasing by much. As a matter of fact, the average apartment size only grew 4% from 2008-2018.
Here's the bad news: Apartments in Seattle are getting more expensive. Joseph writes, "RentCafe notes that local rents shot up by 74 percent during that same time, from $1,186 in 2008 to $2,064 in 2018."
As mentioned before, the average square footage of an apartment in Seattle is 711. To compare, the average square footage of an apartment in the Pacific Northwest region is 856. It would take Seattle decades to get to 856 square footage if sizes only rise 4% every 10 years. Speaking of regions around the USA, MYNorthwest also included a map of them.
The USA Map of Average Apartment Size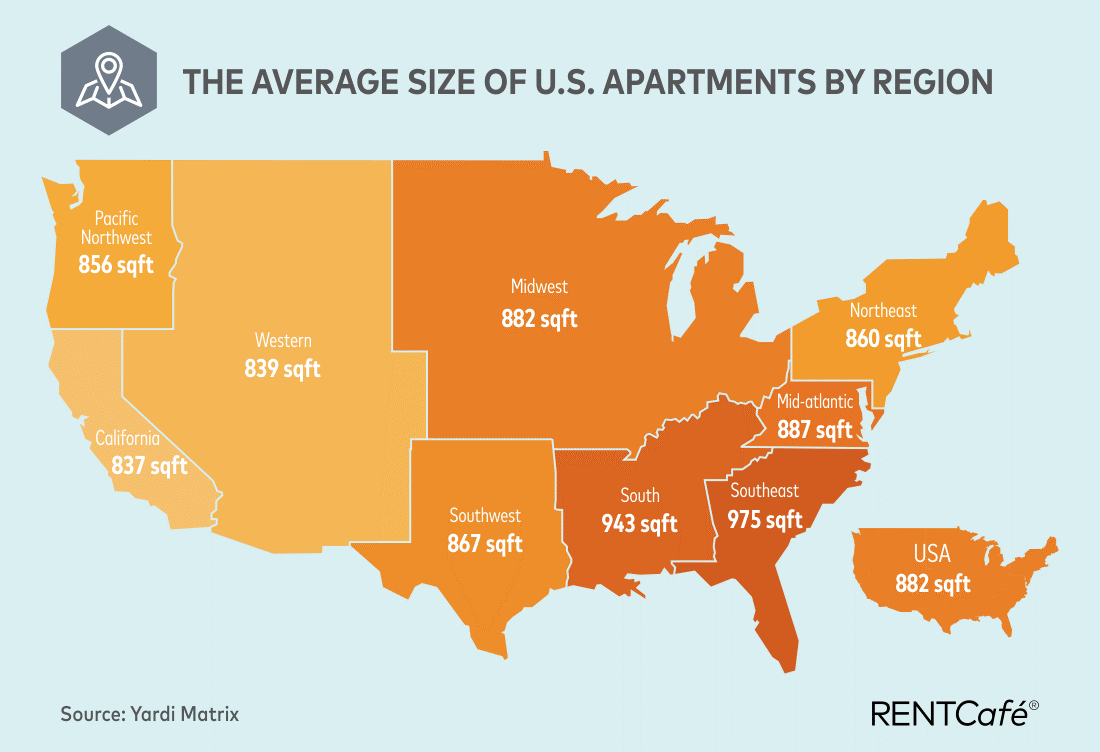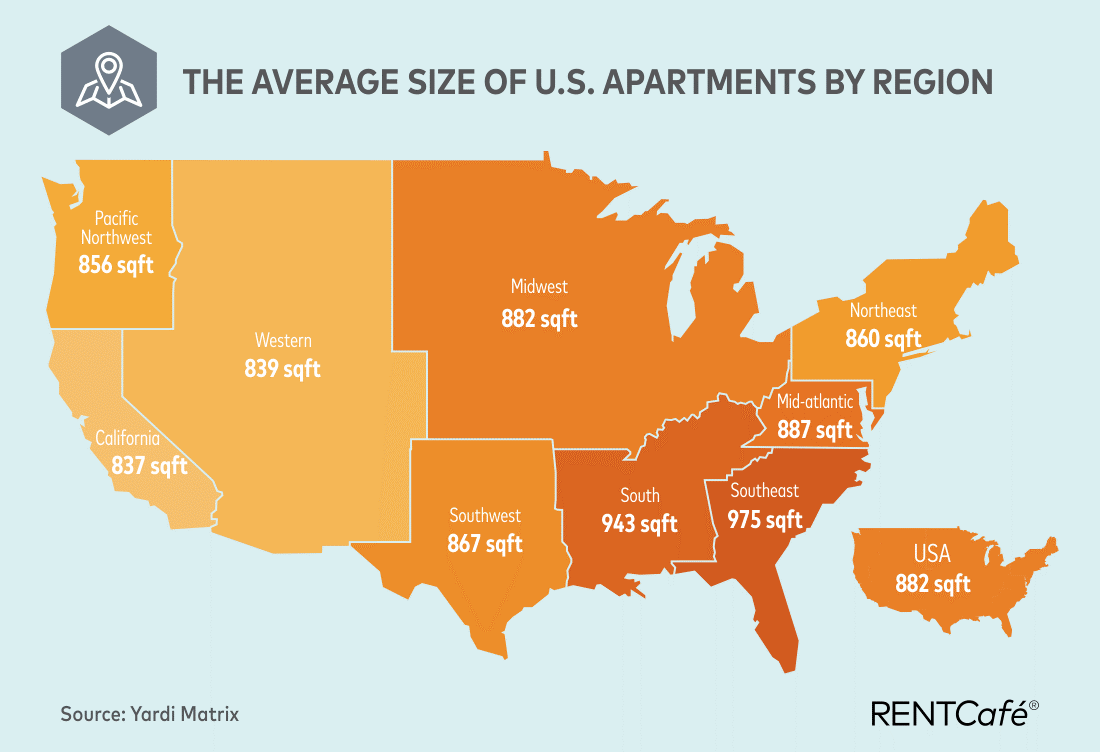 MYNorthwest included map put together by RentCafe. Titled "The Average Size of U.S. Apartments By Region", this map shows 9 different regions around the county. It also lists the average apartment size overall in the country, which is 882 square feet.
Joseph shares another interesting fact from the data. He writes, "Nationally, rents for new apartments have gone up by 28 percent since 2008, while their sizes shrank by 5 percent. The average apartment in the US dropped by 52 square feet since 2008 (currently 941 square feet)."
The Southwest is the big winner when it comes to average apartment size. There, the average size is 975 square feet. The loser is California, which is considered a region due to its large size. The region of California has an average apartment size of 837 square feet. Seattle—the main focus on this article—has more than 100 less average square feet than that region.
Have you rented an apartment in a major city? How about Seattle? Let us know if your experience is in line with these average apartments sizes.
Featured photo by Johan Bos on Pexels
USA Map of Average Apartment Size photo is a screenshot by RPS Relocation
Comments
comments