12
May
If you're looking to make a move so you can be the founder and CEO of your own startup or work at a hot new tech company. Then Seattle, WA might be where you want to go. Moving to Seattle can be a bit of difficult task for some people. To make your move easier check out our list of moving tools and our ultimate moving checklist.
A recent report on American cities and communities ranked Seattle #11 in the top cities for digital innovation. The report, Innovation that Matters, is an annual research publication which seeks to see how cities and  communities are working to support the move to a more digitally based economy. The reports authors, venture capital firm 1776, gave out high marks for the number of people moving to Seattle with tech skills and for having relatively even presence in the 4 major tech sectors; Education, Energy, Health, and Smart Cities. Seattle scored highest in the startup-Education sector, established-Energy sector, startup-Health sector, and the startup-Smart Cities sector. The survey concluded that hiring talented digital workers in Seattle would be pretty easy naming it the #2 city for ha skilled work force and the #4 overall top talent pools for startups in the country powered in part by the presence of Amazon and Microsoft in the region and the long-term impact the general I.T. industry has had on the city and it's economy.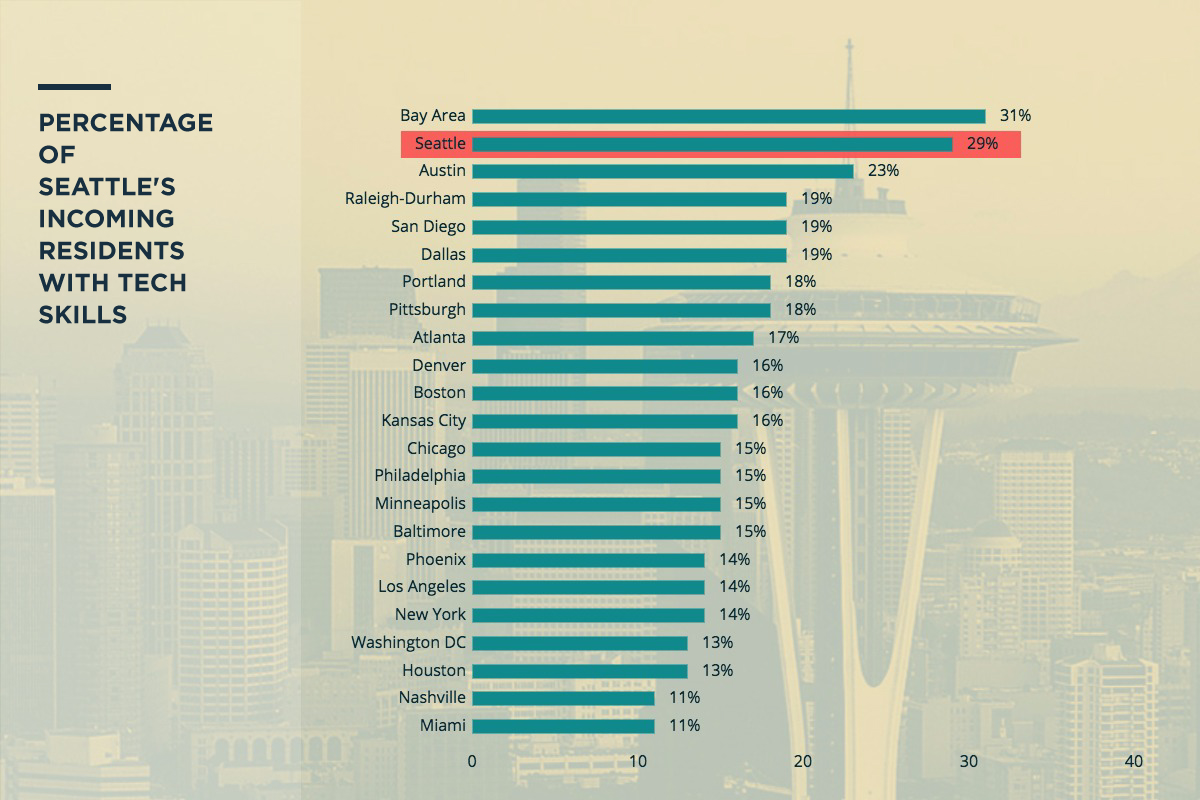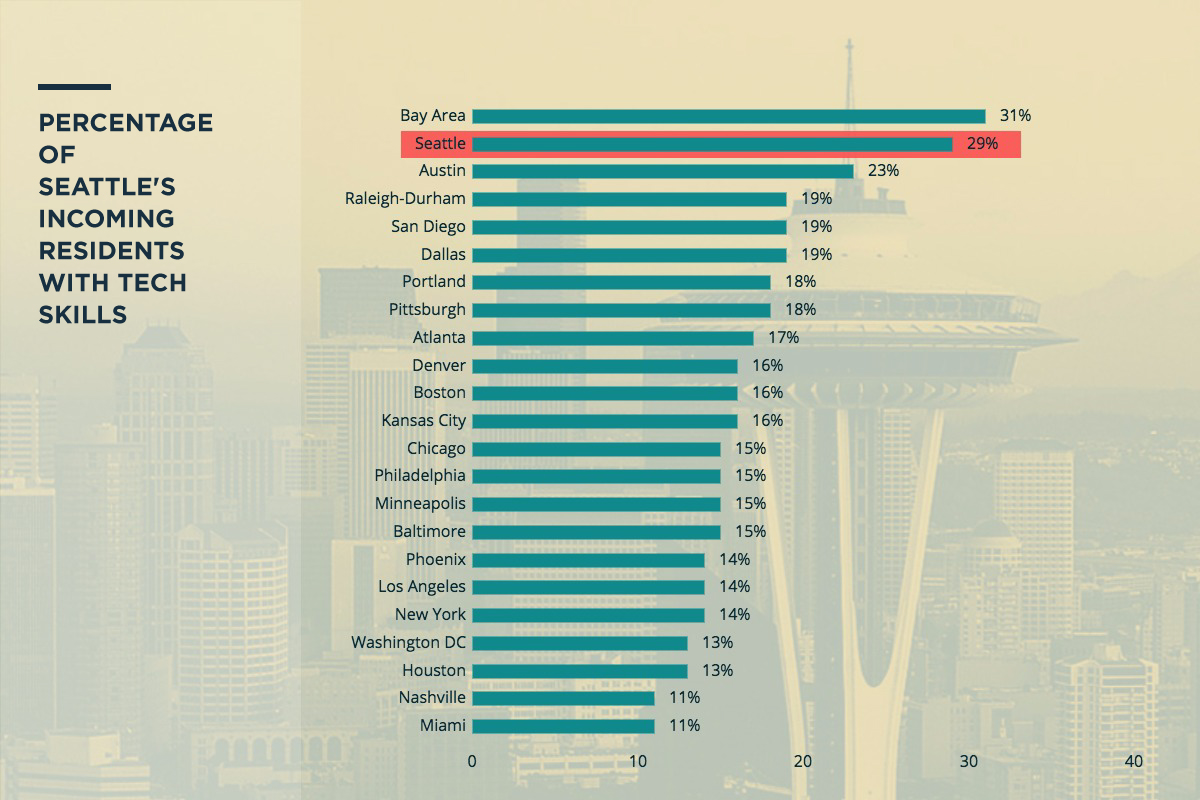 The talent base in Seattle is thriving. The city (home-base for tech titans Amazon and Microsoft) has been vaulted into the upper echelon of U.S. tech hubs. Additionally, the city's robust population inflows, educated millennials and skilled tech workforce make it a powerhouse when it comes to attracting top talent. – 1776, Innovation that Matters report
However, the researchers also concluded that there were disconnects in the startup industry as to how well the startup scene is spread around the city and metro area. Most digital startups are located in the same part of Seattle, Downtown which makes it feel like a strong dense community to the startups but not to everyone in the city. This is important because startups need more than just their friends next door to support them to be successful, they need more people in local business communities to be involved as well, Seattle ranks #24 in this regard. The city ranks #21 (out of 25 cities/areas) in the number of mentors, #22 in cheerleaders, & #22 in engaged citizens as well.
The researchers point to this lack of community engagement and assistance as the top hurdle for the startup community in Seattle moving foward and the biggest reason the area ranks lower than others on the list.
The 10 cities that topped Seattle in the list are:
Boston
San Francisco (Bay Area)
Denver
Raleigh-Durham
San Diego
Austin
Los Angeles
Philadelphia
Washington DC
New York
Seattle beat out 4 other cities in the list of 25. This includes some that are growing in population and infrastructure quickly such as Dallas, Kansas City, and Houston. The full list of cities topped by Seattle's tech startup scene are:
Chicago
Portland
Pittsburgh
Nashville
Minneapolis
Salt Lake City
Baltimore
Dallas
Houston
Atlanta
Miami
Phoenix
Kansas City
New Orleans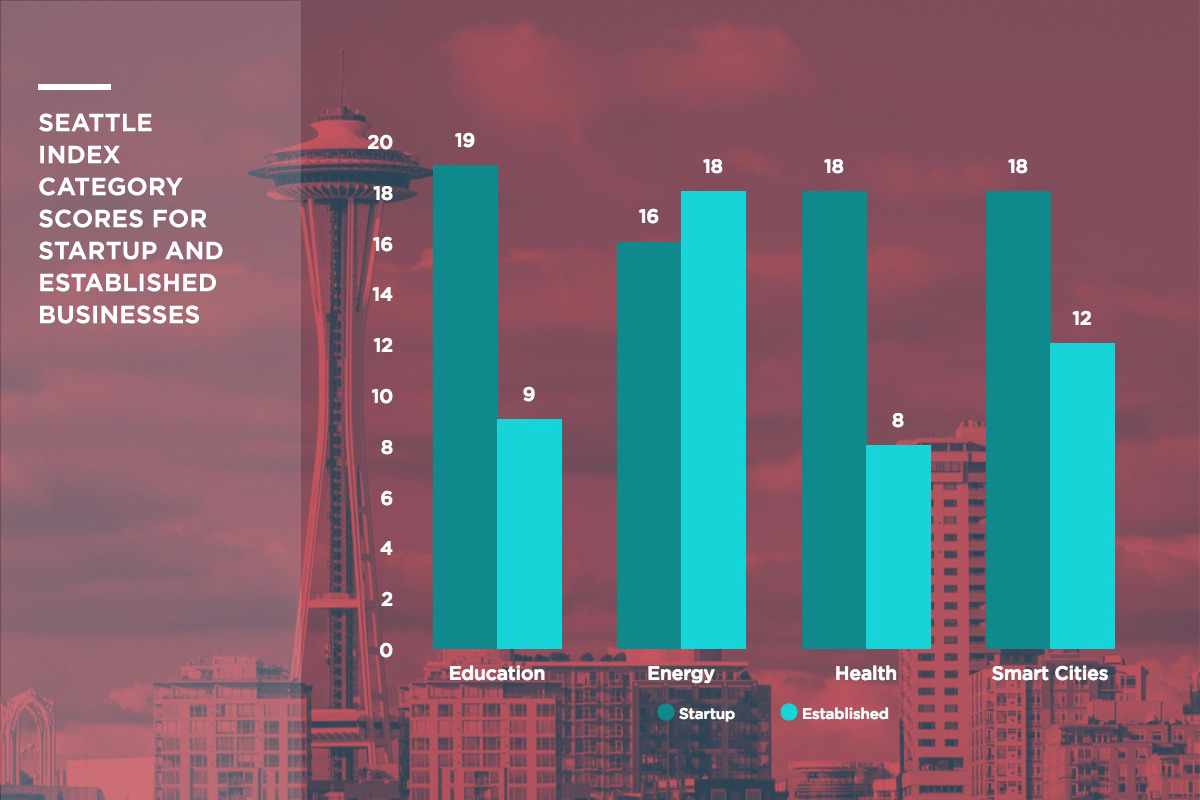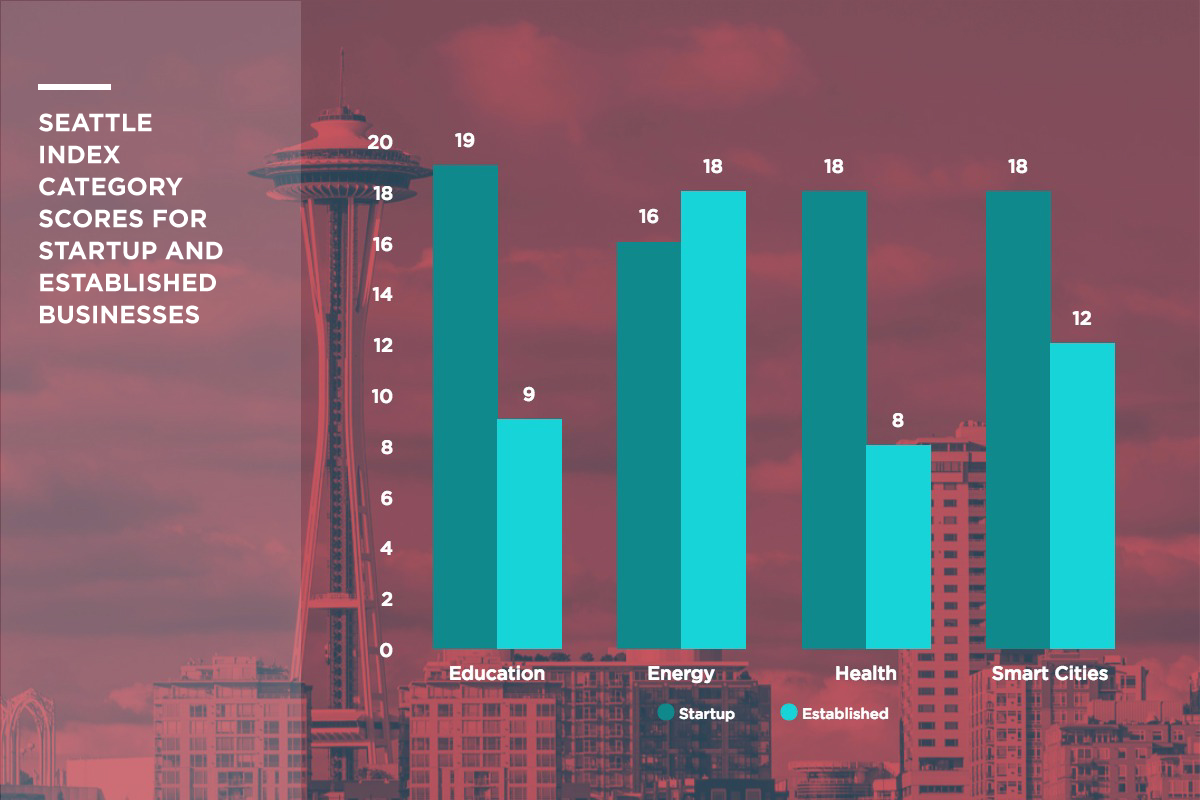 Read the full Innovation that Matters 2016 report from 1776 here: http://www.1776.vc/reports/innovation-that-matters-2016/
Comments
comments