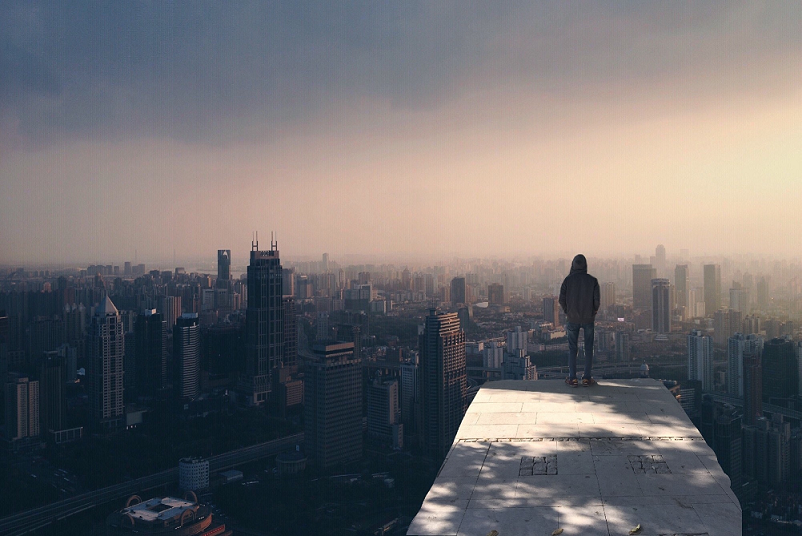 29
Jul
Immigration to the U.S.—legal and illegal—is currently a hot topic in our political sphere. Both types of immigration happen on a daily basis. Another type of movement, domestic migration, also happens on a daily basis. As we'll find out, the movement isn't equal. Some states are gaining domestic migrants and other states are losing domestic migrants. We're going to focus on the states that are losing migrants.
These are the states people don't want to move to in 2018. In the chart below you'll see some states shaded red which means the have a negative net migration, and some states shaded blue which means they have a positive net migration from current U.S. residents or citizens.
The Washington Post has detailed which states these are. They pulled the data from the best source: the U.S. Census Bureau. The data does not consider international immigration; however, the information is interesting nevertheless. Currently it would appear that U.S. residents are moving away from California, New York, Illinois, New Jersey, Michigan, Ohio, Pennsylvania, and Connecticut.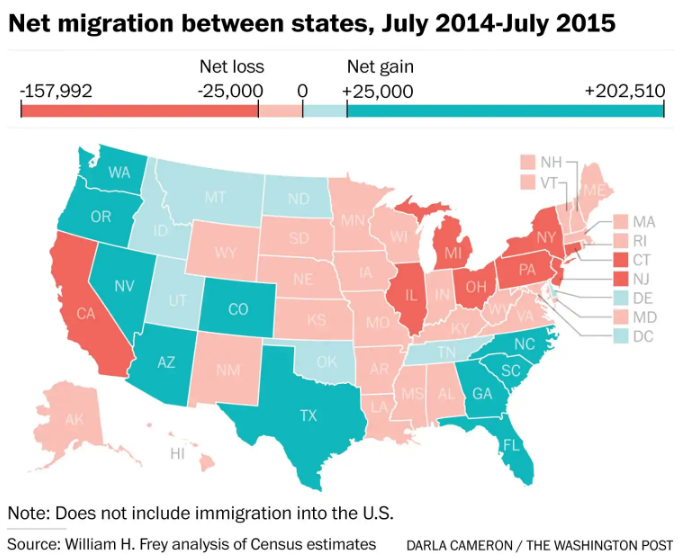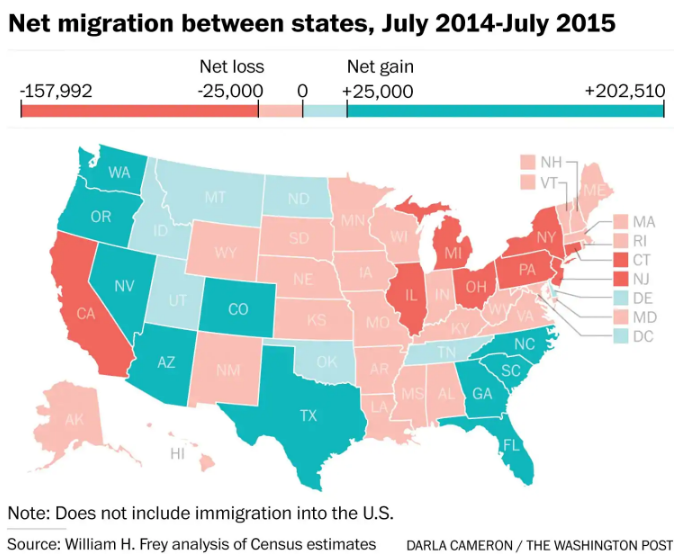 Let's take a closer look at the top three states people seem to be fleeing from: California, New York, and Illinois.
California
California is surrounded by Oregon, Nevada, and Arizona. As you see in the picture, California is red and the other states are blue. It seems as if migrants from California are jumping the state line in support of one of the neighboring states or moving elsewhere across the country. In an earlier post we showed how Californians were moving to places nearby like Nevada and and to states further away like Texas, New York, and Georgia.
New York
New York, a state in the northwest, is surrounded by other states people are migrating from. If we only take into consideration domestic data, it would seem like the population as a whole is getting smaller in New York. Taking international immigration into account gives a better picture, however. "For states like New York, domestic migration losses are offset by new immigration from abroad."
Illinois
Like New York, Illinois is also surrounded by states U.S. residents are migrating away from; however, neighboring states have less of an outflow than that of the state of Illinois. "Illinois, meanwhile, had a net loss of about 105,000 residents, its largest one-year population leak in the 21st century."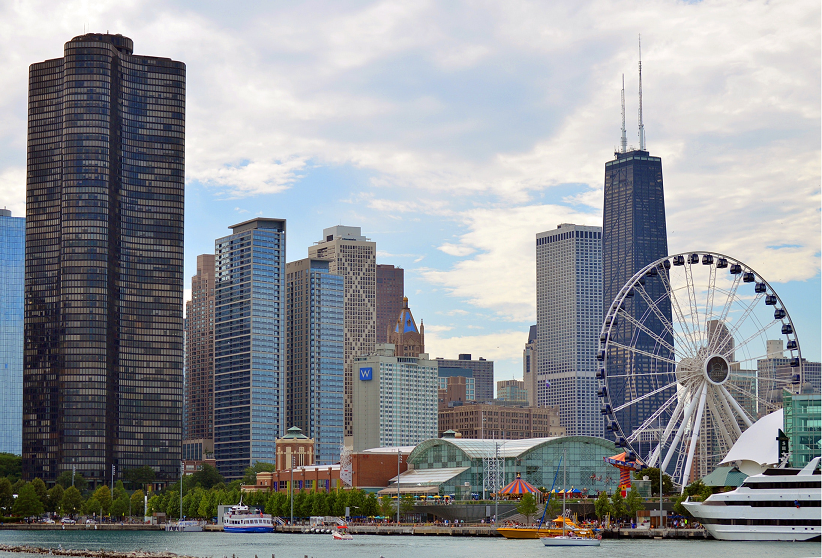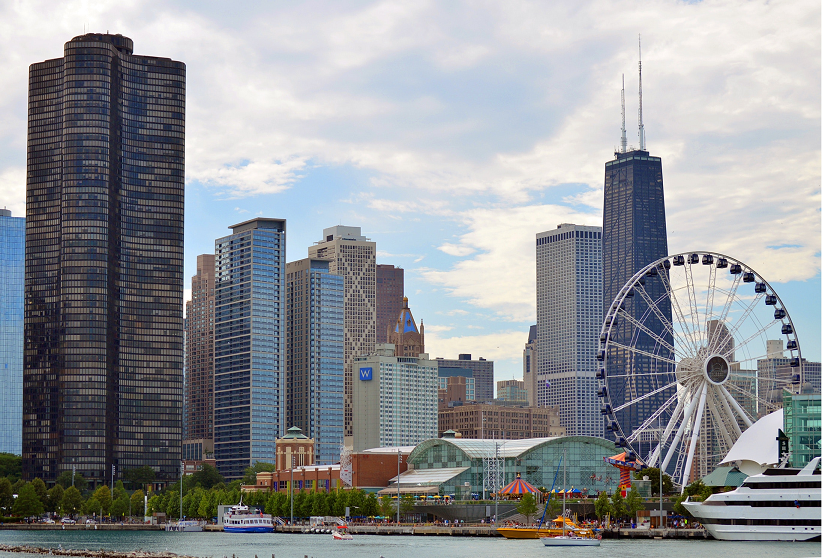 Similarities of California, New York, and Illinois
Why are people leaving these states? Or, perhaps the better question is this: why aren't people moving to these states? The answer could be in the cost of living.
According to USA Today, California and New York both make an appearance on the list of seven most expensive states to live in. They write the "median home value in the sunny state is $429,000, and homes generally list for a median price of $425,000 ($256 per square foot)." New York is even more expensive. They continue "New York is known for its higher cost of living, with median home prices sitting at around $525,000 ($507 per square foot). The real estate market in the Big Apple is hot, as statewide housing values have risen 8.5% over the past year, according to Zillow."
Illinois didn't make that list; however, which could be because most of the state is farmland. Most of the population in Illinois lives in urban and surrounding suburban areas. Chicago is the largest city in the state. According to Inc., Chicago is listed as one of the ten least affordable cities in America. They write "The cost to live comfortably here is $68,670 [per year] more than $15,000 a year less than New York or LA". This should come as no surprise as to why people are leaving the city of Chicago of lower cost living in other parts of the country, therefore giving the State of Illinois a negative net migration.
Both Los Angeles and Chicago, the biggest cities in California and Illinois, also share a dubious distinction in that the Washington Post recently added both to a different list, a list of cities were murders are most likely to go unsolved. Los Angeles has been improving but the report said there are still large pockets were murders go unsolved like Pico-Union. Chicago was named as one of the top 2 cities where murders would go unsolved according to the report. There's no way of knowing how much this impacts net domestic migration figures for two of the largest cities in America or how much unsolved murders in these big cities impacts an entire state's net domestic migration.
Featured photo and Chicago photo by Pixabay on Pexels
Comments
comments